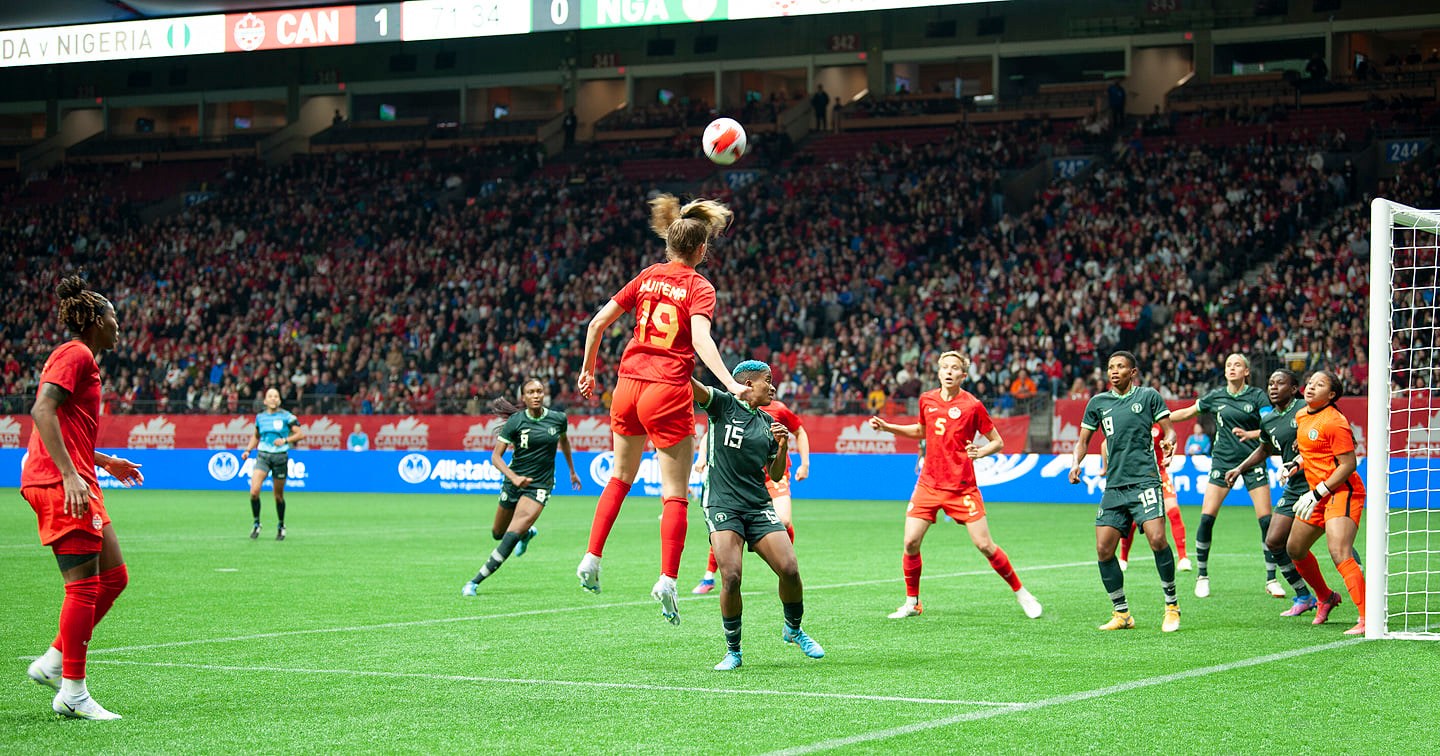 Photo Credit D. Laird Allan/Sportswave
Many might question what sport seems to be the sports of choice for today's youth given the overall cost for the families of sports such as hockey and the one grabbing the nation by storm is soccer.
The Canucks are going through a transition period, the Lions are ready for training camp, the Vancouver Canadians have their home opener April 19th while soccer is now a year round sport.
While the delta Ice Hawks hosting the Cyclone Taylor Championships Canada's National Women's Soccer team is playing a friendly against Nigeria at BC Place in front of a crowd of 20,601 plus fans.
The "friendly" is being called a "Celebration Tour" with a pair of matches, first in Vancouver at BC Place followed by the second match in Victoria 11 April at Langford's Starlight Stadium on Vancouver Island.
Some are somewhat of disbelievers when it comes to supporting women's sport and despite the naysayers this event managed to attract 20,601 being entertained by world class athletes.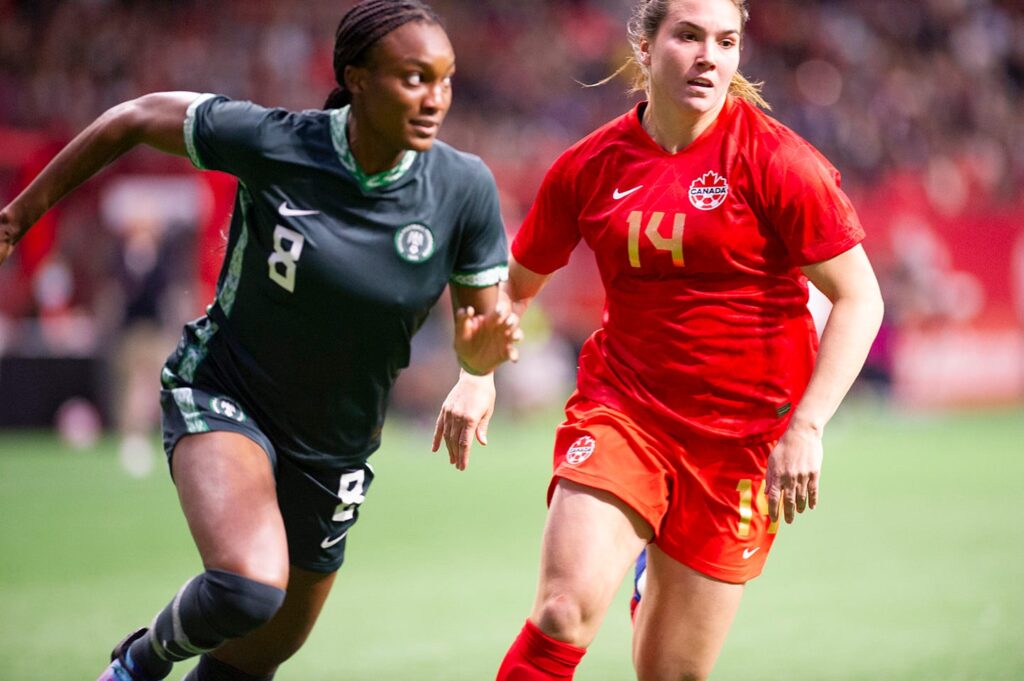 At present Canada is preparing for the upcoming 2022 Concacaf W Championship which works as the qualification road for the 2023 FIFA Women's World Cup Australia & New Zealand plus the Paris 2024 Olympic Games. 
While Canada have their sights set on pulling out a win it's like having to play online roulette for real money in hopes of putting Canada on the world stage dominating the soccer world.
The upcoming Concacaf World Championship will feature eight nations from 4-18 July in Monterrey, NL, Mexico, with Canada and USA to be joined by six other nations yet to be determined through April's Concacaf W Qualifiers.
Nigeria has always been one of the top nations in women's football, in fact 11-time African champions and one of only seven nations in the world that have qualified for every edition of the FIFA Women's World Cup since 1991.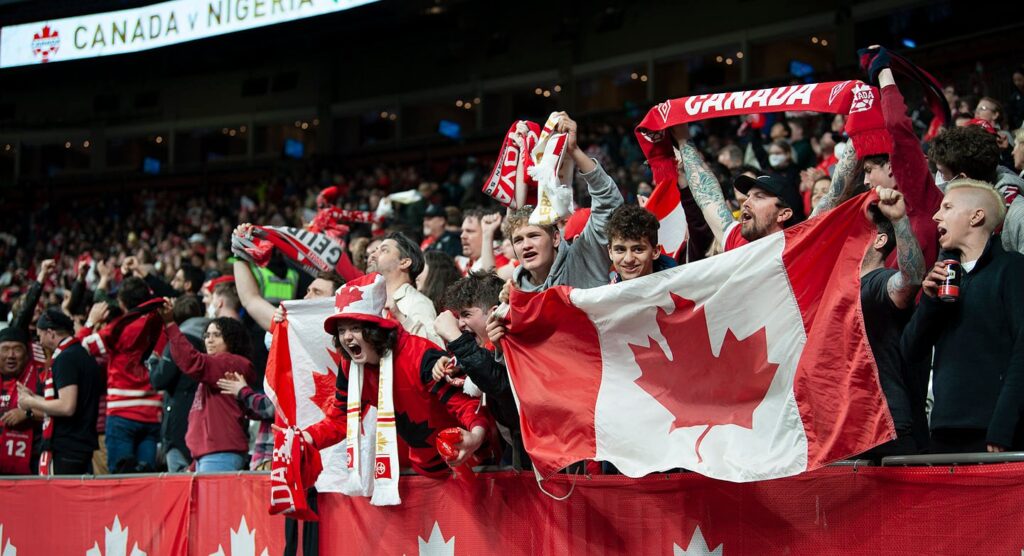 No different from Canada making preparations, Nigeria are setting their sights for their summer qualifiers to the FIFA Women's World Cup Australia & New Zealand 2023:
Nigeria are one of 12 nations competing in the 2022 Africa Cup of Nations July 2-23.
Topping things off at the half was a presentation to Maeve Glass for her contributions to the sport of soccer.
Friday's event was to also recognize Christine Sinclair who holds the record for international goals in a match played in front of her hometown family and fans.
These matches also mark a farewell to goalkeeper Stephanie Labbé, who will wrap up her professional and international career.
Canada Soccer also recognized five members of the Canada Soccer Hall of Fame at halftime who were welcomed by their former teammate, Candace Chapman, who is also a member of the 2018 Canada Soccer Hall of Fame.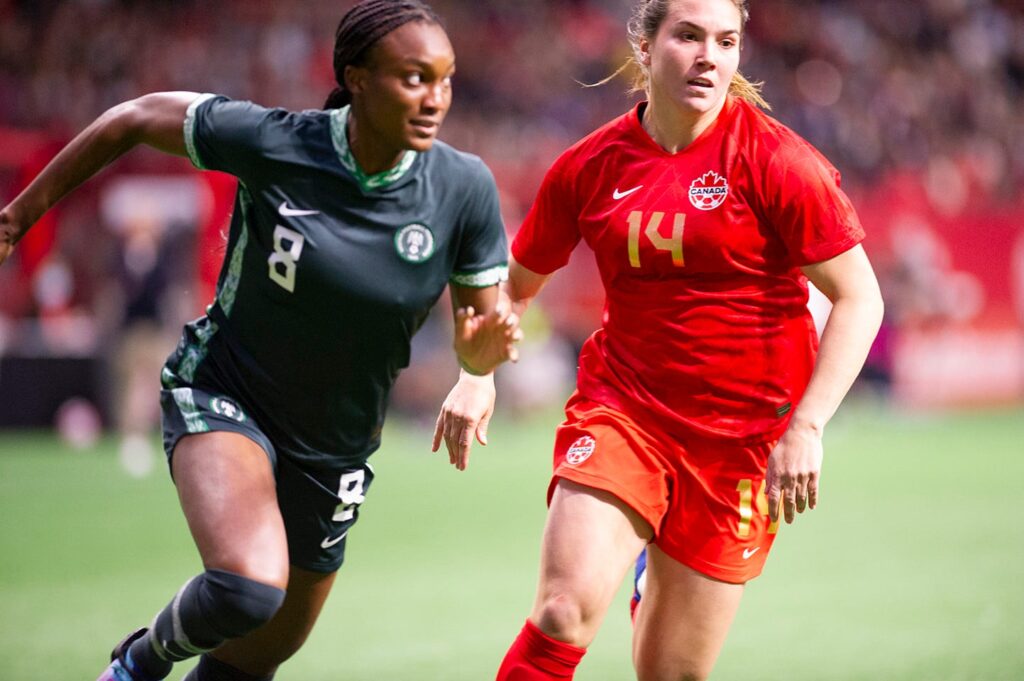 The five honoured members are Randee Hermus from the Class of 2019, Karina LeBlanc and Brittany Timko-Baxter from the Class of 2020, and Martina Franko and Rhian Wilkinson from the Class of 2022.
The first half was a feeling out process with the teams going into the room at halftime nil nil but the second half was a different story to the delight of everyone.
Canada came storming out and put on the heat and when all was said and done Canada outshot Nigeria 24 to 4 pulling out a 2 nil win.
Canada could have easily scored 4 or 5 with their multiple chances only to be denied by the stellar play of the Nigeria defenders
The second game of the series is being played in greater Victoria Monday evening and if this game is any indication of what the fans in Victoria should expect get there early.