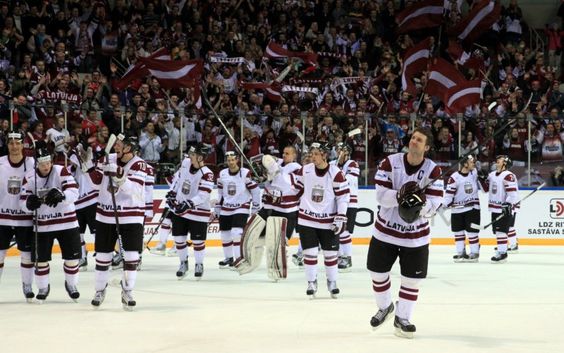 Photo Credit Pinterest
The championship was an upset for the US, but for Latvia it was not only a success it was a milestone marking strides they are taking in the growth of the sport in their country.
Canada again pulled off the championship with not much "to do" about it other than on various stations that have broadcasters taking more between themselves than the sport or matters that actually matter.
No major "block parties" on crowded streets or plaza's like they saw when they arrived back in Riga early Monday being greeted by thousands of fans.
Now we are hearing from various sources that the team is being questioned by the for something that seems simple "to us" that makes one question who conjures up these rules?
The team enjoyed their success which they never expected but managed to pull out the O/T win over the US but the win was outdone by the way in which they celebrated after the game.
Winning Bronze was a first win for the Latvian Men's National Team and their country's first-ever medal at a IIHF event, but hearing that the Latvian Ice Hockey Federation is being questioned for a jersey sponsor they wore throughout the tournament.
One has to ask or question why was this not noticed either prior or after the first game that could have possibly seen them make the necessary changes to the jersey?
Being reported on Twitter to the HockeyNewsHub the Latvian National Team could face issues for wearing and displaying a gambling sponsor on the jersey sleeves.
I am hearing that this is due to the fact that the Finnish Lotteries Act prohibits any gambling organizations in other countries to promote their services in Finland.
So while this had made news earlier, now we are hearing that more information has come out mentioning that Latvia did not break any Finnish rules because the sponsor on their uniform was "OlyBet Sports Bar" and not "OlyBet". 
Reportedly these are two completely separate entities and OlyBet Sports Bar is exactly what it says, a sports bar, but it also offers gambling.
While they (the Latvian National Team) were not breaking Finnish laws,there was a criminal complaint filed against them.
General Matti Nurminen the IIHF Secretary mentioned the news regarding the criminal complaint that there was indeed a criminal complaint launched against the team.
Matti Nurminen, Secretary General of the International Ice Hockey Federation IIHF, commented on the incident via text message to Iltalehti.
Let the authorities do their job.