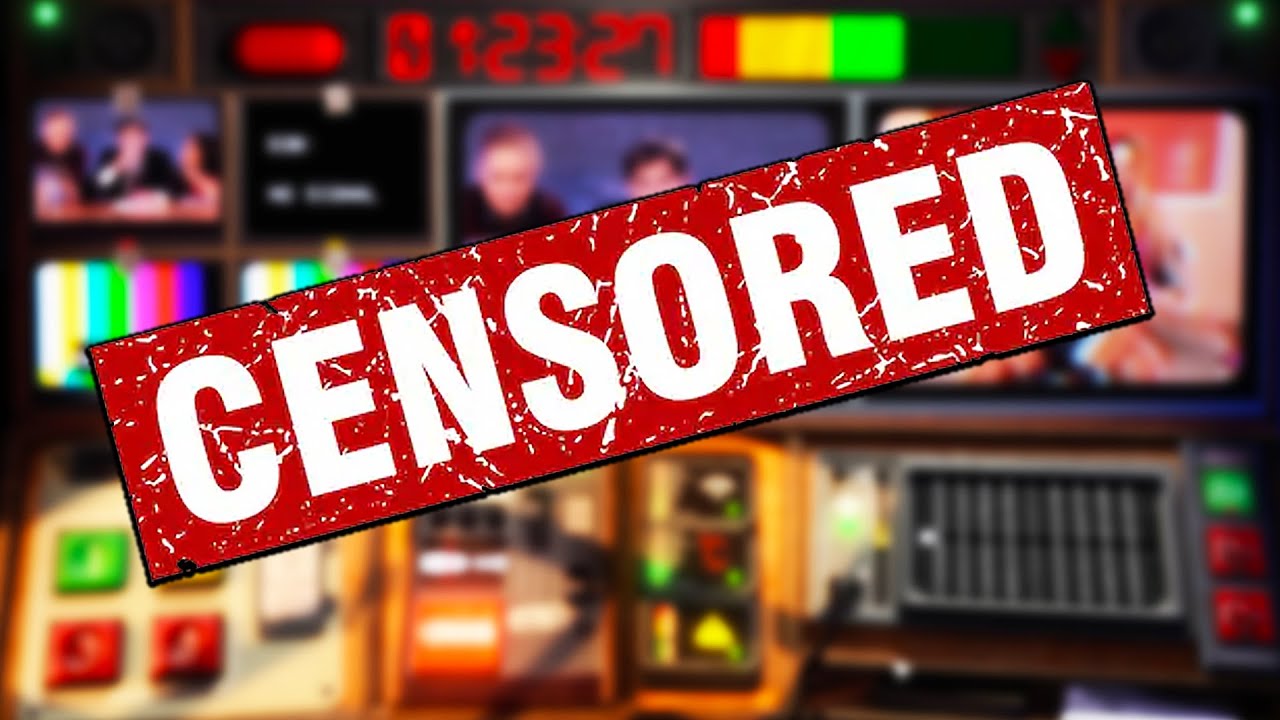 In most cases it takes a lot for a volunteer to be removed from various sporting events, but never say never.
Normally the conversation revolves around a colour commentator making remarks about a penalty call that the referee has made showing their lack of knowledge of the rules.
Leagues allow these sort of remarks to go unblemished as I am told "It's part of the game" but in actuality it's their lack of knowledge that shines through.
This isn't only for pro leagues, but filters down to junior leagues in various areas of both Canada as well as the US as well.
The sign for a colour person is if they don't know what or why a call was made they should not show their ignorance, but rather refer to their partner or not mention it in the first place.
In a BCHL playoff game April 22nd the hometown Alberni Bulldogs were playing host to the Langley Rivermen where broadcast quickly changed from the game to the broadcast.
Alberni's colour commentator, Bruce MacDonald was quickly and abruptly removed not just from the game but also the rink following the second period of the game.
He was directing the comment at North Van's Owen Kim who plays for the Rivermen by stating "Does he speak English? Maybe that's the problem."
To no surprise and while showing class the league quickly apologized to Kim, his family, and those listening in and heard the comments.
The BCHL released a statement saying "The Bulldogs were immediately informed of the comments and removed Mr. MacDonald from the broadcast.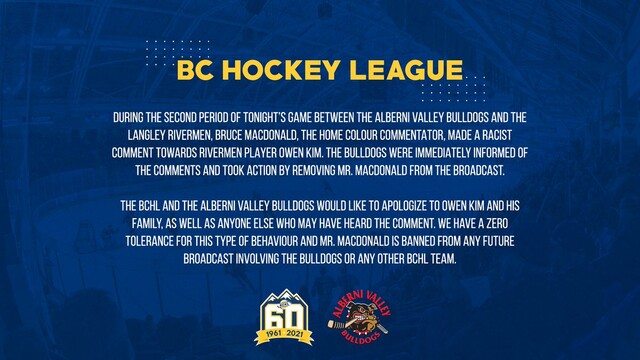 "The BCHL and the Alberni Valley Bulldogs would like to apologize to Owen Kim and his family, as well as anyone else who may have heard the comment. We have a zero tolerance for this type of behavior, and Mr. MacDonald is banned from any future broadcast involving the Bulldogs or any other BCHL team."
The radio station 93.3 The Peak also carries the games live in which broadcast the game, also issued a statement.
"Racism has no place in hockey," the station started. "Racism has no place on our radio stations nor in our country.
Full credit to play by play, Evan Hammond who has been working with the Alberni Valley Bulldogs since 2003-04 for taking control of the situation when it happened.
This situation took an ugly turn for sport and while this was quickly curbed the next step is for all leagues to quash those who make remarks toward the officials regarding rules, which they clearly know nothing about.
It's not just junior hockey that this is an issue, but in all leagues and regardless of the league it's time to put disrespect in the "sin bin" and be taken out of the game.
Professionalism needs to take centre stage in all levels of sport!!!