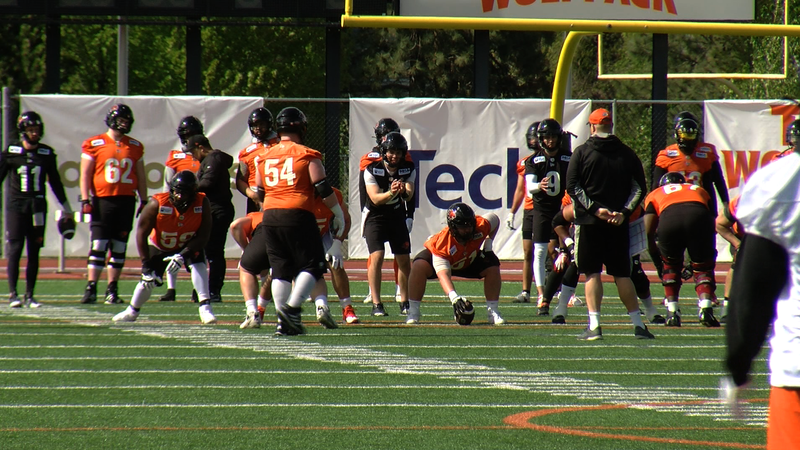 Photo Credit CFJC Today
While everyone is still focused on outings with family and friends, add one more sport event to your planner for the summer.
Locally we are ready for the CFL to kick-off with the Lions focused on having a winning season on and off the field.
The Lions have had a productive training camp in Kamloops making changes in hopes of attracting more of a fan base for the coming season.
We receive daily press releases from Matt Baker, BC Lions Manager Communications and Content and want to share the most recent.
Enjoy the read from the Lions Den:
Special event for fans 19 and over also features Famous Players Band performance and will lead into OneRepublic pre-game concert inside BC Place.
(Vancouver)- Lions fans will have the opportunity to start the party early for our season kickoff as today the club announced Steven Page will headline our Backyard Block Party presented by Canadian Club.
The pre-game extravaganza takes place from 2:00-6:00 pm on Saturday, June 11th on a long stretch of Robson St. between Beatty and Cambie.
Recently inducted to the Canadian Music Hall of Fame with his former Barenaked Ladies bandmates, Page has enjoyed a very successful solo career which began with the release of his first solo album Page One in 2010.
He previously performed at the 2011 NHL Winter Classic in Pittsburgh. Page hits the stage on 5:00 pm on June 11.
Before the Page wraps up this special event, fans will be treated to a performance by Famous Players Band.
Open to fans 19 and over, the Backyard Block Party will also feature food, Central City beer and plenty of tailgate activities to get fans amped up for a great night of football and entertainment before the squad battles the Edmonton Elks to begin their 68th regular season.
The special pre-game party continues inside BC Place with a performance from OneRepublic beginning at 6:30 pm.
Secure your tickets for our 2022 season kick off HERE.
The BC Lions announced this morning that American quarterback Antonio Pipkin has agreed to terms on a contract.
The 26-year-old native of Gary, Indiana was most recently a member of the Toronto Argonauts and completed seven of nine passes for 60 yards in last week's pre-season opener in Ottawa.
Pipkin dressed for seven games with the Double Blue in 2021 and was named starter for the regular season finale against Edmonton where he had ten completions for 121 yards.
After a brief stint with the Arizona Cardinals, Pipkin originally moved north to the Montreal Alouettes in 2017 and would spend three seasons with the club.
His most productive campaign was in 2018 where he threw for 1,120 yards and three touchdowns on 78 total completions over 12 appearances.
Pipkin attended Tiffin University from 2013-16 and broke every major passing record for the program.
He racked up over 10,000 yards and connected on 88 touchdowns in 44 total contests.
The versatile pivot also contributed on the ground with over 2,000 yards and 25 touchdowns while leading the team in rushing in both 2014 and 2016.
The most recent as of May 31st reads that they have release American DB KiAnte Hardin from the roster: