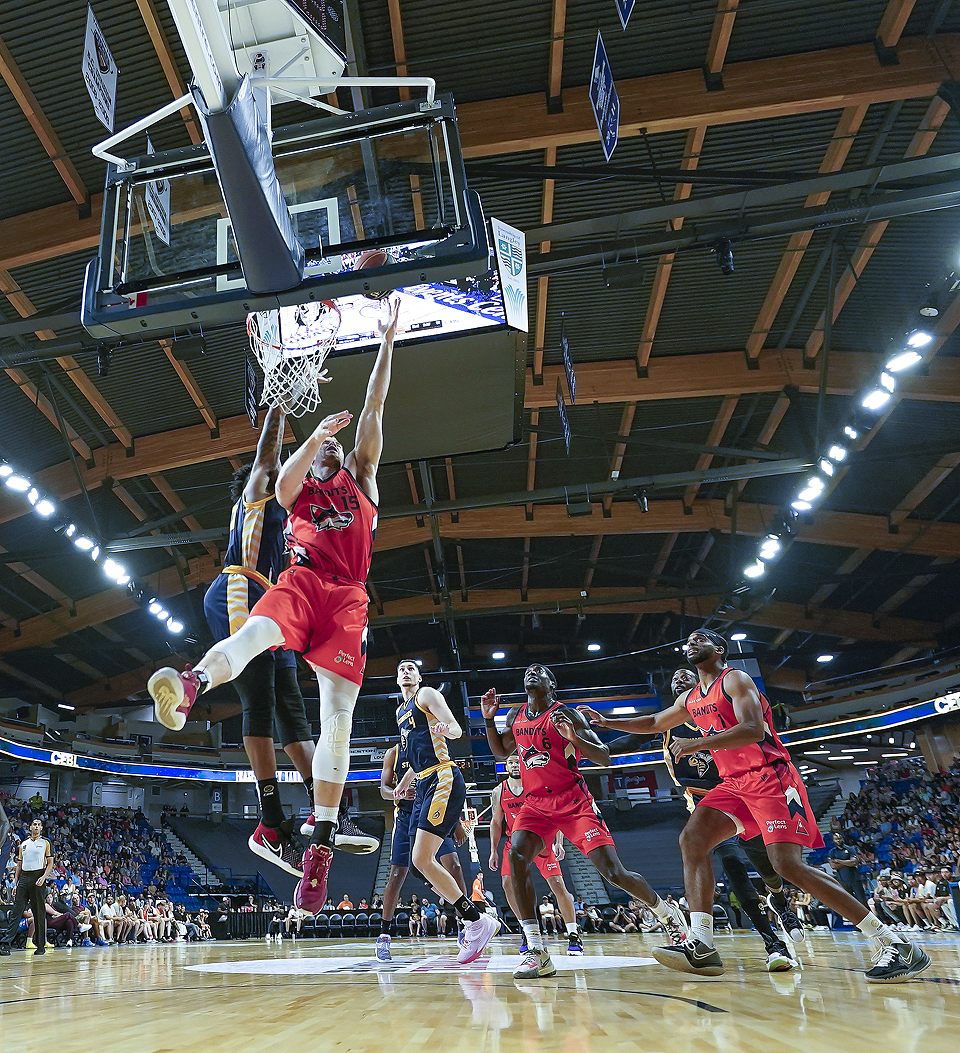 Photo Credit Wesley Shaw/Shotbug Press
They were playing a game of fate that would determine their rankings heading into the upcoming CEBL 2022 playoffs.
They managed a fourth quarter win over visiting Edmonton Stingers on a hot muggy night as the temperatures soared to record numbers.
The Bandits were playing their third game in a span of six days in three different cities having only eight players which Bandits bench boss Mike Taylor gave credit to Duvivier as the motivation.
The heat outside was 35 degrees with the Bandits taking a 22-13 lead after the first quarter only to have the Stingers grab a 44 – 40 lead after two.
The third saw the Stingers extend their lead to 11, but it was the Bandits who cut the deficit to five ending the third with a 63-58 lead.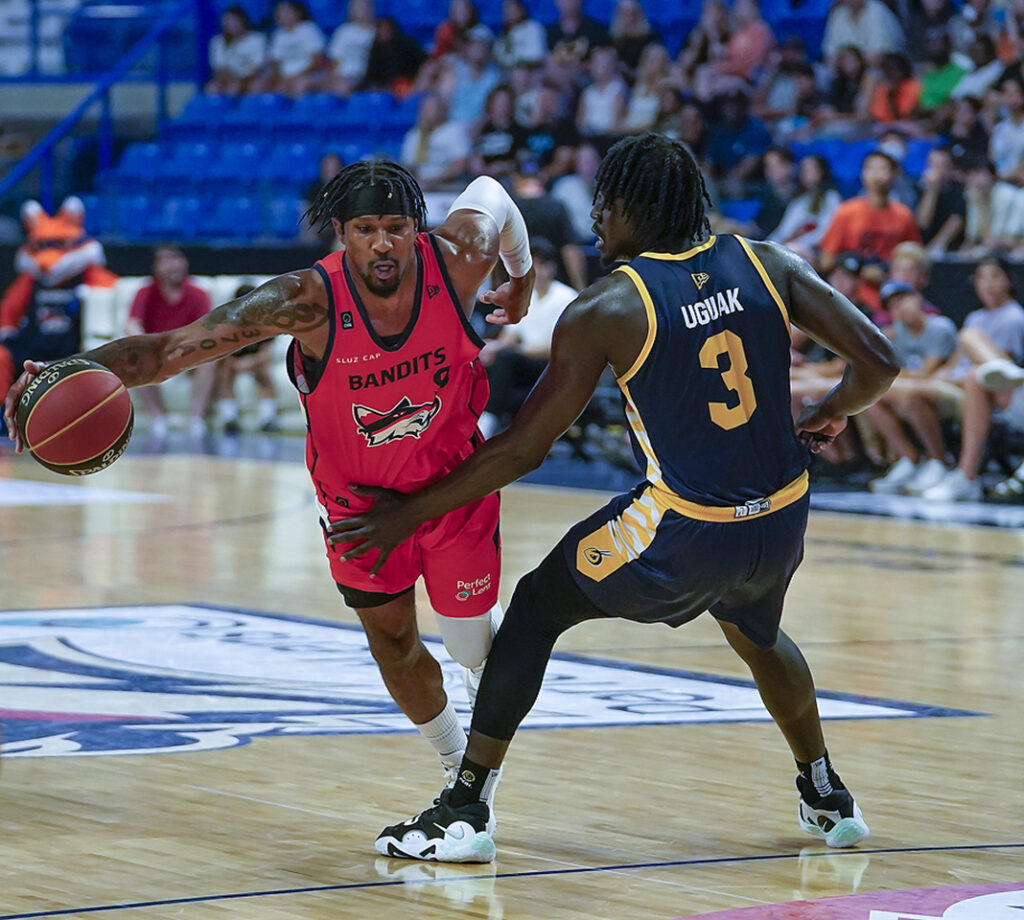 At times the game got aggressive which many felt was due to the Bandits fighting to move up in the standings in need of the much needed win.
The Bandits were down 73-72 in the fourth that saw them sink the next five points before the target was set at 86.
The last quarter saw a Stingers player get ejected for physical contact which set up a lengthy delay before the officials sorted out the calls.
Duvivier mentioned after the contest "We have so many offensive weapons, it is just about playing together and stepping up when your time comes."
If you focus on success for the Bandits this season it has to be the overall improvement of their three point shots with them finishing with an impressive 221 three-point successful shots.
This contest saw 5 Bandits players reach double figures while Klassen team-best 19 points as well as 7 assists makes him the ninth different Bandits player to lead this season in a game.
Alex Campbell and Klassen were both tied with a team-high nine rebounds, while Duvivier had 18 off the bench.
Bandits Gilbeck and Esho both scored 11 with Shane Gibson helping with 10 while Gilbeck had six of the 10 blocked shots.
Stingers Adika Peter-McNeilly managed 15 points while Derrick Woods scored 14 who was ejected in the fourth quarter as mentioned above.
The Bandits finished with a 12-8 record while the Stingers finished 10-10 with both teams having qualified for the postseason.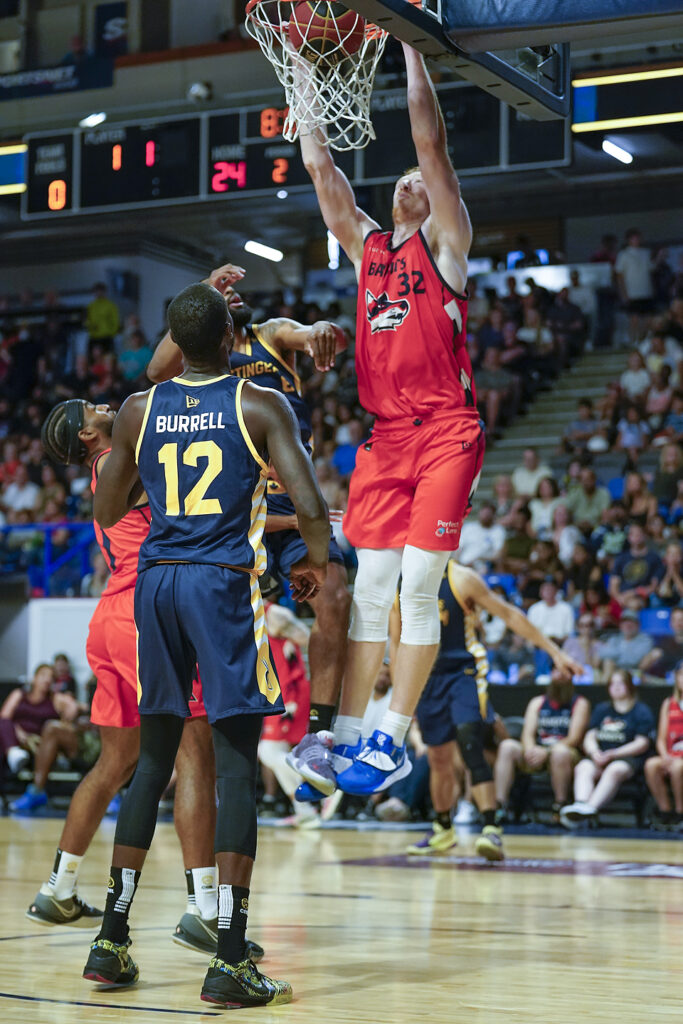 As of press time it's unclear if they play Aug. 4th; if the Bandits finish fourth – or Aug. 7th if they move to second or third in the standings.
As of press time we do know that the Stingers will open post-season in Thursday's play-in round on the road facing the (11-9) Saskatchewan Rattlers.
Game notes:
This season saw the Bandits go 2-0 against Edmonton noting that they were the only opponent who did not beat them.
The Bandits had a 56-52 rebounding edge and 22-20 on the offensive glass.
Fans are kindly asked to call (604) 866-0529 or email [email protected] for tickets.
Sportswave wishes the Bandits success heading into this years CEBL 2022 playoffs.
We should mention that former MLA for Surrey posted the following on his FB page
Thank you Fraser Valley Bandits and Cameron Reeves, Account Executive for raising funds for Rotary Club's Starfish Pack Program at your July 30, 2022 basketball game matchup between Fraser Valley Bandits & Edmonton Stingers at Langley Events Centre.
Rotary Clubs at the event were Rotary Club of Abbotsford, Rotary Club of Port Moody, Rotary Club of Haney, Rotary Club of Langley Sunrise, Rotary Club of Aldergrove , Rotary Club of Surrey, Meadow Ridge Rotary Club, Rotary Club of Semiahmoo, Rotary Club of White Rock, Rotary Club of Langley.