BC Amateur BodyBuilding Championships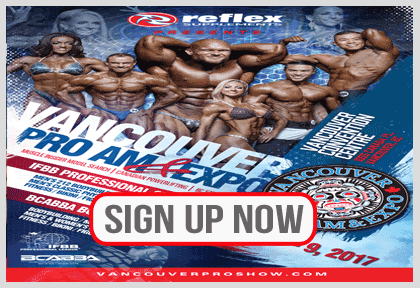 http://bcabba.org/page/3/
The BC Amateur Body Building Championships was recently held at the Vancouver Trade and Convention Centre in which there were 4 categories in addition to the IFBB Men's and Women's categories over the two day event.
Day one kicked off with the Saturday morning with both the Men's and Women's Body Building events beginning at 9:00 AM with the top competitors advancing and only ten advancing to the top five finishes in the evening show.
In addition the BCABBA mixed pairs body building event took place and again the top ten advanced up to the championship round.
The IBBF participants took over from 11:30 til 2:15 that had both the Men's and Women's pro fitness compete which was immediately followed by the Women's Physique and Men's classic physique routines.
The IBBF categories concluded around 4:30 with only the top 5 being awarded in the Routines and Physique that ended with the "Pose-down" for the judges and awards handed out to the winners.
The show for the BCABBA Men's and Women's category took to the stage for the top finishes in Body Building and Physique in addition to the mixed body pairs and classic physique, which concluded day one of the event.  
Day two kicked off with the BCABBA Fitness two-piece judging followed by the bikini portion which was also followed by fitness routine and men's physique and figure judge.
The finals and awards in the bikini overall fitness routines men's physique followed by the fitness 2 piece and figure overall awards were handed out followed by an intermission.
The final portion of the two events wrapped-up with the IBBF Men's open routines and physique that saw the top five awards handed, which was followed by the pro bikini category awards.
The IBBF Men's open Body Building and Pose-down routines took to the stage which saw the top five awards handed out to the overall champions.
Vancouver pro-am and Expo Promoter for the third consecutive year was Reflex Supplements in addition to "Absolute Touch Figure" and "Fitness Bikini" Division.
For additional information please visit http://bcabba.org/