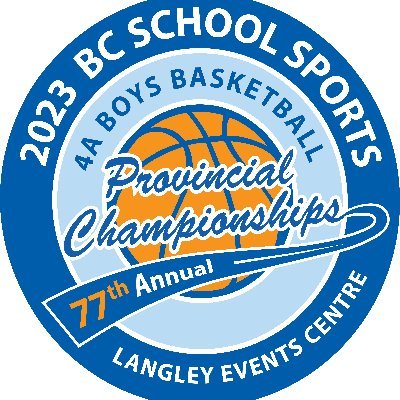 Photo Credit BC4ABoysBBall/Twitter
It's the time of the year where we turn our focus to one that sports that schools have been working hard on since the opening day back in September.
Both Boys and Girls at all levels of the game have not only been practicing but working on various skill levels of the game to reach an event that only a few school teams have ever reached.
Looking back in North Delta we remember that the North Delta Huskies have appeared in the BC Provincial Championships 18 times earning six trips to the final four playing in five championship games.
They have been named 3A tournament all-stars 20 times and have been crowned provincial champions in 1971, 1975, 1990 with four Fraser Valley titles in 1972, 1990,1992 and 1993.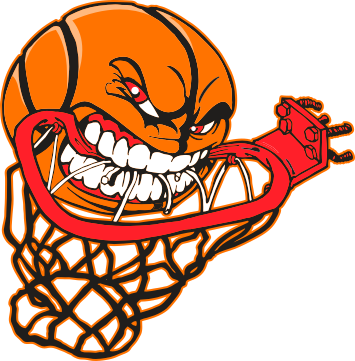 This year the Huskies are competing in the 3A Tournament facing various rivals who want to take the championship title back to their respective school.
The most recent appearance by North Delta in the 3A championship was in 2007 who placed 2nd in the Fraser Valley going on to defeat Burnaby's St. Thomas More reaching the final eight but fell to eventual champion Dover Bay of Nanaimo.
With the 64-team event set to "tip off" March 8th make plans to attend to cheer on your respective school or better yet just support the young athletes competing.
Below is the press release from Sportswave's good friend Gary Ahuja at the Langley Events Centre and for more info call the office at 604 455 8830
Enjoy the read:
Two of the four defending champions are back and seeded No. 1 in their respective tiers for the 2023 BC School Sports Boys Basketball Provincial Championships.
The 64-team championships – broken into four 16-team tiers – gets underway on Wednesday (March 8) and runs through Saturday (March 11) with 128 games at Langley Events Centre.
Chilliwack's Unity Christian Flames are the two-time reigning provincial champions in the 1A Tournament and the No. 1 overall seed, while Vancouver's St. Patrick Celtics are the No. 1 seed in the 3A Tournament and in search of a second consecutive championship. Mill Bay's Brentwood College (2A) and Surrey's Semiahmoo Thunderbirds (4A) are the two other No. 1 seeds in their respective brackets.
The action gets underway on March 8 at 8:30am with the final game set for March 11 at 8:00pm. For schedules and more please visit http://www.bchighschoolbasketballchampionships.com/
Single game and tournament passes are available for sale online and all of the games are also available to stream through pay-per-view at tfsetv.ca.
1A Tournament 
While Unity Christian holds down the No. 1 seed, the King David Lions (Vancouver), Aberdeen Hall Gryphons (Kelowna) and Nanaimo Christian Trail Blazers (Nanaimo) are seeded second, third and fourth, respectively.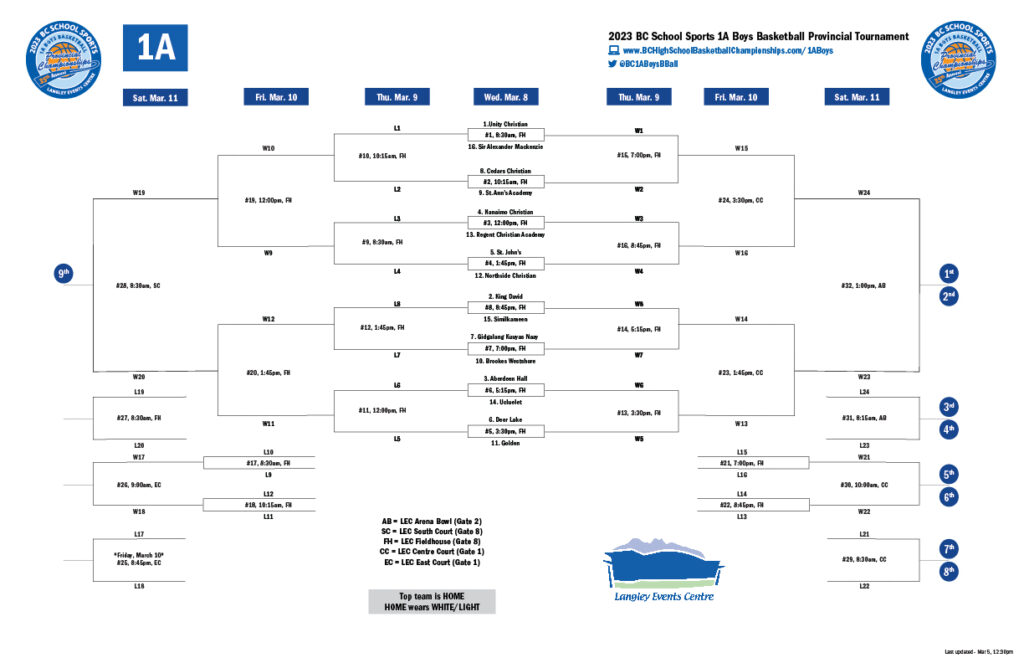 The rest of the field (in alphabetical order): Brookes Westshore Gryphons (Victoria), Cedars Christian Eagles (Prince George), Deer Lake Falcons (Burnaby), Gidgalaang Kuuyas Nay Breakers (Haida Gwaii), Golden Eagles (Golden), Nanaimo Christian Trail Blazers (Nanaimo), Northside Christian Northstars (Vanderhoof), Similkameen Sparks (Keremeos), Sir Alexander Mackenzie Grizzlies (Hagensborg), St. Ann's Academy Crusaders (Kamloops), St. John's Eagles (Vancouver) and Ucluelet Warriors (Ucluelet).
2A Tournament 
Vancouver's King George Dragons (No. 2), Surrey's Pacific Academy Breakers (No. 3) and North Vancouver's St. Thomas Aquinas Fighting Saints (No. 4) join Brentwood College as the top four seeds in the 2A Tournament.
The rest of the field (in alphabetical order): Archbishop Carney Stars (Port Coquitlam), Charles Hays Rainmakers (Prince Rupert), Collingwood Cavaliers (West Vancouver), Fernie Falcons (Fernie), John Barsby Bulldogs (Nanaimo), Khalsa School Lions (Surrey), Lambrick Park Lions (Victoria), Langley Christian Lightning (Langley), Nechako Valley Vikings (Vanderhoof), Southridge Storm (Surrey), St. Thomas Fighting Saints (North Vancouver), Summerland Rockets (Summerland) and the Westsyde Whundas (Kamloops).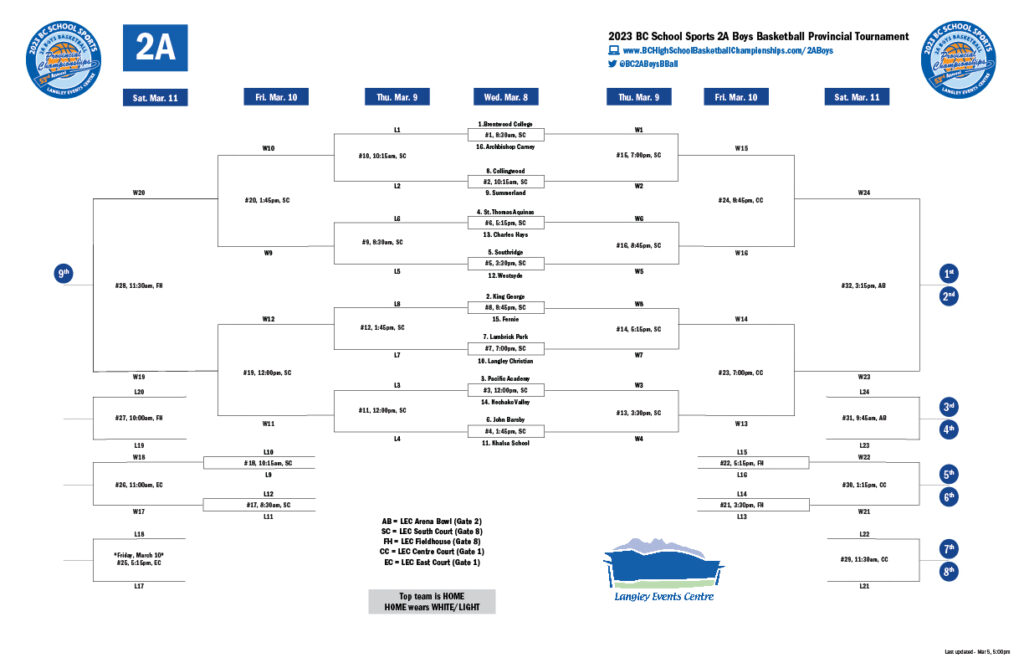 3A Tournament
A pair of Fraser North rivals from Burnaby make up two of the top four seeds in the 3 A Tournament as the St. Thomas More Collegiate Knights are the No. 3 seed while the Byrne Creek Bulldogs are the No. 4 seed. 
The defending champion St. Patrick Celtics are the top seed while Nanaimo's Dover Bay Dolphins are the No. 2 seed.
The rest of the field (in alphabetical order): A.R. MacNeill Ravens (Richmond), Alberni District Armada (Port Alberni), Argyle Pipers (North Vancouver), Caledonia Kermodes (Terrace), College Heights Cougars (Prince George), J.L. Crowe Hawks (Trail), M.E.I. Eagles (Abbotsford), North Delta Huskies (Delta), South Kamloops Titans (Kamloops), Steveston-London Sharks (Richmond) and Wellington Wildcats (Nanaimo).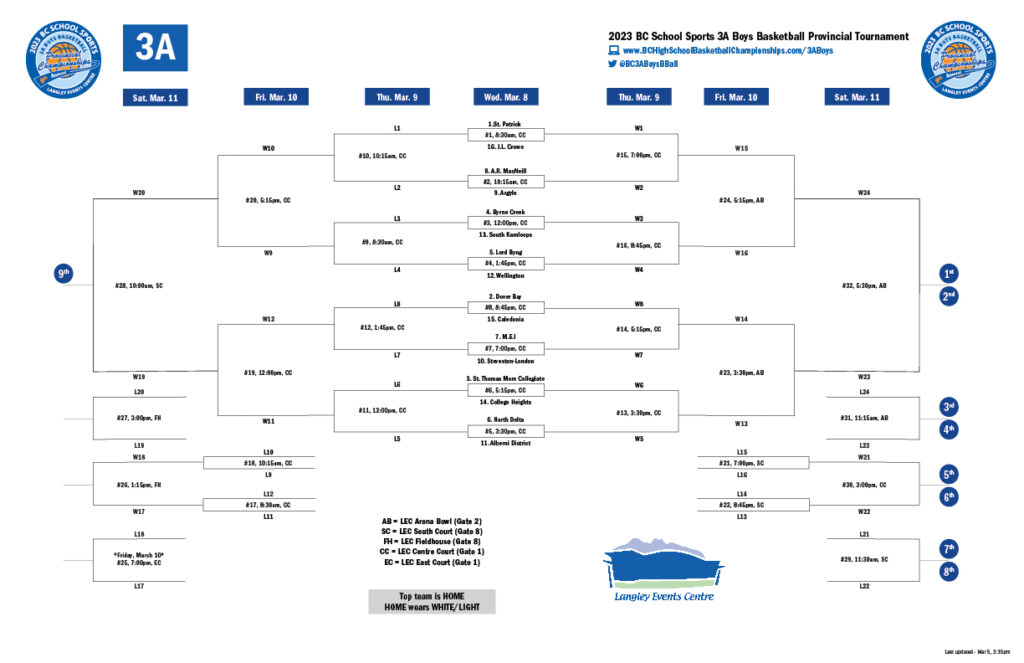 4A Tournament
And in the 4A Tournament, a pair of Vancouver private schools are ranked third and fourth, respectively, with the Vancouver College Fighting Irish holding the No. 3 seed and the St. George's School Saints at No. 4. 
The Semiahmoo Thunderbirds – who finished second in 2022 – are the top seed while Victoria's Oak Bay Bays are No. 4.
The rest of the field (in alphabetical order): Abbotsford Senior (Abbotsford), Claremont Spartans (Victoria), Elgin Park Orcas (Surrey), Fleetwood Park Dragons (Surrey), Heritage Woods Kodiaks (Port Moody), Kelowna Owls (Kelowna), Mount Baker Wild (Cranbrook), Prince George Polars (Prince George), Tamanawis Wildcats (Surrey), Terry Fox Ravens (Port Coquitlam), W.J. Mouat Hawks (Abbotsford) and West Vancouver Highlanders (West Vancouver).
For more information: Gary Ahuja at the office in the Langley Events Centre 604.455.8830