The long awaited guessing game of not just when, but even if they will return became official with the recent announcement by BC's Provincial Health Minister, Dr. Henry that we are officially in phase two.
Officially, by Provincial standards means the return for sports, entertainment, travel to name only three which was welcomed by everyone considering that we have been under lock-down (for lack of better terms) due to Covid -19.
The past while there has been concerns that one sport facing a return to play was the CFL with many hearing of financial hardships to some of the nine teams. 
The return to play fell under the umbrella of the consent from each Province as well as the Federal Government.
Once the return to play was announced the Canadian Football League's Board of Governors unanimously voted to approve a 14-game regular season that will officially kick off on Aug. 5.
Randy Ambrosie, CFL commissioner "This is an exciting day for Canadian football and for Canada itself and I want to thank our fans, players, coaches and partners for their incredible support and patience as we've worked together towards this day."
Ambrosie added that the league is on track to receive all of the necessary health and safety approvals to start the season in early August and the league is working on a plan to allow for fans to attend games.
He continued "While the outlook for fans in the stands varies from province to province, we are confident that the process is also on the right track."
With a delayed start to the season, the 108th Grey Cup in Hamilton will be pushed back until Dec. 12.
While we applaud the return of the CFL one question that has many wondering how they came to a conclusion of the Grey Cup is the location.
Last year (2020) the 108th Grey Cup game was played Sunday, November 22, 2020 at Mosaic Stadium in Regina Saskatchewan that had the team, the City and business owners working to bring it to the City.
We are hearing that the CFL along with the Saskatchewan Roughriders announced the Saskatchewan Grey Cup and Grey Cup Festival, initially set for November 22, 2020, will take place in 2022.
The 2020 Grey Cup was initially awarded to the Roughriders on February 21, 2019 and was to be the first held at new Mosaic Stadium which marked the first time the game and the Grey Cup Festival was held on the same footprint as per CFL info.
Sportswave welcomes the return of the CFL and the BC Lions and will keep you up to date with all the latest news and views on the team and the league.
CFL training camps are scheduled to begin on July 10 and many in the lower mainland are excited for the return of the BC Lions.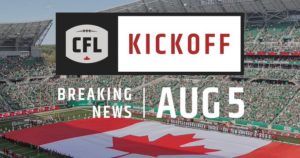 Go Lions Go!!!