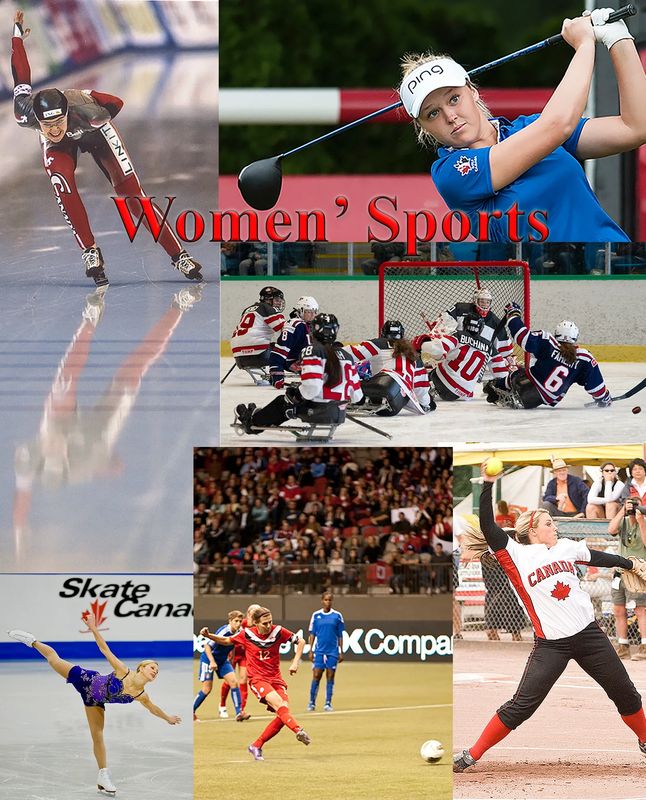 Photo Credit Just Women's Sports
Welcome to one of Sportswave's newest features which will be posted up each Wednesday for your enjoyment.
Wednesday will be called WOMEN IN SPORT and will feature women from all walks of life who have not just achieved success in the sporting world, but also donated their time for the betterment of all sports.
Having a Daughter who grew up around sport and wanting to play hockey, I know what I was dealing with when it came time to register her to play hockey which was focused on being a "boy's game" than opening it up.
Sad, but sport has changed over the years and being honest – the young girls of today only want to play a game they fell in love with.
If you know of anyone who you feel deserves to be mentioned on Sportswave please contact us at sportswave@dccnet.com to promote someone who you feel should be recognized.
Our first feature is on Canada's National Women's Hockey Team!!
Hockey fans in Canada who are not getting the last few days of summer but of late have been glued to the "tube" catching the action with Canada's National Women's Hockey Team who is a member of the International Ice Hockey Federation.
Its reported in the history books that Women's hockey in Canada dates back to 1890 when it was played at the University level that had the first game listed as being played in 1981 in Ottawa.
The first championship trophy was donated in 1920 by Lady Meredith and awarded to the Quebec Ladies' Hockey Association and said to be the first women's ice hockey trophy ever presented in Canada.
The following year in 1921 there was a championship played with the Pacific Coast Hockey Association which lists the first professional women's hockey team being the Vancouver Amazons.
This team was the first women's team from Vancouver to participate in the invitational women's hockey tournament sponsored by the Banff Winter Carnival.
In 1922 the Ontario Women's Hockey Association which was followed in 1933 by the Dominion Women's Amateur Hockey Association that saw the championship trophy donated by Lady Bessborough, the wife of Canada's Governor General Lord Bessborough.
Toronto hosted the Women's World Championship in 1987, knowing that this level of the game was not recognized by the International Ice Hockey Federation.,
It was at this championship that representatives from all nations met to allow member countries to lobby the IIHF to allow the creation of a Women's World Championship.
The lobbying was a success and saw the first IIHF-sanctioned tournament to be played in 1990 in Ottawa allowing Women's hockey to compete in the Olympics for the first time in 1998.
Canada has played the United States 20 times with Canada winning 11, counting the win this year while the US have won 9 to their credit.
While Canada punched their way to the Gold medal game against the US for the 20th time in as many years it's no surprise that they are meeting once again in the for Women's hockey supremacy.
As we watch the teams from various countries we are learning how quickly the game is changing for women's hockey, all in part to the role that both Canada and the US have played.
Such is the case in Japan for a country who have not of late been known for it's hockey skills, but who list Golf as number five, Sumo wrestling number four, Tennis as number three, Soccer being number two and last but not least Baseball as their number one sport.
Even cricket ranks higher than hockey, but strangely enough there are 4 Japanese teams who currently compete in the Asia League Ice Hockey, which to many is a surprise.
Capitalizing twice on the power play we watched as Japan defeated the Czech Republic 3-2 in Sunday's second place game, setting up a match with Japan facing the ROC to determine fifth place.
Win or lose against the Russians, Japan will enjoy its best ever finish after previously peaking seventh place (2008, 2015), while the Czechs will finish seventh.
Japanese coach Yuji Iizuka mentioned to the media "It's very good this has happened and we need to continue to make this kind of progress with the national team program as everyone is looking forward to the 2022 Beijing Olympics.
The Czechs blanked Japan 4-0 in the group stage, but entered with the tournament going 5 for 22 on the PP (22.7%) and well skill is still on the horizon; they're among the fastest-skating and hardest-working.
Japan has already qualified for the 2022 Beijing Olympics that will see the Czech Republic host an Olympic qualification tournament (November 11th to 14th) in Chomutov, facing Hungary, Norway, and a third team to be determined.
If you know of anyone who you feel deserves to be mentioned on Sportswave please contact us at sportswave@dccnet.com to promote someone who you feel should be recognized.