Following several requests wondering when the second interview with Canucks Announcer Al Murdoch, would be up – wait no longer!!
Al missed the auditions as he was working at CKLG watching the 5 pm news and noticed that they had held auditions earlier in the day for PA voice for the Vancouver Grizzlies and couldn't believe he missed it.
He questioned the why and asked himself "I can't believe I missed it" and as he mentions "I immediately phoned (then) Orca Bay Sports and Entertainment who put me through to Greg von Schottenstein who at the time was the Director Of Game Operations.
I proceeded to mention "Greg you have to see me as I'm a huge basketball fan, I know every player in the league and asked "when can you make it down here" too which I replied just after 6 pm, but can come right down and he said "as long as you come right down, I'll see you."
I went right down, met him and he put me on the mic to do some reads, then took me downstairs and proceeded to put in a VHS tape that had the Houston Rockets playing the Phoenix Suns, turned down the volume and said "do the PA."
Al's first question was "who's the home team" and many coming out of broadcast school today wouldn't think of asking such a simple question.
Greg mentioned that Houston was the home squad, so when Hakeem Olajuwon scored it was "Hakeem Olajuwon scored" with excitement, but when the Suns scored the announcement was with the disinterested read and he hired me on the spot"
I asked if he had a highlight from 1995-96 Grizzlies and he mentioned "Oh yea,  the Grizzlies first home win when Chris King tapped it in for the buzzer beater beating Portland in front of 19,113 excited fans by a 100-98 margin as Vancouver had beat Portland in Portland November 5/95 by a 92-80 margin so this was extra special." 
Other highlights was watching Michael Jordan when he came in during the fourth quarter scoring 19 points, thanks to Derek Martin, but "simply to announce Shak, Charles Barkley, Michael Jordan and also to announce Big Country and Mike Bibby and although they were only here for six years, it was huge for me to be able to do that."
Turning his attention to hockey, I asked "what it was like taking over from John as he had big shoes to fill" and he mentions "It was easy as John and I had known each other for over 30 years and when they asked me to come in 2011 when John had his first health scare they wanted me to help out for a few games."
Al mentions that the transition was relatively easy as John had retired from CKNW and wanted to scale back his life to spend more time with his wonderful Wife and spend more time at their home in Vegas.
Al told the Canucks that he would help out, but interesting enough John wanted to leave the year prior, but after a conversation, Al mentioned that John should do the original six games for the Canucks."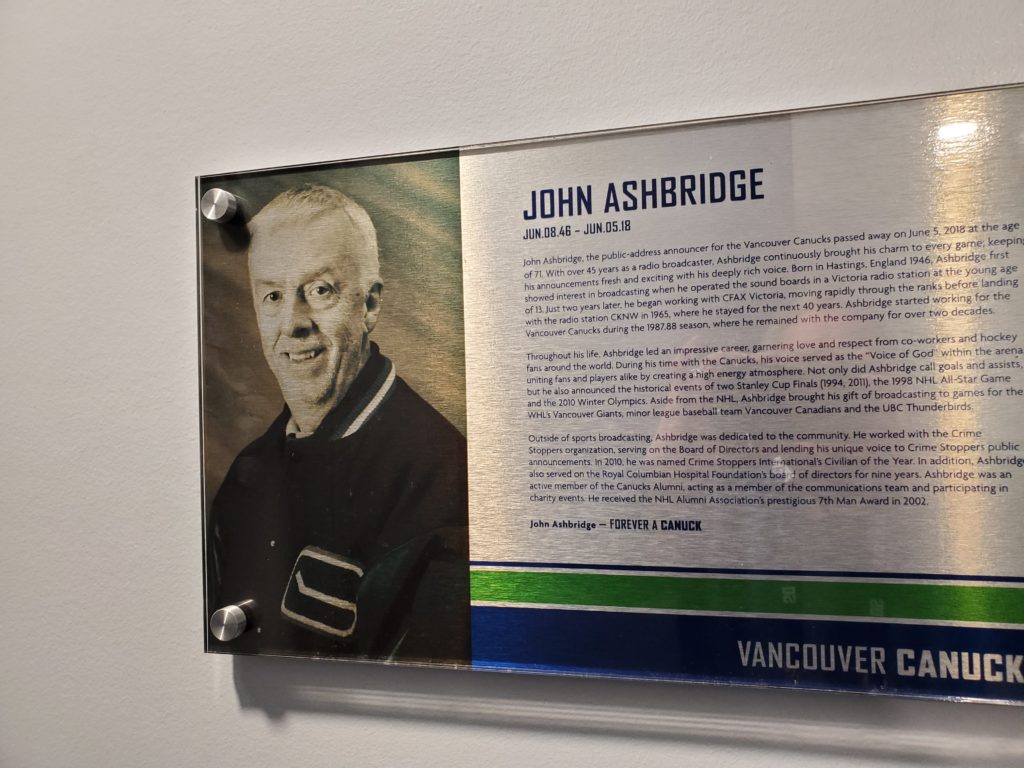 When John decided to leave he told Al, "It' in good hands and I'm glad it's you" so after he left the mic they would often get together and chat or shoot the bull about anything and everything."
I asked if he had the chance to meet on broadcaster who it would be and after a long pause, he mentioned "That's tough as I have met and worked alongside so many great broadcasters like Frosty Forest, Rick Honey, Dave McCormick, Big Daddy, Red Robinson and I produced his reunion show for a couple of years."
He continued, "When you're around these types of people they don't have to teach you; learn by osmosis, you learn by simply being around them and watch how they carry themselves on and off the air., so I learned a lot of knowledge from those types of people."
Al goes on to say "I worked with Doc Harris and naturally there are some in the US that I looked up to, but I literally worked with some of the biggest names in broadcasting, but I really enjoyed my time working in radio, regardless of where I went."
His parents are still alive and living in Walnut Grove and periodically Dad will text him throughout the game saying "what kind of call was that" so it's nice to see the Family that stays together, plays together!!
As one would expect, the phone rang so Al answered by saying "Domino's and I'll get Mike to do that."
Next I wanted to know if there is anything that he really wants to do as a broadcaster and the answer won't shock you, with him saying "I want to do a Stanley Cup final game 7 with the Canucks winning it in the end."
Al mentions "I have been very fortunate enough to go to China when they went for the first China games against the Kings, work a Memorial Cup opening ceremonies in Regina, work all games last year for the World Juniors in Vancouver, done Major League Ball, NCAA – but my dream is to do the Stanley Cup final with Vancouver winning it in the end."
Lastly I asked "If there is one person in the world either past or present or living or passed away who would it be?"
He replied "Wow, that's a very good question" and after pausing he mentioned "I would love to have a talk with both of my Grandfathers who both sadly passed away a long, long time ago, but were salt of the earth and not only great Parents, but also great Grandparents to me and very supportive of me."
He continues with a smile saying "I've got a Daughter who is 16 and has a few years to go before having a Family of her own and I would want to sit and ask them what it takes to be a great Grandfather."
As he approached game time I asked "what advice he would give to young people wanting to get into the broadcast business."
He replies "First off you have to have a passion, be extremely patience and as both Al and I know has changed regardless of TV, Radio or print and the opportunities have dwindled and if you want to get into broadcasting, first have the patience, second the passion and do it because you love it."
Continuing on "Don't do it because you think you're going to become a millionaire, because you're not and the money isn't there like it used to be."
Lastly he couldn't have wrapped our interview up with better advise as he mentioned "Lastly be a nice person and if you're nice to some that will come back to you in spades."
Take his advice and don't think it's all about you – cause it's not.
I personally have met and worked with some extremely talented individuals, both Male and Female, but their attitude of being "cocky" did them more harm than good.
If you ever get a chance to have a chat with Al, it's worth the price of a coffee!!!
For an interview that was expected to be short, Al had nothing but time for me and for that I greatly appreciate it more than you'll ever know.

T