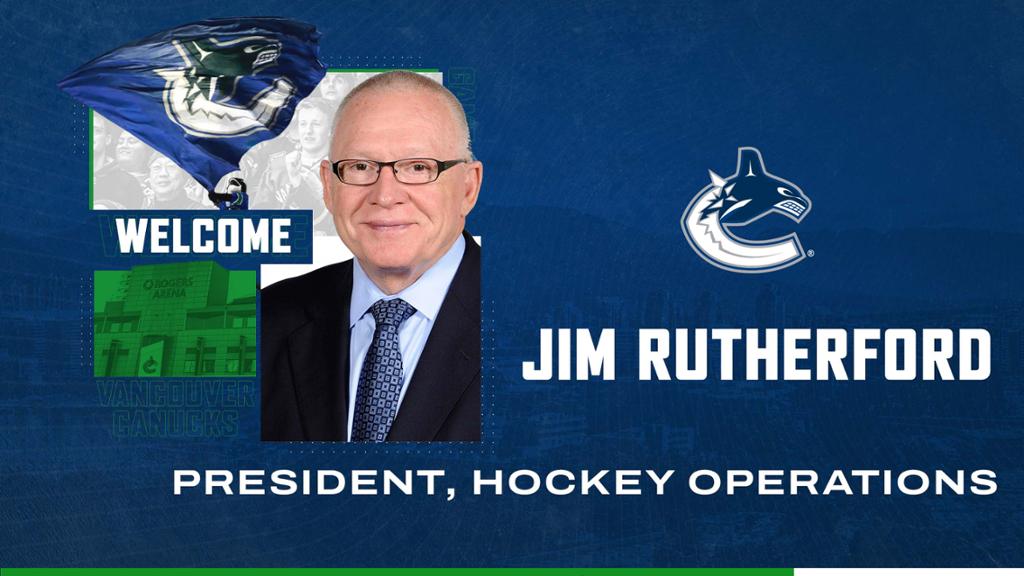 Given the recent upheaval within the Canucks group and the recent changes, it was only a matter of time that they announced who would be named as the new President of Hockey Operations.
Wasting no time as the week went on following their impressive 2-1 shootout win over the Bruins we hear that Francesco Aquilini, Chairman and Governor NHL made it official by announcing that Jim Rutherford (72) was been named President, Hockey Operations and will assume GM duties  on an interim basis while the search continues for their GM continues.
Aquilini mentioned "It is time for a new vision and a new leader who will set a path forward for this team and he (Jim) has tremendous experience building and leading winning organizations and I believe he will help build the Vancouver Canucks into a team that can compete for championships again."
Given his impressive resume with some skeptics still in "thinking mode" as to why they would get Jim, forgetting that he was inducted into the Hockey Hall of Fame in the builders' category as well as having experienced at a high level as well as being respected in the league.
From 2014-2021 he was the GM of the Pittsburgh Penguins that guided them to back-to-back Stanley Cups in 2016 and 2017 as well as the GM for the Hurricanes for 20 years, which saw them win the Stanley Cup in 2006.
The Hurricanes had two runs at the Stanley Cup final and won the Eastern Conference championship (2002 and 2006) reaching the conference finals (2009) also winning three Division titles.
His resume includes winning the GM Manager of the year (June 23, 2016) and was inducted into the Hockey Hall of Fame in 2019.
Rutherford mentioned "It is an honor to join the Vancouver Canucks and to lead an NHL team in Canada and I would like to thank Francesco and the Aquilini family for the opportunity. The Canucks have an exciting young group of players, and I look forward to building a plan that will take this team to the next level and excite Canucks fans everywhere."
He starts his role immediately and will be assessing rosters, the Hockey Operations Department, and the overall operation of the franchise.
It takes strong leadership to build a winning franchise and he is no stranger to hard work and was recognized by The Hockey News (2002 & 2006) being named the NHL's Executive of the Year. 
For those who question his age and the hiring, age is far more than a number – it's experience!!
Thanks to the Vancouver Canucks Media Department for the press release.