In what yours truly considers a shock; never expecting to wake up to a press release from the Vancouver Canucks regarding forward Jake Virtanen (24) regarding allegations of sexual misconduct had me reaching for my first of many cups of coffee.
You hear about this and as one can expect "Social Media Exploded" with various comments ranging from "he's guilty" to "it's a ploy for a girl to make money and why did she wait until now, considering this is alleged to have happened in 2017."
Whatever happened to the Presumption of innocence which is also protected by section 7 11(e) of the Canadian Charter.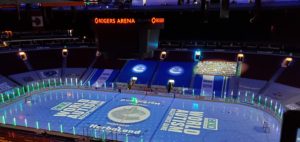 It's been a rough season for the Canucks as well as Virtanen who has struggled throughout the  season as have other players.
For many to presume his guilt is incorrect and he should be given due process of law pending an investigation by the Vancouver Police Department.
The Canucks are currently on a four game road trip and are set to take on the Leaf's in Toronto hitting the ice at 7 pm eastern time with many on the west coast glued to the tube waiting for additional information from the Canucks.
They arrived at the rink a short time ago which was followed by a press conference with Head Coach Travis Green who remarked "I will not be making any further comments regarding the on-going investigation."
As you can expect the media all want to "get the scoop" and be the first to report on the status of guilt or innocence of the young player.
Green was asked if "Virtanen was still with the team returning after the game with the team or is he currently in Vancouver."
Green again mentioned that "I realize you all have a job to do, but I will not and cannot comment any further."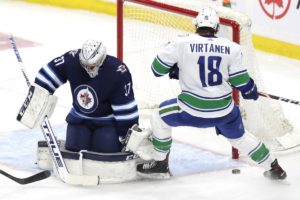 The Canucks are taking a proactive approach on the allegations made about Virtanen which was released to Glacier Media in an  exclusive interview from a person named Emily, which as you can expect is not her real name.
Are we surprised that this is a fictitious or imaginary made-up name so as to keep her identity quiet.
It's reported that the alleged incident took place in 2017 where Virtanen and her agreed to meet after he drove her to a hotel.
Lawyer Kayla Lee of Acumen Law mentioned "Placing somebody on leave while an incident is being investigated is not a sign that somebody is guilty of an offence." 
Lee continued to say "It is merely an organization or an employer giving time to investigate all the sides of the issue, the Canucks have launched an independent investigation which will give this time to see if anything will happen."
As you can expect the  NHL is fully aware of the allegations which NHL Deputy Commission Bill Daly confirms mentioning "We are aware of this issue and have been in contact with the club regarding appropriate response and we don't have any further comment at this time."
Let's all let this play out and in all my dealing with the Canucks, they will keep being open and direct with this matter.
There is no doubt that this matter is extremely sensitive and we at Sportswave welcome the outcome and will not not jump the gun crucifying him as social media does.
The Canucks return to Vancouver following the game in Toronto and take to the ice Monday May 3rd in the first of a double header against the Oilers at 7 pm on both nights.
Following these they hit the road for a pair against the Oilers May 6th and don't return to Vancouver until May 16th for a pair against the Flames.
Thanks to the Canucks for being open with the statement below.
https://www.nhl.com/canucks/video/pregame–green-at-toronto/t-277437438/c-8224460?q=green