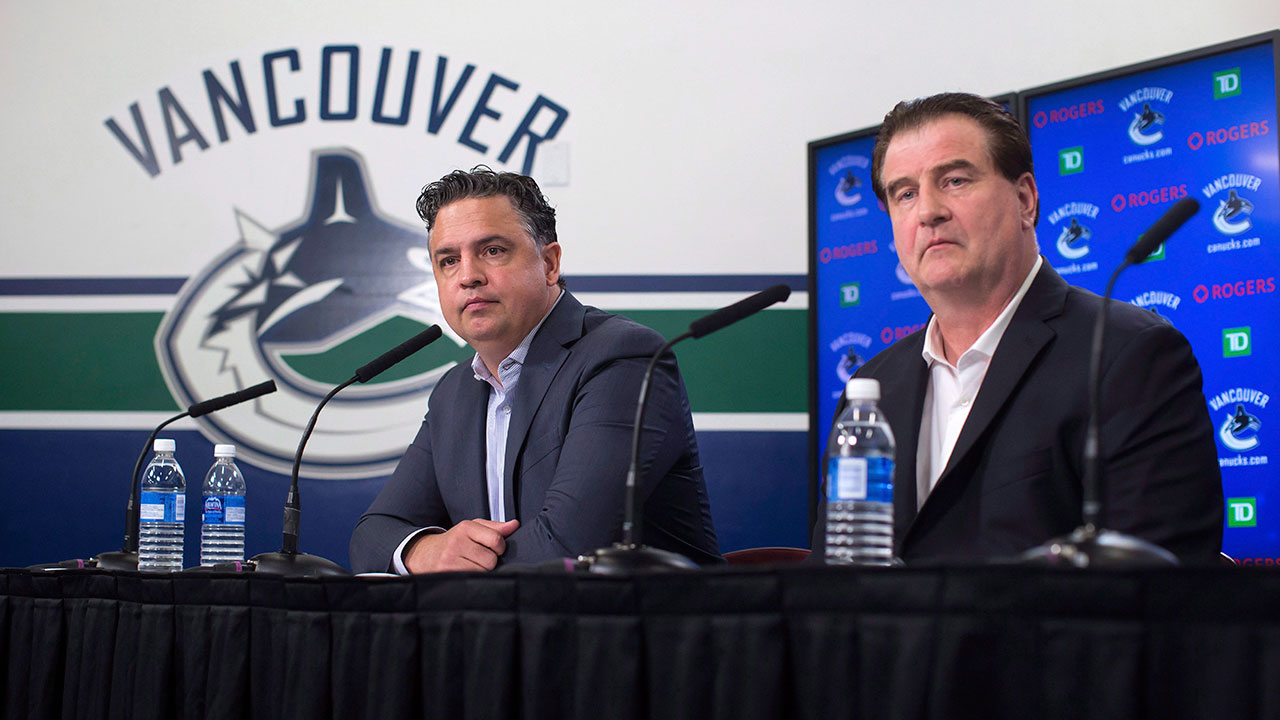 Photo credit: Darryl Dyck/CP
As the Canucks hit the ice in Canada's Capital they are looking at pulling out the second win in two consecutive games, which for fans in the area it'll be like Christmas come early.
No question that both GM Jim Benning and Head Coach Travis Green are feeling the heat with pressure put on them, but who is really to blame.
Green comes from Castlegar and was drafted by the Islanders in 1989 in the 2nd round being the 2nd pick (23rd overall) has since then has had an impressive career in the league as a player
It's easy to "pass the buck" on to someone else, but they were given the task to turn the team around and to date it's been the same old thing, which is sad to see night in and night out.
Chemistry plays a key role in the world of sport and if the mix doesn't work it's time for change.
Fans in the area have seen this in the past mainly with the Vancouver Whitecaps when they eventually removed Marc Dos Santos August 28th following a 4-3 loss to Canadian Premier League Pacific FC.
So given the word on the street from those who pay "top dollar" for tickets, who is next in the firing line to replace either Jim or Travis?
Currently the Canucks are in the cellar of the Pacific Division after 23 games
We continue to hear that Francesco Aquilini Team chairman continues to preach patience to the fans, one must be getting "tired" of hearing the same thing over and over.
It was back in 2019 that we heard Aquilini mentioning "I have full confidence in Jim, Travis, and this group. I have no plans to make changes."
One has to think that the team has to be not just frustrated, but more frustrated than the fans who continue to support them on a nightly basis.
The recent winless road trip saw them outscored 19-6, but let's not forget that they did manage a win over Montreal who recently made changes, which were also long overdue.
Despite the recent meeting between Aquilini and Benning the Canucks have won two games and on the losing end of five managing a record of 7-14-2 scoring 53 goals allowing 74.
Benning was hired in 2014 and since then many in the area don't feel overly confident with him being at the helm letting the season slowly slip away as everyone patiently waits for another run for the Stanley Cup.
Vancouver currently sits 28th overall in league standings with a historically bad penalty kill that ranks dead last in the NHL at 63.4 percent.
J.T. Miller who was drafted by the Rangers in 2011, 1st round 15th overall currently sits first in team scoring with the Canucks has a record of 7 goals and 13 assists managing 2 PPG followed by Garland and Hughes
Say what you will frustration has to be setting in and at a recent practice Miller was heard yelling "We don't know what we are doing!"
During his four seasons in Vancouver, Travis Green's four years in Vancouver see's him with a coaching record of 125-132-32 and only one playoff appearance, ironically during the 2020 return-to-play bubble.
So if changes are indeed on the horizon who takes over, but regardless changes will be a welcome addition for the fans.
Over time I have seen various changes in all sports and if anything winning takes time!
While names are being tossed around for a replacement it's a waiting game, but realistically speaking Christmas might come early!!