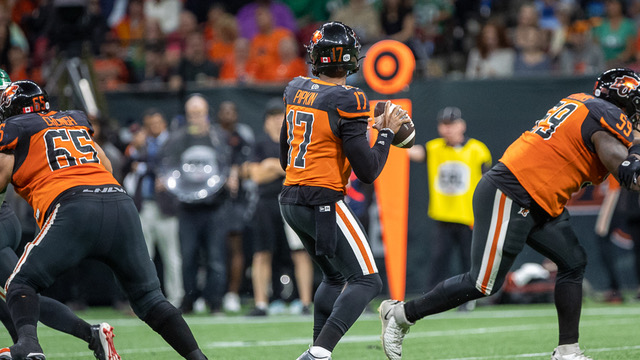 Photo Credit Mark Steffens (Fotoguy Photography)
The Lions face what some call a home and home game against the Riders with the game played under an open roof at BC Place.
For some it seemed to be a deterrent, while others welcomed the open air feel that seemed to be a good fit for Lions faithful who are used to light rain.
The topic of conversation over the supper hour in the press box was the loss of Nathan Rourke giving way to Michael O'Connor who attended UBC.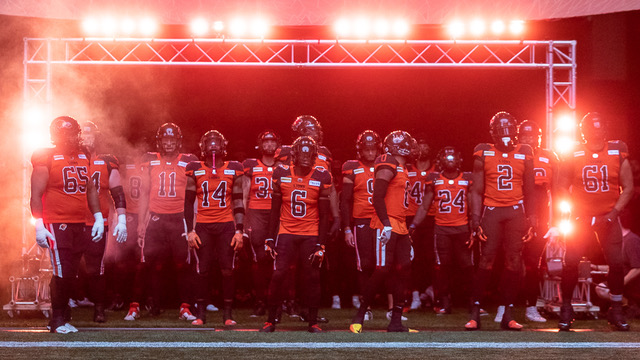 While Rourke is out the Lions released the following statement regarding the status of their starting QB.
"After extensive consultation with team doctors and foot specialists, Nathan was diagnosed with a Lisfranc sprain in his right foot which has been determined that the best course of action is for Nathan to undergo surgery, which will happen very soon. The club remains hopeful that the surgery and subsequent rehab will open the door for a return late in the season. Michael O'Connor will start at quarterback on Friday against Saskatchewan."
O'Connor's first pass of the game was incomplete but his second saw an 18-yard pass to Bryan Burnham finishing off the drive on a 28-yard pass to Lucky Whitehead.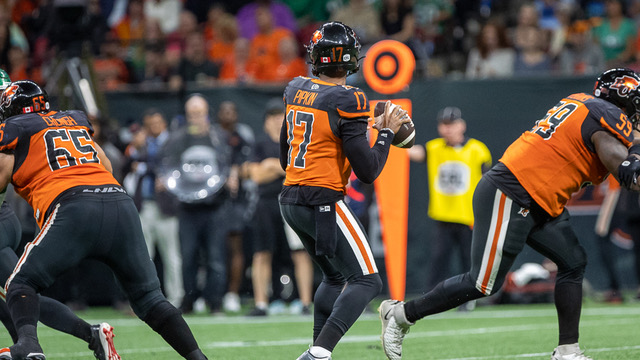 O'Connor's next two passes were incomplete, but they were able to rely on Sean Whyte who delivered a 35-yard FG giving the Lions the early three point lead.
Watching the start it did appear that the timing was off between O'Connor and his linemen but after one quarter they were leading 3-0 on a Sean Whyte FG.
O'Connor opened the second quarter in the opening drive followed by an eight-play scoring drive but failed to cross the line for a major and relied again on Whyte who put it through the uprights on a 42-yard FG giving the Lions lead up by six.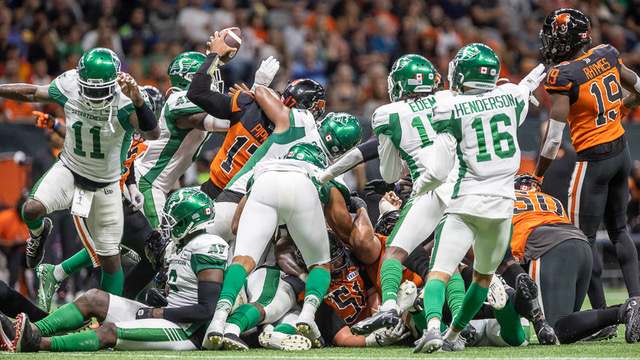 While the Lions faithful were looking for more, it was Fajardo who delivered one to Schaffer-Baker good for a 49 yd catch.
The following play saw BC rookie D-Lineman Nathan Cherry get through for a sack stopping any further drive down field that forced Rider's Brett Lauther to split the uprights for a 20 yd attempt cutting the lead.
After the Lions turned the ball over it was the Riders offence on the field with the first half coming to an end with a drive that saw Fajardo hit Schaffer-Baker for another massive play and an 85-yard TD giving them a 10-6 lead.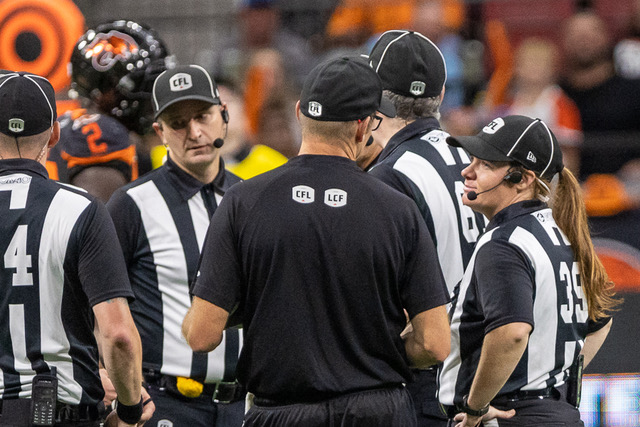 As the world of sports continues to change the CFL has embraced having female official take to the field, which shows how diverse sport is changing moving forward.
This game saw Emily Clark on the side-lines moving up from U Sports as well as CJFL games in Calgary who were invited by the CFL to their annual referee's clinic.
It's interesting to note that last season both Emily and Georgina Paull worked a pre-season game in Calgary in 2019 which is a testament to the league moving forward keeping with the times.
Clarke is a physical education teacher/athletic director and ski coach in Langdon, Alberta.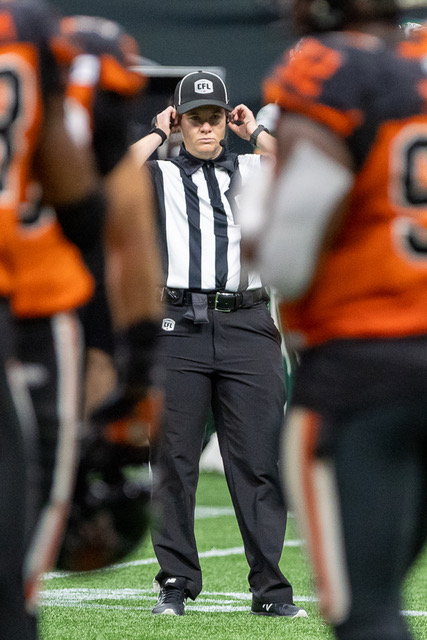 Interesting that following the game I spoke with some fans and their comments are they are pleased to see women working in the league, but were wondering if the role would be reversed are men allowed to officiate women's games? Interesting comment!!
The Lions managed a nine-play scoring drive from QB Antonio Pipkin who entered late in the second quarter replacing O'Connor who seemed to be favoring his leg, but managed to finish 6 of 15 for 94 yds.
Pipkin managed to complete three of five passing attempts good for 33 yds managing to add an additional 10 rushing.
He got off a pass toward the back of the end zone set for Rhymes only to have it fall incomplete forcing the Lions again to rely on White for another FG for his third cutting the Riders lead.
Utilizing the speed of WR Lucky Whitehead the Lions were able to march down field for yardage, but clearly they were focused on much more.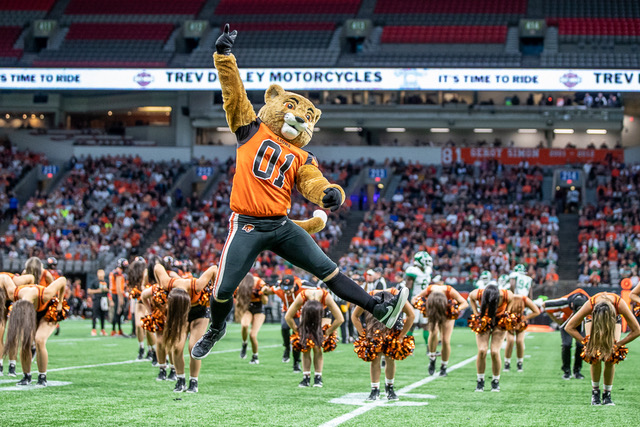 While many were cheering for the Lions, there was a contingent of Riders fans decked out in their Green and White cheering on their squad.
Full credit to Riders QB Cody Fajardo who many thought was his best game this season completing 19 of his 24 passing attempts good for a season best 321 yds including two TD's on passing plays.
Riders bench boss Craig Dickenson told the media "I thought he did a great job, I mean, he'll be very critical of himself because he's a perfectionist and he's a pro."
He continued "But I'll tell you what, when we needed throws he made them and he had great command in the huddle to drive the field and give us a couple of first downs to seal it."
Dickenson noted that the win over BC was an entire team effort and that he was proud of the way his offensive unit played as a whole.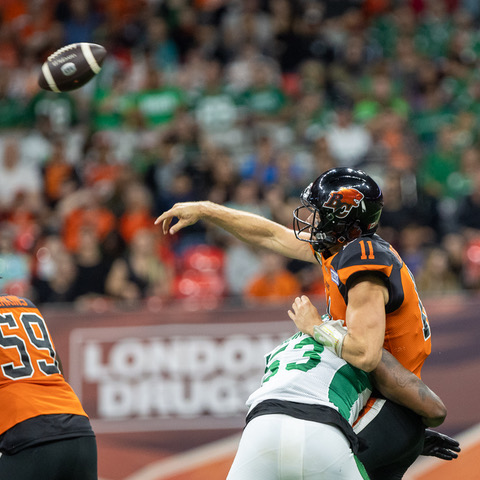 "That's what good teams do, and I was really proud of the offence," said Dickenson. "They knew we needed three or four first downs to kneel down and they did it against a defence that had to stop them, hopefully we can build off that."
This is the first time this season that the Lions allowed anyone let alone Frankie Hickson to rush for 129 yds on only 15 carries in his first CFL start.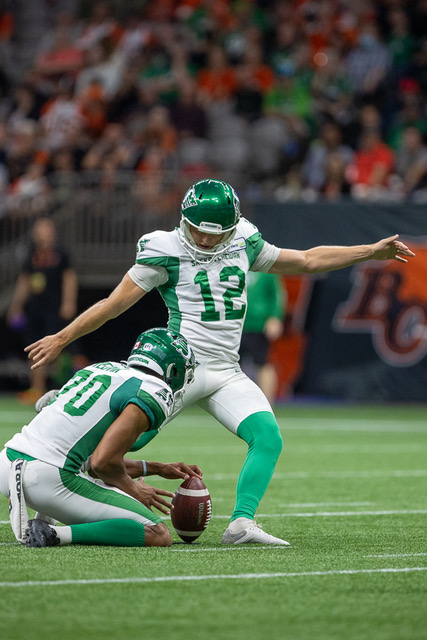 Fast forward to week 13 the Lions have a bye week followed by a meeting with the Al's in week 14.
Lots' of time left, so don't despair – one player simply doesn't make any team