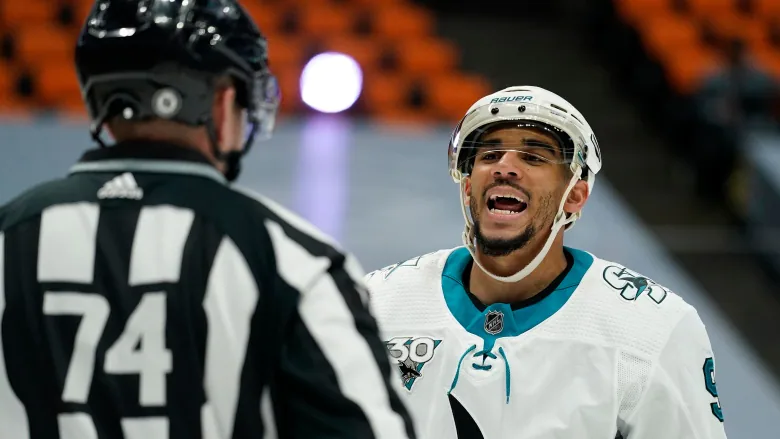 Photo Credit
(Mark J. Terrill/The Associated Press)
Rules are put in place to keep games played in a safe surrounding for everyone that competes at any level of the game, but obviously we have some that want to play by their own rules.
Some think that this is fitting as they manage to stay out of the spotlight and avoid suspension for their wrongdoings, which seems to have no real consequence.
Over the past years I have seen various players in all sports play their own style having no respect for rules or safety of any player.
While this has happened it appears that they have no respect for anyone other than themselves which says lots about their upbringing.
We have heard/watched many play with no respect for rules and while this is happening these individuals (apparently) only think of their game.
Two come to mind, with the first being Bruins pest Brad Marchand continuing to amass his PIM's currently having 834 through 822 games played.
Of course if you live in the Boston area you like what he brings to the game while everyone else hates him for his style of play, but they would clearly like to have him on your team.
Pests don't change their style of play and the only manner in which his style of play will change is when the league puts stronger rules regarding suspension for his actions.
Will this happen – don't hold your breath as those in charge are focused on money alone and player safety seems to be put on the "back burner" which is sad for the sake of the game.
If we focus on hockey alone it's reported that there are 10 players who are listed as the top 10 in the league, which is a reflection of league discipline alone.
Ironically, Marchand known as the "Rat" is listed as being second in the top 10 according to the hockey writers.com, with Tom Wilson topping the charts.
Aside from this over the past while we have heard only negative remarks about Sharks forward Evander Kane who is reportedly expected to be assigned to the AHL, clearing waivers.
Former Vancouver Giants player Kane was handed a 21-game suspension for submitting a fake vaccination card which ended November 28th.
Kane's agent Dan Milstein told the media "the 30-year-old winger would report to the AHL if he cleared waivers."
Milstein continued "Over the past few weeks, we have been discussing Evander's return to San Jose and we were not surprised by the Sharks' decision to put him on waivers and, if he does clear, he will report to the Barracuda. Evander is looking forward to resuming his NHL career this season."
If you are extremely, Kane has created nothing but issues since he was selected in the 2009 Entry Draft in the 1st round as the 4th overall pick and currently has managed 988 PIM's over 769 games.
He's made the rounds starting out with Atlanta, Winnipeg, Buffalo and finally the Sharks and has a contract running until 2024-25 with a no-trade clause and a $7 million dollar contract.
One might think that earning this type of money he would be a team leader taking the team to the playoffs, which he has only done since the 2017-17 season where he played 9 games (4G-1A) rating as a -5 with 23 PIM's.
"I have NEVER gambled/bet on Hockey, NEVER gambled/bet on a Sharks game, NEVER gambled/bet on any of my games and NEVER thrown a hockey game," he wrote on Twitter. "The facts are I personally had my best season of the my career last year and was the most consistent I've been throughout any season, I'm proud of that. I love the game of Hockey and would never do any of what was alleged. I look forward to cooperating fully with the league's investigation, having my name cleared and looking forward to this upcoming season."
San Jose Sharks forward Evander Kane denied allegations his wife made on social media that he bet on NHL games, including against his own team.
Kane responded Sunday morning to allegations made the previous day from the Instagram account of his wife, Anna.
So depending on whom you talk with some say he'll stay with the Sharks, others say he's going to Vancouver while clothes say "thanks but no thanks" we don't have a problem child in Vancouver.
The above in either case won't get solved until the NHL firstly tightens up on cheap shot players as well as those who are bringing down the league's reputation.
It's a sad state when we look at either of the above two players, simply knowing that they could be so easily replaced by some who only want a chance to play.
Sadly teams need enforcers to take charge and players such as these two won't be around!
I guess money can't buy happiness!!!