Willie Wasn't The Issue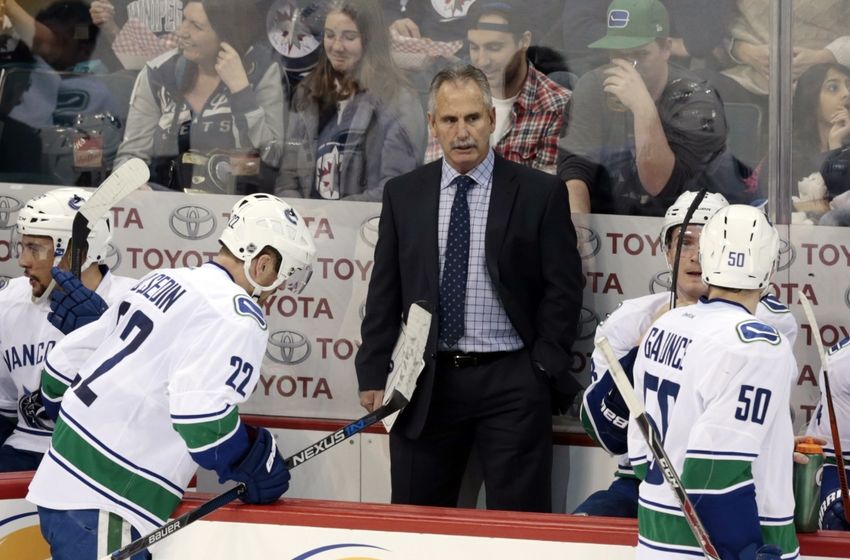 http://thecanuckway.com/2016/10/17/vancouver-canucks-willie-desjardins-line-experiments-need-stop/
For those who are die-hard hockey fanatics no one is shocked that the Canucks failed (again) to make post season play for the 2016-17 NHL playoff run, nor was it expected.
Well maybe the "brass" were looking at making the playoffs this season, but it was like everyone else were expecting disaster for the club and expecting nothing less than perfection.
Why – well it seems to many that the team has had a disconnect with many of the fans both in the area and elsewhere all in part for realistic reasons.
Following the firing of then head coach John Tortorella who left Vancouver stating that the team needed a "complete rebuild" it seemed that no one was paying attention to his comments, especially ownership.
One situation that the Canucks faced was that they were trying to re-invent the wheel rather than address specific issues that needed to be addressed regarding personal behind the bench, on the ice as well as the management team.
So enter Trevor Linden who was made out to be the team's savour and he went on to hire specific personnel who were to "turn the team around", but no one gave a timeline for this to happen.
Desjardins now 60 years young, played his junior hockey for the Moose Jaw Canucks in the Saskatchewan Junior Hockey League from 1971-74, but split the season with the Broncos in 74-75 eventually moving on to play with the University of Saskatchewan Huskies under Head Coach Dave King.
He coached at the U of Calgary in 85 and became the head coach in 89 them moving to Japan to coach the Seibu Bears.
His travels eventually took him back to Canada and was an assistant under the late Pat Quinn in 2009 prior to moving on to be the head coach for Team Canada's 2010 World Junior Championship team.
This was followed by a stint with the Stars, then moving on to be the bench boss of their AHL Texas Stars in 2012, winning their first ever Calder Cup.
He replaced "Torts" in June of 2014 as the bench boss for the Canucks and worked with Perry Pearn and Kamloops born Doug Lidster who made his  debut with the Canucks near the end of the 83-84 season.
No one can question that the past two seasons have been a disaster and have managed to go through a form of transition, but that's not the direction they are looking at and one area is being younger.
Linden failed to get into specifics as to where they need to improve but did mentioned that " the players played hard for Willie, but are committed every night and they are looking at making changes in this area and are a disappointed at the end result."
The did retain Doug Jarvis and they feel he is "great at what he does in his role" but look at keeping him on the staff.
Questions were asked if they are looking at regarding the head coach and Linden mentioned "We are looking at the best possible candidate and NHL experience is not necessarily required."
Over three years it's been challenging and Linden admits they are all responsible and while they are all "rookies on the job" and rather than use the word of "retool" maybe they should use a different choice of words to tell the public being honest to the ticket holders.
They were surprised that Richmond's Troy Stecher was a breath of fresh air for the club, but one has to ask what is the story with Jordan Subban and why has he been a "travelling folklore" gaining possible air miles from Utica to Vancouver and not playing?
Many have been asking this same question and many were thinking it was a personality problem between him and Willie and if so, why wait so long to address the issue or he not NHL ready to step in?
Regardless these are questions that Trevor has to address in the upcoming weeks and so far they have missed out on Ken Hitchcock who just got re-hired by Dallas as well as Gerard Gallant who was named as the new bench boss for Vegas.
Many are asking if this could be the last adventure for Trevor who has more pressure on him than a candidate in the upcoming Provincial election, and no different than the election we will have to wait for the results.
For my two cents worth, I would have hired Ken Hitchcock as Head Coach, Don Hay as an Assistant and as strange as it sounds I would have brought on Ernie "Punch" McLean as an adviser to the team and given the track record or all three they have BC connections and no doubt would have an aggressive "hard working" team that would make the playoffs and it wouldn't have taken since 1970 to do it!
You make the call and if you are going to Vegas place a bet on the Canucks not to make the playoffs, never-mind the Stanley Cup finals for at least two seasons or more!!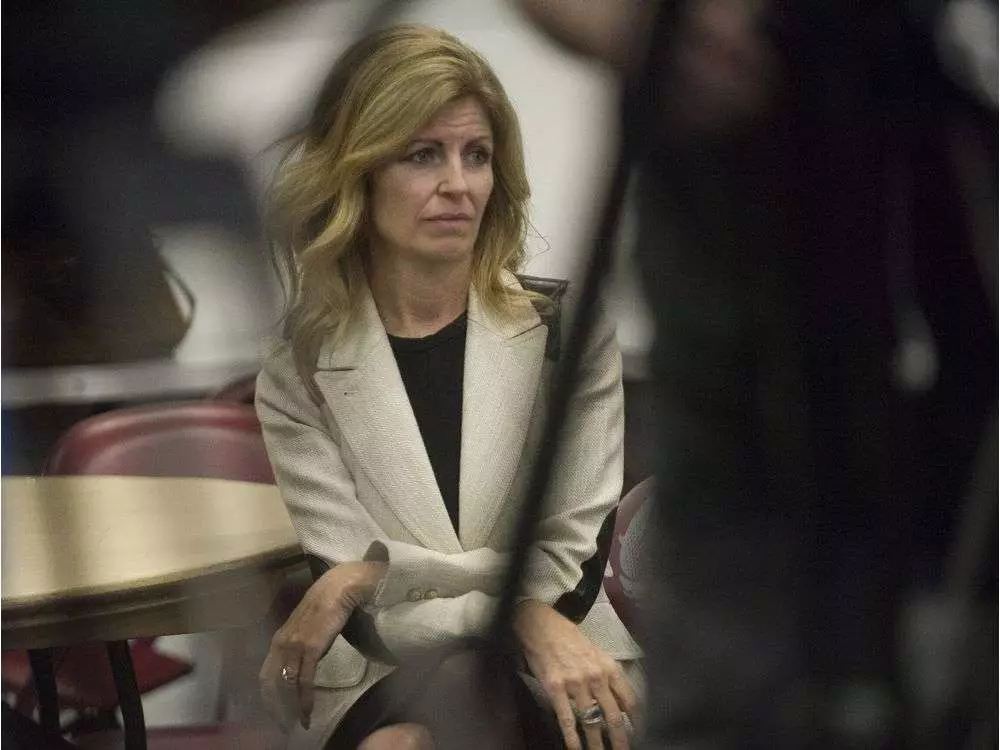 Willie did address the media and while he took questions it must have been hard for his wife Rhonda sit and watch her Husband named the fall guy for an organization that continues to find itself and did not enough to put a winning product on the ice. Photo's from Arlen Redekop/PNG
Vancouver is a media-frenzy city and unless the Canucks win, the media will still hound the Canucks both on and off the ice!!