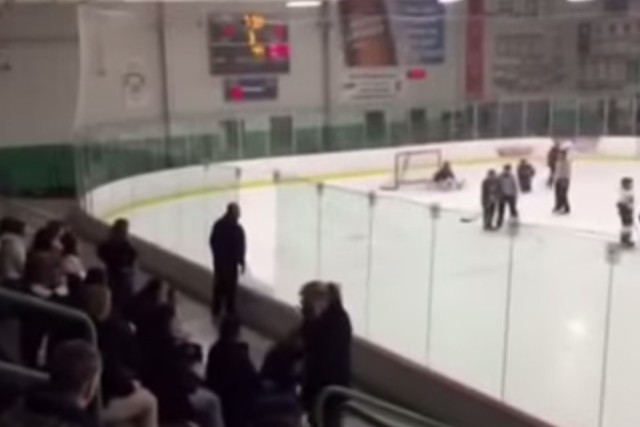 As a sports official that has officiated hockey for over six decades, I get frustrated when I see parents/fans that attend a game, shout profanity toward today's officials, regardless of their age.
Oh yes, I have had numerous phrases/words (normally not in any dictionary) directed in my direction and at times they get personal in nature.
Thus I have adapted a "no tolerance rule" toward anyone directing foul or abusive language directed at my linesman or game officials and yes it is in the rule book.
So you ever wonder why we have to learn from other Provinces or US States when it comes to making laws to protect the innocent.
Given the abuse that we heard of this past (hockey) season stemming from Vancouver Island, why was this not done in BC?
We or rather our Government either Provincial or Federal have the ability to make and create laws such as this one coming out of Missouri.
Quite the concept or is it quit possible that far too many officials for various sports have been given abuse and it's time for them to put a stop to it.
Officials or all sports have the ability to assess penalties to those involved, but in most cases it comes from the one's that have no understanding of the game or it's rules.
Yes I am indeed talking about the Parents of the players who think they know far more than the game officials.
Rather than deal with this in a proactive manner, Associations sit back and allow it to continue.
One manner to curb the abuse (I know this won't be liked) is to cut off the funding by the sports ministry to that Association or group, regardless of which sport it is.
If you think of it, this might actually work, but then who are we really punishing – not the Adults, we are only hurting the kids playing the game.
I recently watched a minor lacrosse game in the area (where I live) and one parent shouted abusive remarks (but no profanity) all game and NO ONE spoke to him.
Yes I have a photo of him sitting in front of the media box at Delta's Sungod Arena and he just continued the entire game.
The two young officials did a good job, given the fact that some players came (apparently) not to play, but rather make the officials work for their money.
I for one applaud the state of Missouri for taking such drastic action and hopefully putting an end to the abuse shown today's game officials.
Question of the day? Did you ever think you might be ruining the career of a possible pro official, regardless of the sport they officiate? Answer – I doubt it!!!
The state legislature has sent a message to those involved in youth sports in Missouri to leave those sports' officials alone.
It has approved a resolution calling on school districts; little league programs; high school, college, and recreational programs; and law enforcement and prosecutors, to "do all they can to put an end to the increased threats and assaults on sports officials and to prosecute such criminal acts to the full extent of the law."
Several of the House members who spoke about the bill have themselves officiated sports, including Representative Jay Barnes (R-Jefferson City)."I see it in kindergarten and first grade games sometimes," Barnes said during debate. "Every once in a while we get there where you see a parent on the other side berating a child or giving someone a hard time. I refereed some basketball games this winter for a kindergarten team and I got some serious razzing by parents who didn't understand why I didn't call a foul. For kindergarteners!"
Representative Paul Fitzwater (R-Potosi) has officiated high school and college basketball and said "one thing officials hate to do is throw anyone out."
"But that's happened before. When it gets personal sometimes, you have to do that," said Fitzwater. "I've had to remove some coaches before and I've had to remove some fans."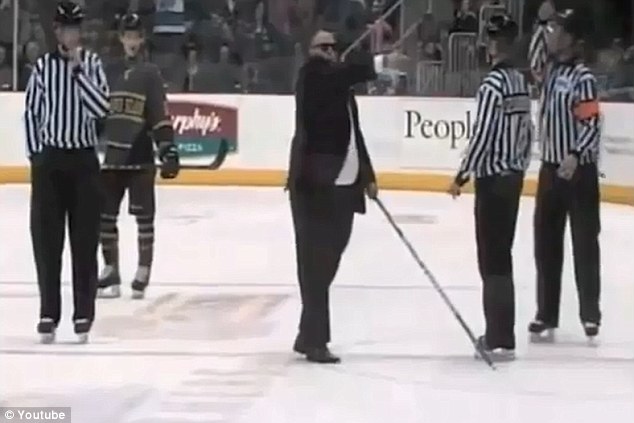 He continued "I was refereeing a big ball game, packed house down in Van Buren one night, and we [threw] out a state highway patrolman in uniform."
Great example set by someone we have to respect and look up to?
In this photo we see a USA Hockey Coach Wenatchee Wild Assistant Coach Chris Clark  wearing sunglasses and using a hockey stick for a cane protesting a call during the Wenatchee Wild's loss to the Kenai River Brown Bears.
Not only is he abusive to the officials, he is showing utter disrespect toward those in need of a Guide Dog.

About Steve Erickson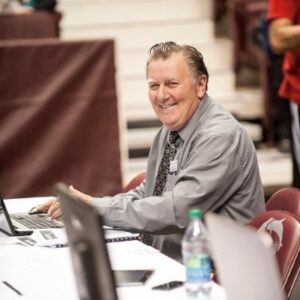 Sportswave Productions is located in Delta, BC.
Sportswave promotes/broadcasts Amateur Sports within the Lower Mainland to promote your sport.
He was also recognized by Ravi Kahlon, BC's MLA Minister for Jobs, Economic Recovery and Innovation in September 11, 2017.
For additional information:
Contact
Phone: (604) 916-4593 cell/text
Calendar
July 2022
M
T
W
T
F
S
S
1
2
3
4
5
6
7
8
9
10
11
12
13
14
15
16
17
18
19
20
21
22
23
24
25
26
27
28
29
30
31