As the 2019-20 season is set to kick-off for yet another year the Canucks are looking at making this it far more exciting than in previous ones all for the fans.
Changes in the off-season in various areas of the team sees the addition to the Amateur Scouting staff as well as the Hockey Operations.
In the off-season the Vancouver Canucks extended the contract of Canucks GM Jim Benning to a new three-year deal that will see him stay in Vancouver until (at least) the 22-23 season.
Benning made it official by announcing that they have added new personnel to our Hockey Operations staff also mentioning the ones that will have a greater role as well as added responsibilities to the organization.
He mentioned "As part of this process, we've reconfigured scouting assignments to improve the reporting structure of our Amateur department. We believe these moves complement our Hockey Operations group and will contribute to the overall success of our team."
Chris Higgins a Canucks alumni player re-joins the team as Assistant Director and Player Development and will assist Ryan Johnson as Senior Director for Player Development as well as the Utica Comets General Manager.
Both Todd Harvey and Derek Richard take on new roles as well as additional responsibilities as Amateur Scouts, in addition to seeing new Amateur Scouts such as Troy Ward, Phil Golding and Martin Bakula join the Canucks organization.
If you remember Troy Ward was the Head Coach for the WHL Vancouver Giants and relieved of his duties while on a "road trip" to Lethbridge that saw Matt Erhart to the surprise of many in the hockey circles.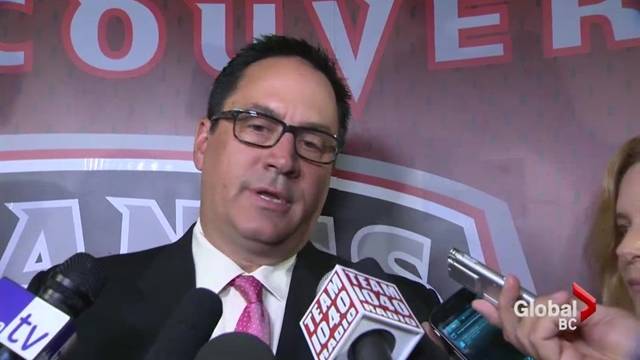 He was also the bench boss for the AHL Abbotsford Heat prior to the departure of the team after a dispute with the City.
Golding was the Assistant GM for the OHL Guelph Storm for the past two seasons as Assistant General Manager, while Bakula spent the past two seasons as the European Scout for the Arizona Coyotes
Pat Conacher moves to the Amateur staff after five seasons as Director, Hockey Operations with Utica, while Patrik Jonsson, Vincent Montalbano and Brandon Benning have new assignments with Amateur Scouting.
Ryan Biech joins as Video Analyst, Hockey Analytics reporting directly to Jonathan Wall the Canucks Senior Director, Hockey Operations and Analytics.
To the surprise of some, but not everyone former Canucks "tender" Dan Cloutier officially resigned following eight (8) seasons as Goaltending Coach and Director of Goaltending.
He earned his keep in Utica and lets not forget that he worked with Ryan Miller!!
Here's hoping that Dan either gets picked up to to work with upcoming goalies or he enjoys his retirement – he's earned it!!