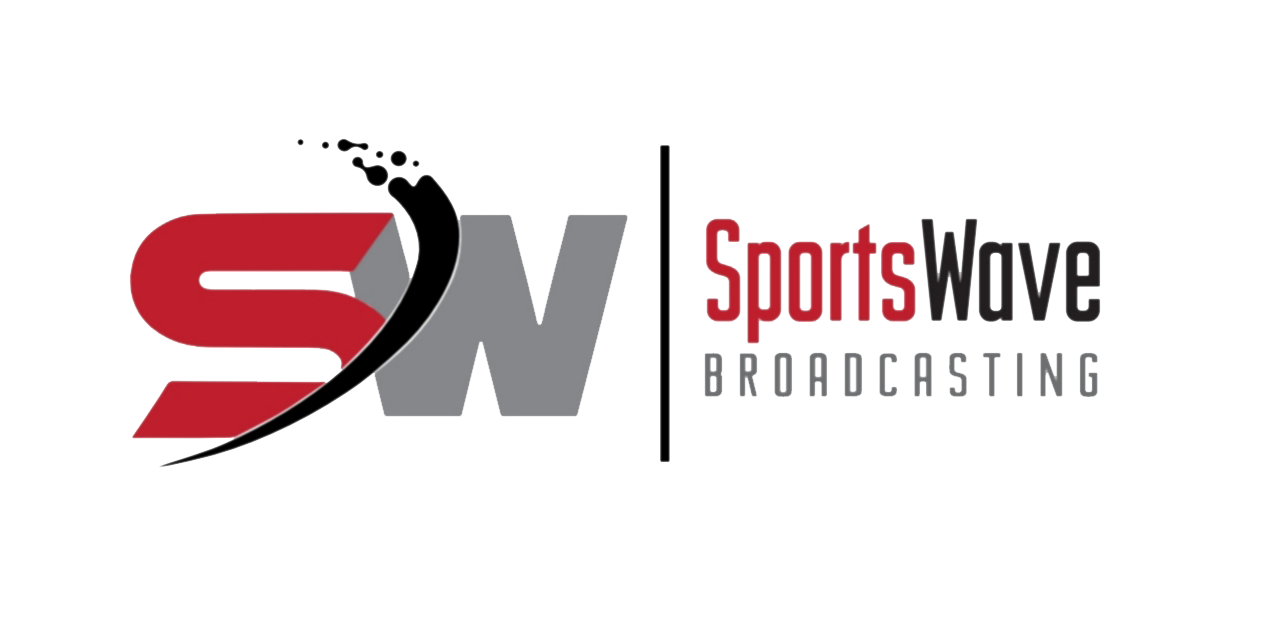 Canucks Outwork Leaf's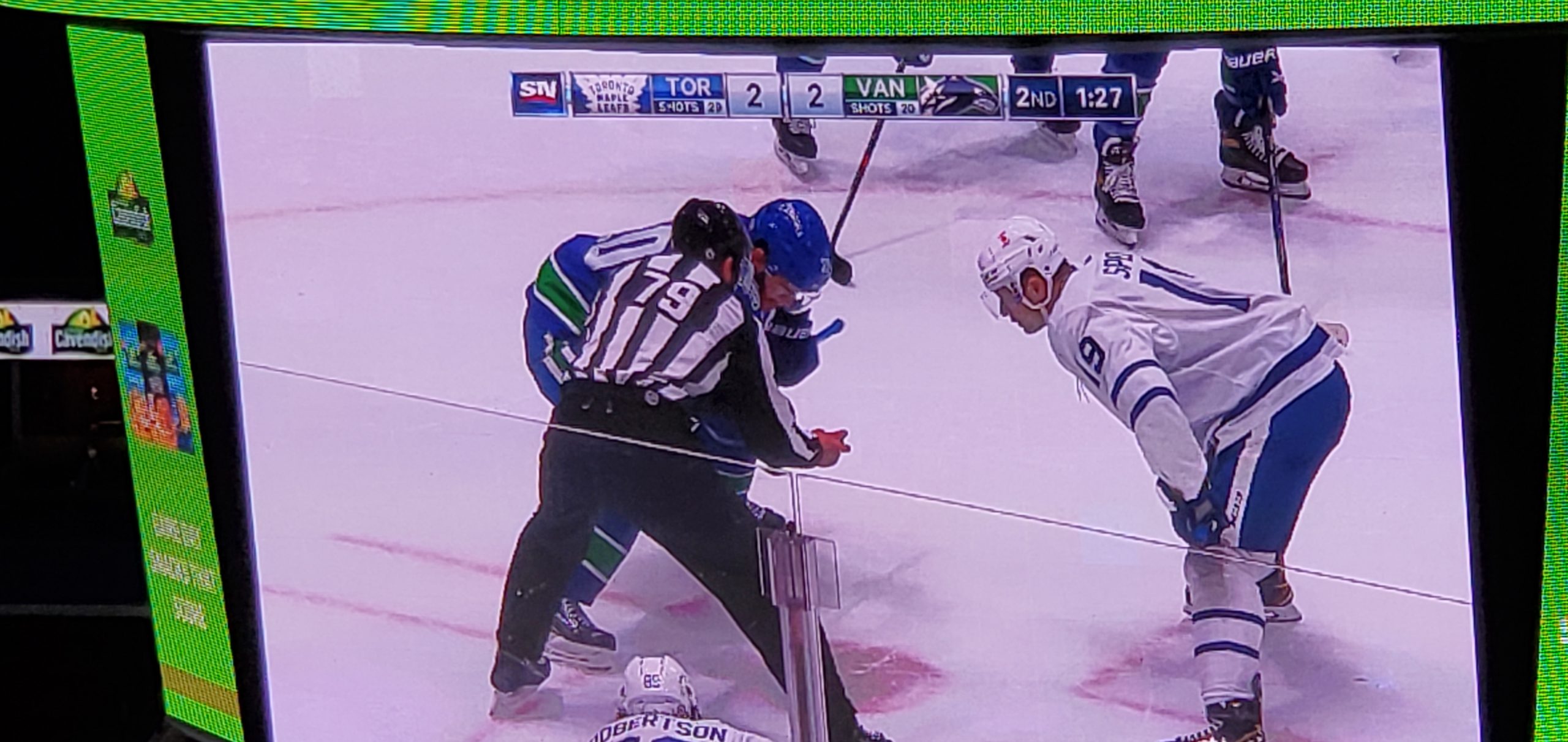 Photo Credit Steve Erickson
Vancouver enters the second of a pair of games against the Leaf's in a two day span that saw them pull off a miraculous 3-2 O/T victory and through the six meetings to date they have been split, three each.
Toronto enters the game with a PP% of 21.9 while Vancouver's PP % is 19.6 with the face-off % is 52.3 to 51.7 for the Canucks.
While even in some of the stats the conditioning % has to be in favor of the Leaf's who have played 45 games sitting in first with 61 points to the Canucks 37 games played sitting with 38 points.
We were hearing prior to the game that the Leaf's were starting newly acquired David Rittich (4-7-2 with a SV% of .905 and a GAA of 2.82.
Vancouver on the other hand will be going with Sunday's game star Braden Holtby (5-6-2) who has a SV% of 8.99 and a GAA of 3.44.
It's fair to say that Vancouver is still "on the mend" following the infectious bout of Covid which hit the entire team extremely hard and we wish them a speedy recovery to players, staff and their families.
Sport should be placed on the back-burner when it comes to the health and safety of any player and this should also be mentioned in the same context as Leaf's forward  Zack Hyman who was put out of the game on a knee on knee hit..
Canuck Captain Bo Horvat and Brock Boeser lead the team with 16 goals with each playing 38 games followed closely by JT Miller who has 9 goals through 35 games who is looking to catch both.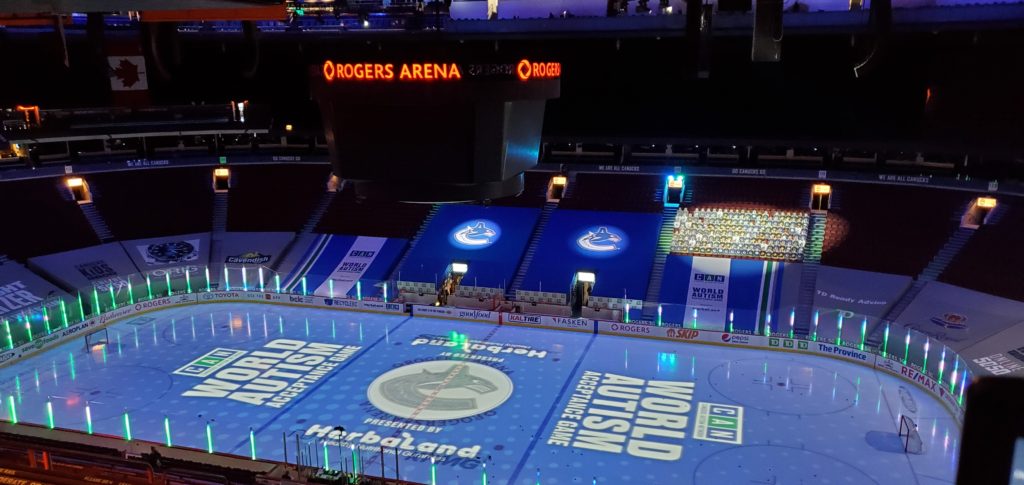 Tonight's game is a tribute to the World Autism Acceptance Game which is the first of three special games with the upcoming pair against Ottawa features their first Environment Night on April 22nd and April 24th is their annual Vaisakhi Night.
It will be their fourth annual game night so as to celebrate the South Asian Community promoting diversity and inclusivity under the NHL's Hockey is for Everyone.
To the surprise of many Abbotsford's Jake Virtanen returns to the line-up that saw the Canucks finish the first period with a FO winning % of 53 to Toronto's 47 with each team having 4 blocked shots.
Toronto had 9 hits and 2 giveaway's to Vancouver's 5 hits and no giveaway's through the first twenty minutes, but the between period discussion revolved around conditioning in the third.
Vancouver came out with a jump in the second that saw the Canucks throw the puck from the corner, then D to D sending one on net that saw Ritter give up a juicy rebound leaving it for Sutter to tap in his 7th of the season with Boeser and Haminoc getting assists. 
In just under five minutes later Vancouver pinned the Leaf's in their zone that saw Hughes get his third of the season and his first in 21 games putting the Canucks up 2-1 to a shocked Leaf team.
With the second slowly drawing to a close an attempted clearing play was stopped at the line that saw a long shot at the net only to have it tipped in by Tarvares who was just outside the blue paint tying the game at two.
The third saw the Leaf's come out with more jump that saw Brooks get his second of the season with helpers going to Mariner and Holl with his 13th assist.
Never count Vancouver out and at 6:43 Hoglander hammered home his 9th with Boeser (20) and Hughes (27) getting the Canucks even putting more pressure on the Leaf's.
I am hearing from the skeptics that Vancouver should fold the cards and end the season but you would never know it given the way they played in the third peppering the rivals from Ontario.
Pearson managed to get his 7th and 8th of the season that saw Toronto cough up the puck in the neutral zone giving Vancouver a 5-3 lead and they weren't done yet.
With the third winding down TO pulled the "tender" in hopes of gaining ground but try as they might it was too little too late and with an open net it was Sutter (8th) who threw one down ice getting an empty netter at 19:24 sending the leaf's home with another loss.
Leaf John Tavares mentioned "We did a lot of good things again and we created opportunities, we grabbed the lead, and we have to do a better job of holding that. It happened to us last game, it happened here tonight. We have to find a way to finish here."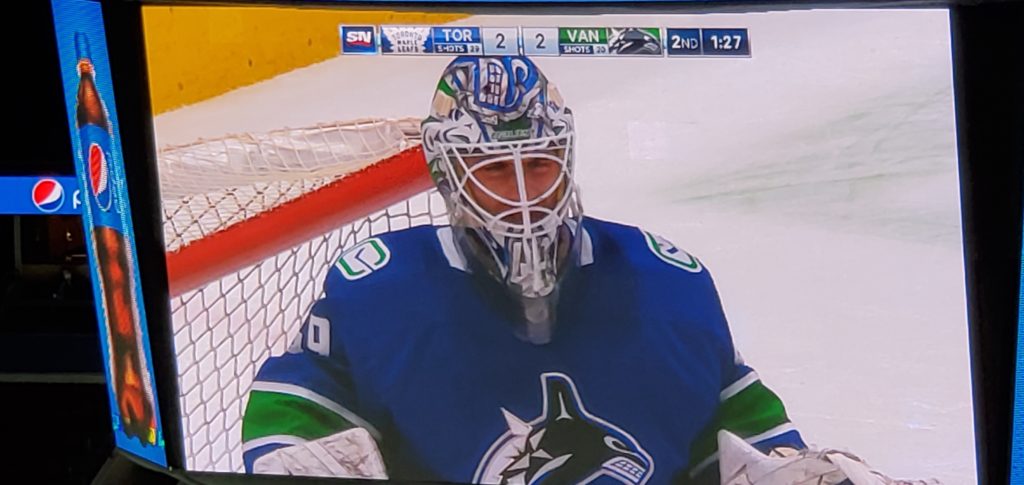 NOTES:
Zach Bogosian left the game in the second period at 9:08 with a reported upper-body injury after he fell awkwardly into the end boards which Leaf's coach Sheldon Keefe mentioned "It looks like he's definitely going to miss some time."
Canuck forward Antoine Roussel left after the first period with a reported lower-body injury with no update from Canuck Head Coach Travis Green. 
Matthew Highmore was +2 having only one shot and one blocked shot in 15:54 playing time after being acquired from Chicago Blackhawks (April 13th) and serving a required seven-day quarantine period.
Three Stars:
1st      Quinn Hughes
2md    Tanner Pearson
3rd      William Nylander