RAY MOON NAMED TO STAFF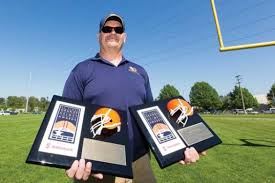 The treck from Head Coach to working as a Defensive Line Coach, doesn't really matter to Delta resident Ray Moon, as he is just thrilled to be part of the team.
Teaching is what excites Ray and if he can help one player to be not only a better player, but somehow play a role in helping that individual grow into a better citizen – then he has done his job!
Football BC announced today the coaching staff for the provincial under-18 team ("Team BC") that will represent British Columbia at the 2012 Football Canada Cup slated to be held at the University of Western Ontario in London, Ontario from July 15 – 21, 2012.
The 2012 Team BC coaching staff includes six (6) returning members from the 2011 Bronze medal winning club including Tom Kudaba, co-head coach of BC High School Football's Terry Fox Ravens, who will be serving as Head Coach and offensive line coach for a third (3rd) consecutive year.
Other returning members from last year's staff are offensive coordinator and QB's Coach Jay Prepchuk (Handsworth Royals), defensive coordinator and linebackers coach Dino Geremia (Football BC/Simon Fraser University), receivers coach Mark Townsend (Mt. Douglas Rams), defensive backs coach Alexis Sanschagrin (Belmont Bulldogs) and defensive line coach Ray Moon (South Delta Sun Devils).
So not only did they return, this is  an impressive staff and no doubt will field a solid squad.
The lone newcomer and welcome addition to the staff this year is Jerome Erdman who will act as special teams coordinator and RB's Coach.
Erdman, a former CFL player who won the Grey Cup with the Winnipeg Blue Bombers in 1984, is currently the defensive coordinator for the University of British Columbia Thunderbirds.
The 2012 Football Canada Cup is open to players born in 1995 or 1996. Eligible players who are interested in being part of Team BC must attend an upcoming tryout session in January or February.
The schedule is available at: http://www.playfootball.bc.ca/pdfs/FBC2012ProvincialIDcamps-schedule.pdf.