Loss Of A Legend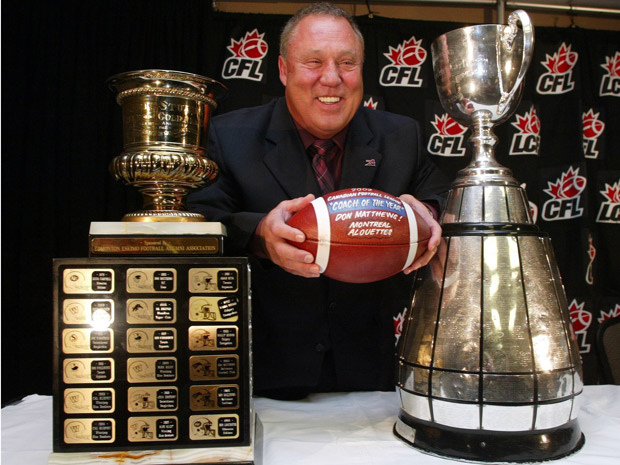 http://cflapedia.com/nonplayers/bios/matthews_don.htm
The CFL has lost Don Matthews who was not only a friend, a Hall of Famer and a true legend who was second in the league in a career that went over four decades with a record of 231-132-1 only behind Wally Buono (231) in CFL history.
He won 5 Grey Cups as a Head Coach and was inducted into the Football Hall of Fame as a builder in 2011 and is known as an individual who changed the game for several individuals forcing them to be more innovative not just for football but also the way you approach everyday life and "think outside the box"
He was one of the more innovative individuals who forced players to better themselves while managing to have an impressive 10 Grey Cups on his resume.
If you ask the players they loved him for creating a winning mentality while having a unique style at practice forcing them to create winning ways without hitting so as to avoid injuries.
One style that reporters came to know was his honesty when asked a question following one of his few losses.
Mathews was born in Amesbury, Massachusetts and was the son of Canadian-born parents whose Mother (Ida) was from New Brunswick, while his Father (Fred) was a steel mill worker from PEI.
He left school after his senior year (1956) and went on to serve three years in the US Marine Corps.
Upon returning home he earned his high school diploma and ended up in Moscow Idaho as the team's linebacker on the freshman team.
While there he earned three letters and was the captain in his senior season (1963) when his team won the first season's championship in a quarter century.
As with some athletes he went on to become an assistant coach with his alma mater in 1971. and started his CFL coaching career as an assistant with Edmonton in 1977.
He  became a Canadian citizen and started his CFL coaching career as an assistant with Edmonton in 1977.
He was promoted to defensive coordinator the following season and helped the Esk's win five straight Grey Cup titles from 1978 to '82.
He was named the Head Coach for the Lions in 1983 going on to spend 22 seasons as a CFL Head Coach.
His travels took him to various clubs such as BC, Baltimore, Saskatchewan, Edmonton, Toronto and Montreal.
He reached the Grey Cup nine (9) times managing to win a record five (5) championships as a Head Coach.
He was inducted into the Canadian Football Hall of Fame in 2011 and in 2012 it was announced that he was fighting cancer and not able to take part in the 100th Grey cup in Toronto.
He will be missed by everyone who knew him and whose path he crossed.
RIP Don!!!