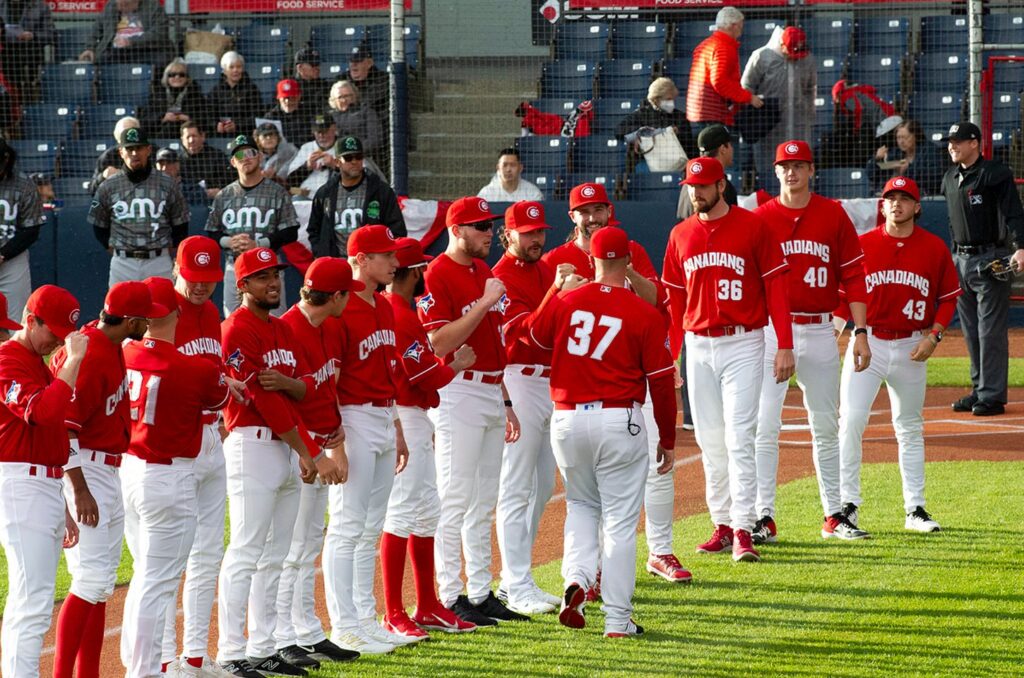 Photo Credit D. Laird Allan/Sportswave
The second week of a home stand saw the Aquasox pull out win that saw the game go to extra innings.
I won't call it a marathon game only due to the simple fact it went to one extra inning that had a unique finish for the few remaining diehard fans.
Visiting Aquasox managed a hit in the top of the 10th that allowed them to grab a "W" defeating Vancouver 4-2 on a soggy night in front of 1,855 fans in a game that lasted 3 hours and 15 minutes..
The first five could be best described as a pitchers duel between the C's Sem Robberse who went five strong scoreless innings giving up 4 hits without allowing a run while striking out 7 and walking two. batters.
AquaSox sent Adam Macko to the mound and was just as stingy allowing 2 hits striking out seven, walking three Canadians before being pulled from the game.    
The game remained scoreless until the 7th inning when Aquasox got on the scoreboard as Spencer Packard pounded a dinger over the right Centre field fence off C's reliever Alex Nolan giving Everett the 2-0 lead.
The C's were mounting a come-back tying the game at two as PK Morris doubled in Trevor Schwecke and Andres Sosa putting the game on even terms.
The game remained tied but both teams got solid relief from the bullpen in the 8th and 9th inning' as relievers Ryan Boyer and Alex Nolan did an excellent job for the C's.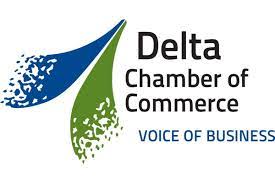 AquaSox, Brendan McGuigan went scoreless 1 ⅓ but the 10th saw Vancouver pressured as Andy Thomas with Trent Tingelstad and Tyler Keenan getting walk off C's Gregory Hunter.  
The C's sent reliever Jol Concepcion to the mound who loaded the bases allowing the winning and insurance runs giving the Aquasox a 4-2 lead.
Vancouver started the bottom of the 10th with a runner at second after Pk Morris got a base only to have Riley Tirotta and Garrett Spain give Everett a 4-2.
Everett combined going 5 for 36 at the plate striking out 18 times leaving 27 runners stranded on base getting 1 walk from C's pitching unit.
The Canadians stranded 19 on base while striking out 19 times and getting ten walked matching Everett's ten walks.
Aquasox Leone Hunter was the winning pitcher improving to 3-0 on the season and an ERA of 1.32, while Jol Conception was the losing pitcher falling to 0-3 leaving his ERA at 4.91.
The same two teams continue their series Wednesday night at Nat.
The C's and RBC announce the 2022 debut of RBC We Care Wednesdays, a brand-new community spotlight campaign.
It will highlight the efforts, impact, and achievements of 10 local charities through public awareness, a ticket fundraiser and in-stadium events that showcase each charity at Nat Bailey Stadium.
Thursday's game was however a rain-out and will be made up as part of a double header Saturday May 7th with the opening pith set for 1:05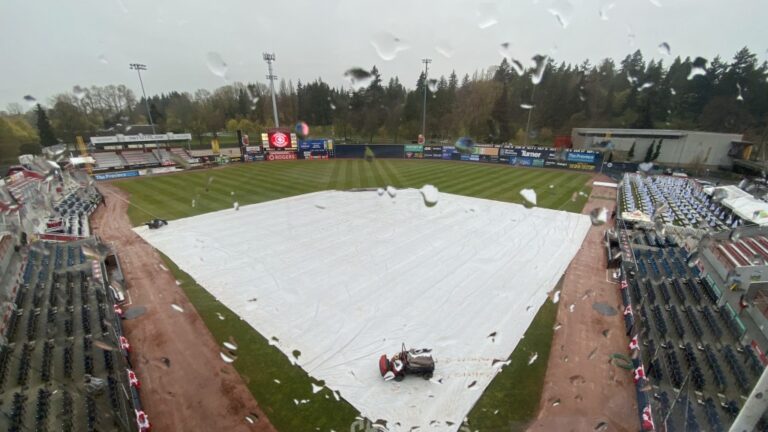 Other dates to mark on the calendar for a fun filled summer with the Family:
May 18 – Big Sisters of BC Lower Mainland vision is to see all young people realize their full potential.
Whose mission is to enable life-changing mentoring relationships to ignite power and potential of young people.
June 1 – United Way British Columbia, serves Central and Northern Vancouver Island, Lower Mainland, Thompson Nicola Cariboo, Southern Interior, Trail and District, and East Kootenay.
It exists to drive positive impact and lasting change by delivering resources and support for the people who need it most.
June 15 – YMCA of Greater Vancouver, a charity that cares for kids, shapes leaders for tomorrow and helps generations of people come together to find support, get healthier and make friends for life.
June 29 – JA British Columbia, brings important educational experiences to thousands of students annually across British Columbia.
Through these programs that focus on financial literacy, work readiness, and entrepreneurship, JABC aims to inspire, prepare, and empower BC youth for lifelong success.
July 13 – Greater Vancouver Food Bank, whose mission is to create empowering environments that provide and promote access to healthy food, education, and training.
July 27 – Challenger Baseball, a division of Baseball BC that provides an opportunity for children with cognitive or physical disabilities to enjoy the full benefits of participation in baseball at a level structured to their abilities.
August 3 – Out On Screen, a professional arts organization with two key program initiatives as follows. The annual Vancouver Queer Film Festival and Out In Schools, a province-wide educational program aimed primarily at high school students.
The education program system engages high school students using film and video to address homophobia, transphobia, and bullying.