Tsawwassen Athletics – Provincial Champs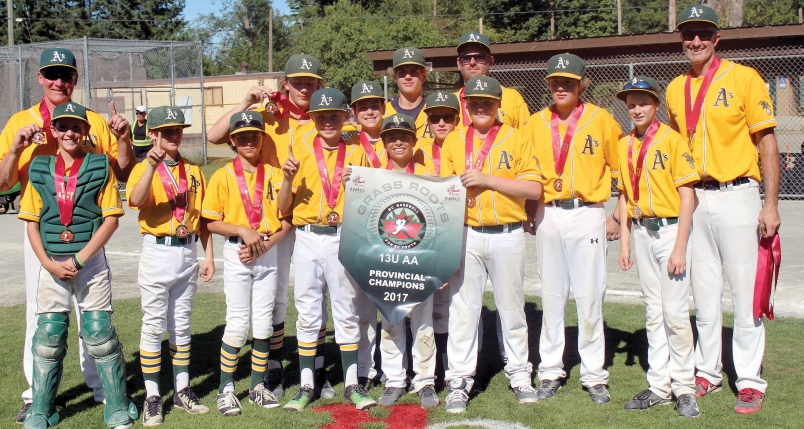 The boy's/girl's of summer are still on the diamond in hopes of one day making a career out of a sport they love to play, and why not given the career Seattle Mariner and Delta player James Paxton is having this summer.
In hopes of fulfilling their dreams Delta's 13U Pee Wee AA Tsawwassen Athletics squad were crowned as Provincial Champions after an exceptional playoff fun held in Campbell River.
They managed to fight off a talented home squad by a narrow margin of 13-12 in the final championship game.
This win was only after they narrowly defeated their crosstown rivals North Delta by a score of 9-8 win that was close to the final out.
As if travel wasn't enough, mind you it was only to the Island, but the next trip for the teams sees them head south to the Triple Crown Sports San Diego Summer Sizzle 13-U Tournament.
This event see's them have a week off, but not without hitting the diamond for the odd practice then the pressure's on where they will show their talents on the diamond August 12-13 as they are representing B.C.
The hometown squad saw them make short notice during three games by impressive scores to punch their way to the final.
The wins included round-robin wins over South Okanagan (22-1), Victoria (9-6) and Aldergrove (34-5) thereby sending them to the semi-final game before falling 10-5 to Surrey-Newton.
Other teams taking part in this 10-team tournament included Abbotsford, West Kelowna and Tri-City – all coming up short.
The team roster includes:
Adam Simpkin

Cooper Loewen

Kyle Losse

Jesse Mitran

Declan Speiran

Morgan McDonough

Lucas Nobbs

Declan Dunn

Ryan Heppner

Will Anderson

Gavin Wood

Nolan Wrathall

Brian Losse, Dave Wood and Greg Heppner – Coaches
Sportswave wishes them the best of luck