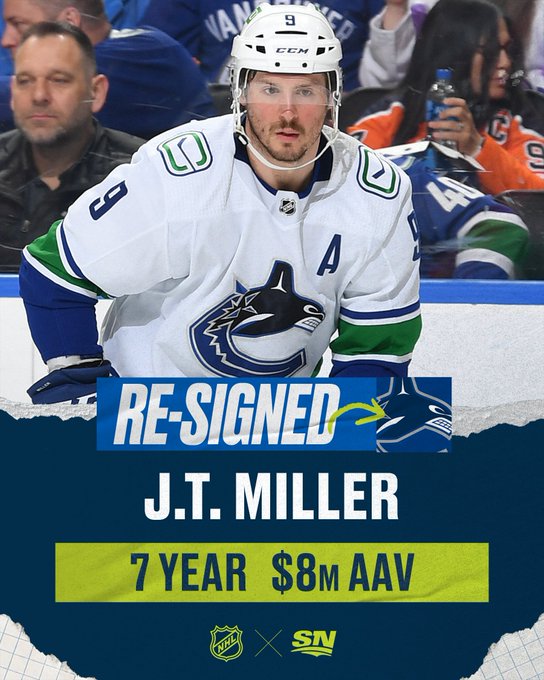 Photo Credit Vancouver Canucks Twitter
Over the summer we continued to hear about the ongoing talks with Canucks leading scorer JT Miller who reportedly wanted to remain a Canuck for the foreseeable future.
For Canuck fans it's like Christmas came early with the news of J.T. signing a long-term extension beginning at the start of the 2023-24 season.
Miller is set to receive $56 million over seven years at an average salary of $8 per season after his impressive 99 point finishing ninth in NHL scoring.
Canucks GM Patrick Allvin mentioned "J. T. Miller is an impact player in this league and we are thrilled to have him re-signed with the Canucks long term."
Miller came on the scene as a Canuck in 2019 and has been a power forward and has been playing what some consider the best hockey of his career.
He has managed 74 goals along with 217 points in his 202 games in addition to leading the scoring for two of three seasons as a Canuck.
He first came on the scene after being drafted by the Rangers 15th overall in the 2011 Entry Draft suiting up for the Rangers for four seasons.
He was moved to Tampa prior to the trade deadline shortly ahead of the 2017-18 season and with this signing it keeps Miller a Canuck through to the 1019-30 season.
Miller's highest point total of 99 was the highest since Daniel Sedin managed 104 dating back to the 2010-11 season.
Along with the other Canuck signing, this move should give the team more punch and be more productive up front.