Montreal Canadians power D-man Shea Weber at this point in his career has no ill feelings toward Nashville for the trade that saw him  moved to Montreal June 29th/2016 in exchange for PK Suban the Canadians fan  favorite. 
He (Suban) played four seasons for Belleville of the Ontario Hockey League and helped Canada win the 2008 IIHF World Junior Championship. that had many questioning the trade.
Reflecting back, it was probably more beneficial for the Canadians than Nashville, considering that PK was eventually traded to New Jersey in what many questioned the timing in the off-season.
Regardless of your thoughts the move for Shea gave him a new "lease on life" allowing him to be the spark plug that motivates the Canadians from the back end.
Shea was born in Sicamous August 14th, 1985 to Tracy and James and began playing minor hockey at the age of six.
He played both forward and defence until the second year Bantam when he permanently switched to playing defence, which he credits his Father for convincing him to make the move.
As kids do at an early age, normally between fourteen and fifteen he grew 5 inches and went from a smaller 5-foot-9 to 6-foot-2 to the shock of many in the town.
He was unselected in the WHL Bantam Draft, which frustrated him but to his surprise he was placed on the Rockets protected list in his second year bantam.
He played with his home town Sicamous Eagles (which were founded in 1994) playing in the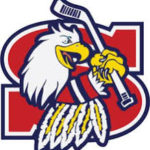 KIJHL earning 42 points in 47 games. 
This helped his team get a near perfect season of 43-5-1-1 winning the league title, the Cyclone Taylor Cup as well as the Western Canadian Keystone Cup Championship.
The following season he moved up to play with the Rockets using his size to his advantage, amassing 167 PIM's finishing his rookie season with 18 points in 70 games played.
The second season he was named to the WHL 2004 All-Star game which was played in both Red Deer and Lethbridge.
His third season was his best but ended early in a game against the Vancouver Giants following a knee injury after colliding with Cam Cunning.
Following his final year in the WHL with the Rockets he was named to the league's Western Conference first all-star team and the western nominee for the Bill Hunter Memorial Trophy as the league's top  D-man leading the Rockets to victory in 2003-04.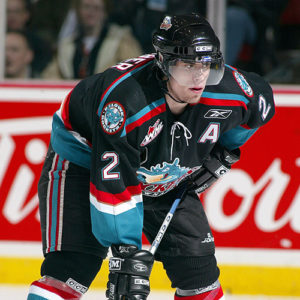 He was drafted by Nashville in the second round, 49th overall in the 2003 NHL Entry Draft signing a three-year, $1.425 million entry-level contract.
He signed a three-year contract extension deal June 23/08 for $13.5 million with the Predators, that saw him avoid restricted free agency.
He was named the fifth and youngest Nashville captain June 8th/2010 after Jason Arnott was traded to the Devils. 
Eventually he was traded to the Canadians for PK Subban which shocked many hockey fans and went on to be named team captain  replacing Max Pacioretty who was traded to Vegas Golden Knights.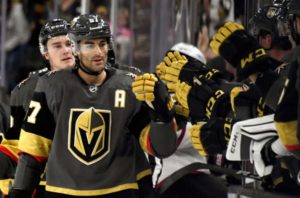 When asked about this milestone game and the victory head coach Canadiens Claude Julien told the media "We're having success because that was the goal from the get-go when we made those kinds of deals and so far it's working out well.
"We're 10 games in so that's certainly encouraging, but as I often mention it's a long year and we've just got to keep plugging away."
As for the Canucks Travis Green told the media "I thought we played well tonight."
He continued to mention "We played like a team that knew what it needed to do to win. It was a grinding game early, slowly got a few more chances, just came up short."
Jake Allen made 36 saves for Montreal. Thatcher Demko stopped 28 shots for Vancouver.
Shea's career has taken many twists and turns, but it is obvious that growing up in small town Canada such as Sicamous BC helped him develop not only his skills for hockey, but also his life skills allowing him to become the professional he is.
Should he get the chance to return to Sicamous in the off-season for a visit with relatives, he is more than free to stop by and visit with Annette and Scott Lebus who run the Sicamous HouseBoats.
For a booking give them a call at  (250) 836-2505
If you have never had the chance to have a vacation of a lifetime spending it on a HouseBoat take it from me – it's a holiday you soon won't forget!!!
Congrats to Shea on collecting his 1000 NHL career game against the Vancouver Canucks, which is a long way from the frozen ponds of the Shuswap.
On Behalf of Sicamous Houseboats, congratulations and if you're in the area and get back home feel free for a visit.
The photo on the home page has Montreal Canadiens' Joel Edmundson left, and Ben Chiarot, center, laugh as Shea Weber, right, waves to the empty Bell Centre as he is honored for his 1,000th NHL game, during the first period against the Vancouver Canucks on Tuesday, Feb. 2, 2021, in Montreal.
Canucks: Play the first of three games in Toronto on Thursday.
Canadiens: Host the Ottawa Senators on Thursday.