Saturday's game was somewhat of a "wake-up" for Team Canada and definitely not the outcome that they expected given against Mexico in a game that could have given them some breathing room.
Sunday's crowd of 4,451 obviously gave them motivation as the home team and from the of the introduction, it was their game for the taking.
#15 Danielle Lawrie

Meeting On The Mound


Safe At Home

Canada started Lawrie and according to Mark Smith Head Coach "It was her time for the start due to the rotation of the pitching they have in place.
It would seem that Canada's game in this final, but not so much Saturday against Mexico was going to be more of a "bunting" affair rather than the long ball hits.
Lawrie saw three up in the first and that was all Brazil could manage with two strikeouts and a pop-up to RF retiring the side.
Hayward was Canada's first batter who got on with a bunt, then stole second only to have Jenkins and Gilbert bunt and P/U that saw the fourth batter Speers ground to third being thrown out at first.
Brazil was unable to work any magic in the top of the second with three up and three down, but the bottom of two was when the Canadian bats came to life.
Toronto's Victoria Hayward started the inning off with a bunt followed a steal to second and third on stolen bases.
Kelsey Jenkins (Delta) walks, then steals second followed by a walk to Saskatoon's Jennifer Gilbert (Saskatoon) loading the bases.
Surrey's Holly Speers hit to shallow right on a fielder's choice that forced Hayward home only to be called out advancing Jenkins to third and Gilbert to second.
After somewhat of a defensive conference Salling reached first on a fielder's choice that saw Jenkins called out at home sending Gilbert to third and Speers to second.
Next up was Kaleigh Rafters (Guelph) hit a single scoring Gilbert advancing Speers to third and Salling to second.
Franklin sent a shot up the RF line scoring Speers and Salling moving Rafters to third who was replaced by Gilbert as the runner on base.
With the bats still hot Entzminger hit a single scoring Rafters (Gilbert) moving Franklin to third only to see Lye single to RF scoring Franklin and moving Entzminger to third.
Hayward ended the inning on a PU that was caught for out #3 that saw Canada score five runs on five hits with no errors and two left on base.
The fourth saw Brazil send four batters to the plate ending the inning on two S/O and an out at second on a steal.
Laird's Autograph


@KPSportDrink crew.
Brazil made a pitching change in the bottom of the 4th sending Fernanda Shiroma to the mound that saw both Jenkins and Gilbert out on fly balls.
Speers singles up the right side as Salling flies out retiring the side as Brazil took to the plate only to have three up and three return to the dugout scoring no runs.
The bottom of five saw Franklin take a ball inside, hit a foul but the third pitch did all the damage hammering one over the centre field fence to row 3 giving Canada not only the win, but the trip to Tokyo in 2020.
Greg Timm addressing the crowd

Chairman of WBSC Softball Tommy Velazquez


Daniel Lawrie got the win for Canada while Ogururi Silva was given the loss.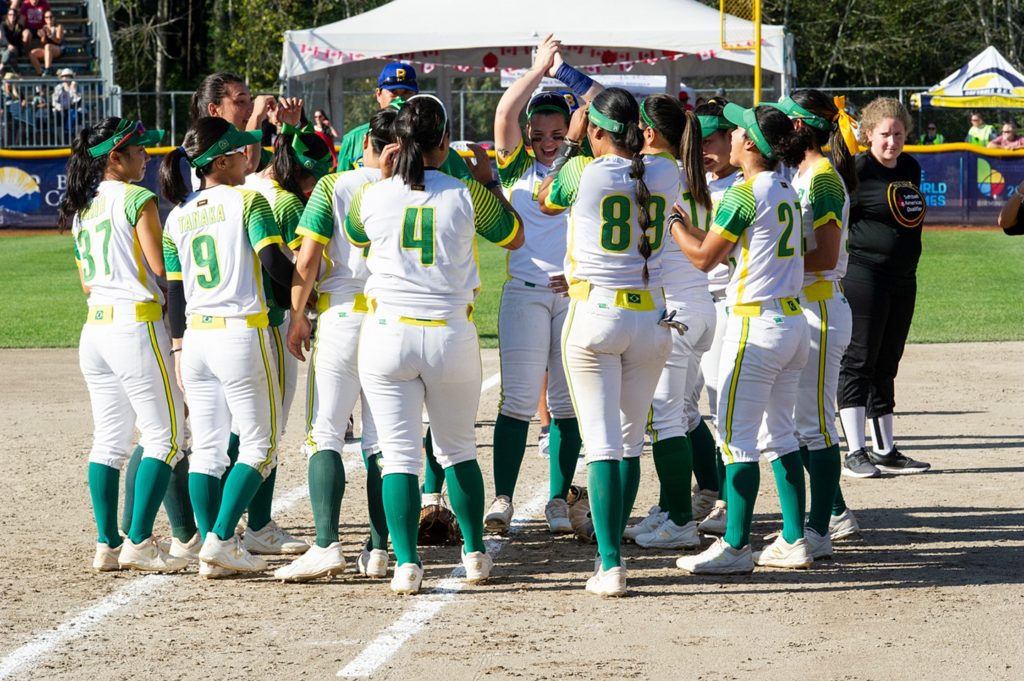 It's interesting to note that Kaleigh Rafter hit her 3HR (9RBI's) of the tournament!!
Congratulations to Team Canada!!!
Special Thanks to Kelly Gleeson and Ben Ronald working with the LBMG who were more than helpful and Sportswave "Thanks" them.