Should Tennis Ref's Wear Helmet's?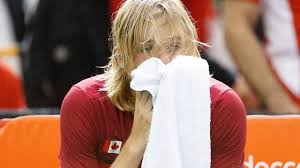 http://www.eurosport.com/tennis/davis-cup-1/2015/denis-shapovalov-ashamed-and-embarrassed-after-default_sto6050133/story.shtml
We all know that sports can and will be explosive at all times, but when an Athlete is unable to maintain focus and composure it's time for that individual to attend counselling for their actions.
First pro athletes must understand that in today's world it's the youth that look up to them for direction and how to be better sports persons as well as better individuals – at and away from the sport.
Life dictates how we act and at times we all get frustrated and being a hockey ref, I see this far too often either from the player(s), coaching staff and quite often it's the Parents.
Now we not only hear, but we got to see the actions of 17 year-old Canadian tennis player Denis Shapovalov who fired a ball into the face of the chair umpire after losing a point in a Davis Cup match in Ottawa this past Sunday.
He was playing Kyle Edmund in the decisive fifth-rubber match of the World Group first-round tie for the Canadian Men's team vs Great Britain.
He (apparently) was frustrated at going down a break in the third set and took a ball from his pocket and while attempting to send it into the stands, he hit umpire Arnaud Gabas of France directly in the eye, causing him to receive first-aid court side.
According to the rules of the International Tennis Federation, Canada was disqualified and lost the match to Britain's Edmund by scores of 6-3,6-4, 2-1 and handing the tie.
This disqualification for Canada will see Great Britain move on to the quarter-finals of the Davis Cup.
Canada will have to play this September in the World Group play-off to remain in the top tier of International Tennis.
Naturally his reaction was swift and he acted in shock, which he probably was and later released a statement, which was probably written by Tennis Canada.
The statement stated "I would just like to begin with apologizing to that referee and to all ITF officials, and to be honest all officials."
"Obviously it was just unacceptable behavior from me and to be honest, I just feel incredibly ashamed and embarrassed and I just feel awful for letting my team down, my country down, for acting in a way that I would never want to act."
Team Canada captain Martin Laurendeau, who was sitting next to him at the press conference, conceded that "the rules are the rules."
"I don't think it was a planned event. It's a lesson that he will take from this and move forward.
"I mean, he's a kid as you can see, he wants to face the music, he's not going to shy away, he's not that kind of guy, he's got some great talent and it's just the beginning of his career, so he'll draw a big lesson out of this," he added.
He was eventually fined a total of $7,000 US Dollars for his actions, but one has to ask will this teach him a lesson or should he look at playing chess?
Match referee Brian Earley halted the contest, while Gobas was taken to Ottawa General Hospital for tests.
Let's call a spade a spade – he acted like a hockey player!!