We received this from the SouthLands Riding Club and wanted to pass it along, given that there isn't enough for everyone to do other than do their best to remain safe and within your "own bubble."
Enjoy the read:
A huge thanks to the new owners of the former Wildwood Paddocks for providing us with temporary access to their property and stables during our unseasonably-busy show season! Jia, Shady, Ace, Toledo and Captain were able to enjoy a stay-cation while we hosted our members and guests – thank you, thank you, thank you!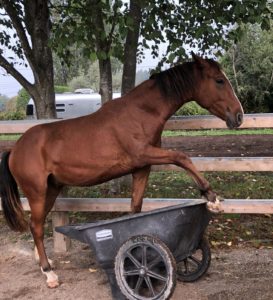 Jia (left picture) completed her first lunge with full tack recently and Marta has been practicing mounting and dismount without any concern from Jia. 
Ace is making great progress and gaining confidence. His trainer, Kelsey, has even recently taken him over cross-poles in the Big Ring! Maybe we will see them at the Haunted Mini-Schooling Show on November 1st…? 
Shady (pictures below) is walking, trotting and cantering under saddle with Robyn and her team of helpers; his steering gets better everyday! You may see Shady sporting his flymask in unconventional ways despite our best efforts 🙂
As you can see, one of our newest additions – Toledo (pictured at right) – is feeling quite at home here at the Club. He is definitely the 'class clown'.
He and Captain – our other 2-year-old – are getting used to life in Southlands: tractors, cars, bikes, pedestrians, dogs and more.
They enjoy watching other horses exercise on the track and being groomed and petted by the volunteers. hey are also very fortunate to spend several hours each week grazing and frolicking in the nearby field that Cheryl Dewson has generously allowed our Rescue Program horses to use – thank you so much, Cheryl!
We wish to acknowledge the generosity of our sponsors who support the daily care and training of these wonderful horses.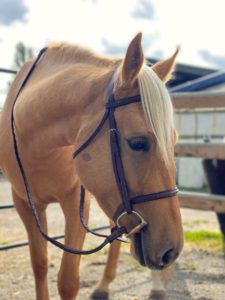 Jia is sponsored by the Wood Family  – Sarah, Camryn, Chris, Tristan & Mayfair

Shady is sponsored by Jane Milton and her "boys", Guido & Hershey

Ace is sponsored by the McLean Group and the McLean Family of Southlands

Captain is sponsored by Elyssa and Greg

Toldeo is sponsored by a HUGE group – referred to as "Team Toledo" – whom we will introduce you to in an upcoming newsletter!
Finally, we could not take care of these amazing horses without the help of devoted volunteers. A sincere thanks to: Amara, Aurelie, Barbara, Carmen, Casey, Clare, Diamond, Dominique, Joan, Julie, Judith, Laurel, Lynn, Mari, Mya, Sara, Sarah, Taha and Zenobia. 
If you are interested in helping the Rescue Program, we are looking for volunteers to feed breakfast (between 7:00am and 8:00am) on Monday, Tuesday and Friday.
People must have previous experience with horses and HCBC membership. Please contact Katleen HERE if you want more information.