The short summer hiking season in the Canadian Rockies is drawing to a close, as the temperatures start to drop, the days get shorter, and the turning leaves transform the forests into a kaleidoscope of color. 
As we enjoy the last days of sunshine out in the mountains, many of us will be thinking ahead to the winter, and the exciting prospect of skiing in nature's finest winter playground.
 Skiing in the Canadian Rockies is a winter highlight for many keen adventurers, with perfect powder, thrilling slopes and gorgeous mountain views wherever you turn.
However, if it's your first time planning a ski trip to the Canadian Rockies, the sheer range of choice on offer can be a little overwhelming.
 There are plenty of good websites out there that will help you plan your Canadian ski trip, packed with recommendations for the best resorts, runs, and places to stay across the region. 
To help you decide where to go and what to do, here's our list of key things you'll need to consider before you head for the slopes.
 It's All About Timing
With towering peaks, serene lakes, and some of North America's finest scenery, the Rockies are a justifiably popular destination, in both summer and winter. 
To get the best deals, and to avoid the crowds, you'll want to pick your destination very carefully.
The best skiing conditions are usually between December and March, so the resorts will inevitably be busy at this time. 
Try to avoid weekends, school holidays and especially the period around Christmas and New Year, when the resorts are typically packed with festive holidaymakers.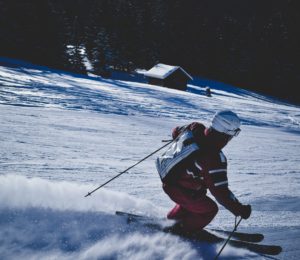 January is often very cold in some parts of the Canadian Rockies, which can discourage some skiers. 
If you don't mind the cold, this can be a good time to visit, as you'll find excellent conditions with slightly fewer crowds than in February. 
Early or late in the season (late November and April) is a great time to pick up cheap deals, but you may run the risk of poorer conditions out on the slopes.
 Stay Flexible
If possible, try to stay as flexible as possible when booking your trip ahead of time. In the wake of the COVID-19 pandemic, many resorts are offering free cancellation on ski passes and accommodation, so you can adapt in case travel restrictions are re-imposed, or if you fall ill.
Indeed, this year's season is likely to look a little different compared to previous years, and you're likely to find more ways to adapt your trip at the last minute..
Our advice: try to keep your schedule flexible, and adapt based on the current conditions. 
Make sure to book with companies and establishments that are offering free cancellation, so you can plan your trip with complete peace of mind in case the situation changes.
Do Your Research
The Canadian Rockies is home to some world-class ski resorts, with an immense variety of runs to suit all skiers. 
Make sure you do your research and choose the resort that is perfect for you and your family or friends. Whether you're looking for lively nightlife, challenging runs, top-class tuition or something a little low key and relaxed, the Canadian Rockies has the resort for you.
One of our favorite resorts in the Rockies is the Marmot Ski Basin in Jasper National Park, arguably the friendliest place to ski in the whole of Canada. It's also excellent value for money, and offers some excellent open terrain for off-piste adventures. 
If you're a beginner, we'd recommend Marmot Ski Basin, or the family-friendly Nakiska Ski Resort in Kananaskis Country. 
If, on the other hand, you're looking for a challenge, you can't beat the thrilling slopes at Revelstoke Mountain Resort.
The larger, more popular resorts such as Lake Louise, Banff Sunshine Village, and Fernie also offer excellent facilities and a wide variety of runs, in addition to some lively nightlife and excellent restaurants and bars for après-ski adventures. 
Before you book, do your research and check out other customer reviews to pick a destination that's perfect for you.
 Don't Spend All Your Time On The Slopes
Although the Canadian Rockies offer some fantastic skiing, you may want to factor in a little time away from the slopes during your trip. In addition to downhill skiing, you'll have plenty of opportunities for cross-country skiing, snowshoeing and winter hiking in the areas around the resorts.
Head out to the frozen lakes to try a little ice-skating, or simply sit back and enjoy the views from a horse-drawn sleigh. Try your hand at ice climbing in the magnificent Johnston Canyon, where you'll find dramatic ice sculptures created from the frozen waterfalls.
For a change of temperature, don't miss the chance to relax in a bubbling hot spring in Banff or Jasper.
Although many animals in the mountains go into hibernation in the winter, there are still plenty of opportunities for wildlife watching. 
Keep your eyes open for elk, deer, bighorn sheep, goats, caribou, or even the elusive lynx.
Finally, if you're worn out from all of the outdoor adventures, you'll find plenty of excellent cafes, restaurants and bars where you can relax in a cozy environment after a day out in the crisp, fresh air.
 Wherever you choose for your skiing adventure in the Canadian Rockies, you can be sure of one thing – you're guaranteed to have the time of your life!
Special "thanks" to Lukas at 10A Adventures for sending this over to share.
Enjoy your long weekend and Stay Safe.