Half Ice – You Make The Call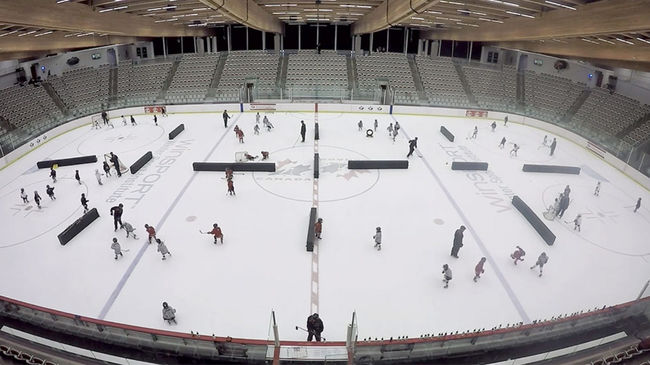 http://www.thepeterboroughexaminer.com/
We had mentioned about the use of half-ice for young players under the age of seven  in Ontario that was potentially threatened by new Hockey Canada rules that sparked controversy from various groups and parents alike.
Some of the local leagues throughout the Greater Toronto Hockey League area in addition to several of the parents have been extremely frustrated and discouraged by the indication that Hockey Canada is/was considering a move that would have all house-league players under seven-years-old play "cross-ice."
This meant that they would be using only half the ice surface for games as well as practices, by the start of the new season, which began this past week.
Some of the leagues as well as some teams had mentioned that they would defy the new rule because unlike in other parts of the province, the GTA has "select" level house-league teams for elite players as young as six.
At times this would affect the play of some teams as some of the teams have seven-year-olds that play with a few advanced six-year-old's on the same team.
Several individuals felt that the new system would mean these "elite six-year-old" who previously tried out would have their season put at risk as at present young players aged seven and up still play on a full sheet of ice.
The half ice or as some call it cross-ice play are a huge part of Hockey Canada current Initiation Program which is specifically used for new players to the game.
Hockey Canada Chief Executive Tom Renney mentioned "The response nationally to deliver age-appropriate programming has been outstanding, and we are moving forward with the mandate to adjust all players from the Novice age [born in 2011] category to cross-ice or half-ice games and practices."
He continued "But to see even one player's season called into question because an implementation issue of our mandate is one player too many."
When this was first mentioned and might have created a problem, it clearly was obvious, that the Ontario Hockey Federation would have to negotiate with Hockey Canada to fix this concern.
Hockey Canada eventually approved what they offered  as solutions to the game, which included providing an exception for 2011-born kids playing an age group up.
The final consent for full approval came to the surprise of no one some conditions, one of which is that the exemption is ONLY FOR THIS SEASON AND NOT BEYOND.
Executive Director of the OHF Phillip McKee stated "In the end, we are so pleased all the stakeholders involved in coming to these solutions were able to agree the most important outcome was to get the 2011-born players back on the ice."
"The cross-ice rule announced by Hockey Canada last March is set to take effect for teams of seven and eight-year-olds by the 2019-2020 season.
God forbid I mention that they should use make the circles smaller and use the rule of four on four rather than using the current coincidental rule, be it Minor or Major.
They might not understand!!!!