With virtually all sports on hold with the exception at the pro level or the high performance for various countries world wide, Canada's National Junior team is no exception.
They were put in the "sin-bin" for a short period of time due to COVID-19 with some thinking that this will put an end to their dominance in the hockey world, but that is the last thing on the mind of the team.
The squad they have put together have one goal in mind and that is to represent Canada by bringing home a Gold Medal once again.
I received the following press release from Vancouver Giants play by play/media relations Dan O/Connor on Vancouver Giants D-man Bowen Byram and his  status on training camp to date.
Enjoy the read.
Cranbrook's Bowen Byram, a 2019 first-round draft pick of the Colorado Avalanche, is one of six players who will be representing Canada for the second time in as many years at this event. 
In seven games last season at the World Juniors he notched two assists en route to a Gold Medal victory.
 In 188 career regular season games with Vancouver, Byram has posted 46 goals and 104 assists for 150 points which ranks him third all-time in franchise scoring for defencemen. 
Additionally he's suited up in 29 playoff games, where he added 11 goals and 22 assists for 33 points. 
He was drafted by the G-Men third overall back in 2016. 
Photo Credit: Vancouver Giants
During the 2018-19 season, Byram set a new single season team record for goals by a defencemen with 26, and he set a new single season WHL record with six overtime winning goals.
 Internationally, Byram has also donned the Maple Leaf at the 2017 World Under-17 Hockey Challenge and the 2018 Hlinka Gretzky Cup.
 Per Hockey Canada's announcement: The 2021 IIHF World Junior Championship begins on Christmas Day with three games before Canada kicks off its tournament schedule on Dec. 26 against Germany at 6 p.m. ET/3 p.m. PT. 
TSN and RDS, the official broadcast partners of Hockey Canada, will broadcast all 28 tournament games and the 10 pre-tournament games that begin Dec. 20. 
TSN Radio will also provide comprehensive tournament coverage, including all Team Canada pre-tournament and tournament games through to the gold medal game.
 Canada has captured 18 gold medals at the IIHF World Junior Championship (1982, 1985, 1988, 1990, 1991, 1993, 1994, 1995, 1996, 1997, 2005, 2006, 2007, 2008, 2009, 2015, 2018, 2020), in addition to 11 silver (1975, 1976, 1977, 1986, 1999, 2002, 2003, 2004, 2010, 2011, 2017) and six bronze (1974, 1978, 1983, 2000, 2001, 2012).
 For more information from the International Ice Hockey Federation, please visit the official tournament website at 2021.worldjuniors.hockey.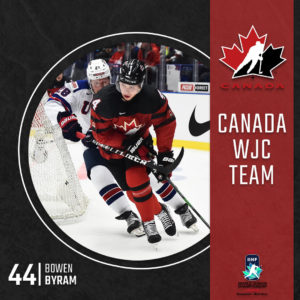 NOTE:
 Since their inception, the following Vancouver Giants have represented Canada at the World Juniors:
–       Bowen Byram (2021)
–    Michael Dyck (2021) *Assistant Coach
–       Bowen Byram (2020)
–       Mike Burnstein (2020) *Trainer
–       Mike Burnstein (2019) *Trainer
–       Brendan Gallagher (2012)
–       Don Hay (2012) – *Head Coach
–       Evander Kane (2009)
–       Cody Franson (2007)
–       Kenndal McArdle (2007)