If you are a fan and follow Sportsnet with the panel throughout the hockey season, it's interesting to know that Kypreos who has been with the station since it began have parted ways after a 21 year run.
He went from tough guy on the ice to one of the most respected and understood analysts in the game that everyone could relate to.
His honest and direct approach to analyzing games was second to none and along with Kelly Hrudey their insight was far better than the others at various stations.
The transition isn't easy for someone making the change, but he was one that could make the change in a short period of time.
Kypreos has been with Sportsnet since the company's inception back in 1998.
He was instrumental in helping the network gain legitimacy in its early days and has been Sportsnet's biggest insider for over two decades.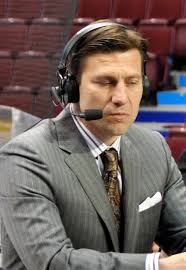 He was a regular on Sportsnet's Hockey Central radio show and a panelist on Rogers branded broadcasts like CBC's Hockey Night in Canada.
He understood the game as he played for eight seasons with Washington, Hartford, Rangers and Toronto playing 442 games, notching 46 goals and 44 assists while sitting in the sin-bin for 1210 PIM's in regular season play.
In total he played 34 playoffs games grabbing 1 goal, 3 assists while keeping the opposition honest while earning 65 PIM's.
His minor playing career started in Wexford Ontario for the team that was fortunate to play in the 1979 Quebec International PeeWee Tournament.
He went on to play for the North Bay Centennials who went on to eventually sign with the Flyers on the eve of his second junior season, but began his career with the Capitals and earned a Stanley Cup with the Rangers in 19194.
His final stop was in Toronto for his hometown Leafs where he was involved in a fight with Rangers Ryan VanderBusche where he received a concussion ending his playing career.
It's interesting to note that VanderBusche ended his NHL playing career with Pittsburgh in the 2005-06 season and finished with the New Mexico Scorpions in the 2006-07 season while playing in the CHL
Shortly after Kypreos' announcement, his Hockey Central co-host Doug Maclean also announced that he and Sportsnet have parted ways.
MacLean was born in Summerside in April 1954 so has a passion for life on the east coast and worked with the Wings from 1990-94 and moved around to various teams.
He was the Head Coach of the Florida Panthers in 1995/96 season until 1997 that saw changes made after 23 games.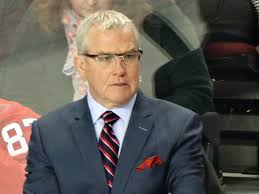 He was hired to be the /GM of the Columbus Blue Jackets (1998) then was given the additional responsibility to fill the role of President.
The Blue Jackets or rather MacLean fired Head Coach Dave |King January 7,2003 that saw him take on the added role of Head Coach, but only until January 1/2004 when he promoted Gerard Gallant as bench boss.
He was let go (fired) after the end of the 06-07 season probably due to their poor record by never posting a winning record (172-258-62), thus the release.
He is the only general manager in NHL history to serve for six seasons without making the playoffs.
Mclean and Kypreos were a fantastic duo on radio, their voices and insight will be missed.
These layoffs/firing gets many asking the question of not just why, but who will be their replacement.
In conversation with some on the street recently some fans have mentioned "these were two of the better ones and others should have gone before Kypreos."
One can only guess they are going with the younger up and coming broadcasters who don't know the game, but will work for less money!!