Hockey down under this time of the year, isn't what's on the mind of may in Australia at this time – it's the fires!!
Hats go off to the volunteers and the fighting the fires who have traveled from Canada and elsewhere to assist in getting the fires under control.
The loss of homes, wildlife, the communities as well as the land is unreal and so hard to fathom as we sit in our living rooms watching the devastation.
Now we are hearing that a group of Australian hockey players named the Boomerangs arrived in Edmonton this past Friday was the -50C weather, the first thing everyone noticed was the change in weather.
We should make mention that the Kaurna Boomerangs were inspired by the Hollywood movie "The Mighty Ducks."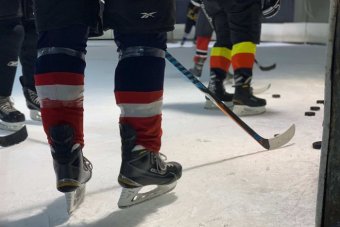 Michael Burgoyne (22) is a member of Australia's first ever Indigenous ice hockey team and the age of the players range from 13 to early 20ties and are taking part in a cultural exchange with Cree nations in northern Alberta. 
Saturday is a day that they will remember once they get over their "jet lag" and they hit the ice for practice at Rogers Place to which Burgoyne mentioned "skating on the Edmonton Oilers' home ice was a "surreal" experience, and that its been an adjustment acclimatizing not only to the weather, but also to Canadian culture."
He continued "I rocked up and I got told 'we're in Canada, we don't say ice hockey here, we just say hockey" and let everyone know that field hockey is the most popular game in Australia, as well as Aussie Rules Football.
Over the past two years they (The Boomerangs) began training which is part of the Ice Factor program: a longstanding initiative that gets disadvantaged youth involved in hockey.
They are based in Adelaide, Australia and Ice Factor was founded by Marie Shaw, whose own daughter had her life turned around after falling in love with the sport.
Shaw heard that Southern Australia's only ice rink was set for closure and she got involved in efforts to save it, eventually ending up founding the now 15-year-old organization which has seen 3,000 young people participate in addition to being connected to 18 Australian high schools.
Two years ago, a pair of young Indigenous men approached Shaw about the possibility of forming an Indigenous team.
She threw her support behind them, and helped make possible the trip to Canada to play against and connect with Indigenous teams here stating "You need to have a dream, and you need to believe in it."
Burgoyne, who is Mirning and Narungga, is one of the 18 Indigenous players of the team and mentions "He was a bit of a "run-amok" when he entered high school years ago."
He credits the Ice Factor program with helping him to stay motivated and stay the course through school znc mentions "The program has helped me out a lot. I've finished school, I've got a job, got a family."
The team will gear-up for on-skates events in Edmonton, Maskwacis, and Calling Lake and also visit Amiskwaciy Academy, RCMP K Division, West Edmonton Mall, as well as hit the ice for a skate at Ottewell Community League's outdoor rink and unless you have ever experienced this, you simply don't know what you are missing!!!!
While in town, they will catch some WHL action January 17th watching the Oil Kings play host to the Prince Albert Raiders as well as catch the January 18th game as the Oilers play host to the Coyotes.
They fly back to Australia Jan. 19 and we wish them well on their journey and all future endeavors.
Given the devastation I am hearing that yet another 69 Canadians are heading to Australia to help fight the country's worst bushfires we can ever remember.
It's reported that Francois-Philippe Champagne Foreign Affairs Minister mentioned earlier that "the deployment comes after Australia asked for more help."
There are currently over 200 bush fires that continue to rage across Australia, with the two most populated states of New South Wales and Victoria getting hit the hardest.
Our thoughts are with everyone in Australia!!!