Land-based casinos have a regrettable habit of banning serial winners. You could adhere to all rules and observe social etiquette. 
But the moment you threaten their financial reserves by winning too much, you're gone.
That's precisely what happened to Don Johnson in 2012, one of the best blackjack players of this generation. 
He won $4 million at Caesars Casino and another $5 million at Borgata. Caesars got angry and banned him from all of its establishments.
Fortunately, online casinos exist for a reason. You can play your favorite blackjack variant, poker, roulette or baccarat. And in many cases, you're welcome to beat the house. Here's how that works. Live Casino Streaming
Blackjack isn't fun unless you're playing with a human dealer. You want to see who you're up against. 
You want to watch as they shuffle cards or insert them in their shuffling machines. What's more, you want to play multiplayer blackjack.
With live streaming, you can play online blackjack with friends and against human dealers. This happens through web cameras, gaming control units and the Internet. Cameras help you connect to gaming studios located in major cities like London, Las Vegas and Malta.
On the flip side, GCUs encode and decode data as it moves from your computer to the casino's website and vice versa. Then there are more cameras that show the dealer, the blackjack tables and backdrop.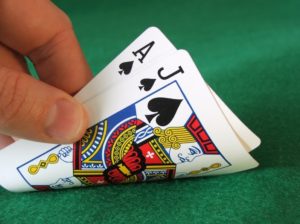 Why Play Live Casino Blackjack?
There are many places you can play blackjack. You could book a flight to Las Vegas. Or play at one of Canada's first-nation casinos. 
You could also play the game against RNG software. But here's why everyone is turning to live blackjack, these days.
Playing online blackjack in Canada is safe. That's because the casinos that serve Canucks have licenses from some of the best regulators in the world: Malta and Britain. License providers vet casino owners thoroughly to ensure they are fit to offer casino games.
More importantly, they require these operators to secure their gaming websites adequately and protect players' data. If you need more proof, take a look at all the casinos punished for breaking various rules by the UKGC.
As mentioned earlier on, live casinos offer all major types of blackjack. Want to play Blackjack Switch? Hover to the right table. Want to try progressive jackpot? It's all yours. 
The best part is that you don't need to move anywhere to find the right type of blackjack.
All you need is to scroll through the casino lobby or use a search feature to find a specific type of live blackjack. Of course, there are more games besides Classic twenty-one. You can also choose roulette, poker, baccarat or Texas Hold'Em.
Can you beat a dealer four times for a $25 cash gift? Better yet, how would you love to deposit your first deposit bankroll? 
That's precisely what most online casinos do. They match your money 100% so that your $100 becomes $200 and $1000 turns into $2000.
 The minimum required to claim live casino blackjack is $10 or $20. In many cases, you can use your gift to play whichever games you like. 
However, you could also receive live casino bonuses you can't use on slots, video poker or bingo.
Are casino bonuses free money? In some cases, yes. Some websites can reward your loyalty with free cash. In many cases, though, bonuses come with a catch. You must fulfill certain terms to benefit fully from these rewards.
Card counting is nearly impossible when playing online blackjack. Cards are shuffled far too often and the shuffling is done by machines. 
Despite that, there are many blackjack strategies best utilized online.
Let's start with simple blackjack. It's the professional's way of playing classic twenty-one. It's simple to understand and effective. 
However, it's not the only system out there. You can use a progressive system, rank counting, point counting or a conservative approach.
At most online casinos, you can deposit $10 and play a handful of blackjack games. With $100, you can spend several hours at the tables. The best part is that you can choose how much you want to bet at any moment.
Let's you're a new customer that wants test the waters of online jackpot carefully. You can join low-limits tables to play Classic twenty-one for pennies. You might not win a lot of money. But you'll have a great time and learn from professionals.
On the flip side, you could join veteran players at the high-limit sections. They play smart and tend to defeat croupiers consistently. 
But beware, high roller blackjack has its drawbacks too. If you're inexperienced, you're better of at the low-limits area.
Online casinos provide customer service through four channels: chatbots, phone calls, emails and FAQ pages. Sending a message via a chatbot is the easiest way to communicate with a casino. 
The best casinos provide customer support 24/7 through chatbots. 
They reply to emails fast and accept phone contact. However, it's always advisable to check answers to problems you might have in the FAQ page.
Some casinos offer better customer service than others. That's why you should read online reviews about every gaming site you plan to join. 
Sign up on websites with quality customer service and you'll always have a delightful time playing blackjack online.
The icing of online blackjack online is that you can win real money and cash it out fast. Depending on how you want to receive your cash, you can cash out in a day, a week or month.
In many cases, you withdraw money through your chosen deposit option. 
That means you receive your wins through PayPal if it's also what you used to fund your account. The only exception is wire transfer.
Some casinos let you deposit through e-wallets or credit cards and withdraw money to your bank account. 
It takes a while to receive money through wire transfer. But it has much lower fees than many alternatives.  


Image of tài xỉu Kuviet.com