While we are pondering what we should be doing not just now, but quite possibly this summer when hopefully things get back to the "real world" in hopes that we can have the return to the normal world.
In our most beautiful Province of British Columbia we are fortunate to be able to enjoy the best of both worlds without spending a "ton" of money for a holiday.
Grab your ball glove, football, hockey stick, swimming trunks and be sure to score your holiday to remember when spending time in Sicamous and surrounding area for a holiday that you soon won't forget any time soon!!
I had the luxury to spend a weekend this past fall a short five hour drive east of Vancouver to spend time on a Houseboat in the Shuswap.
I can say that this area displays some of BC's most scenic part of the Province and that's not by any means to take away from other areas of the Province, but this was my choice for a weekend jaunt.
If you're worried about problems don't be, they are safe, fun and most relaxing in a way that you leave your troubles either on the shore or at home and I highly recommend this holiday to anyone.
If you're looking for a fun, different and Covid-19 Safe Summer Vacation, make plans to explore the world of Houseboats! 
Houseboating is a unique, relaxing, and unbeatable way to experience all the amenities that Shuswap Lake has to offer during the summer time. 
Waterways Houseboat Vacation was a staple in Sicamous for over 45 years, but unfortunately they fell on hard times and were forced to close their doors in the summer of 2019. 
Fast forward to March of 2020, and new owners purchased the Waterways property and assets out of receivership, but a short week later Covid-19 hit the region of BC and forced everything and everyone to shut down. 
The dreams of having an enjoyable and profitable summer seemed to vanish overnight as the restrictions began changing the vision that had been created by these new owners and now the plan was to try and figure out if it was possible to have any sort of season at all.
Despite the hardship that Covid-19 thrust upon these new owners, as it had also done to many other businesses in various regions and with the help of Family and friends they were able to officially open their doors as Sicamous Houseboats on June 1, 2020.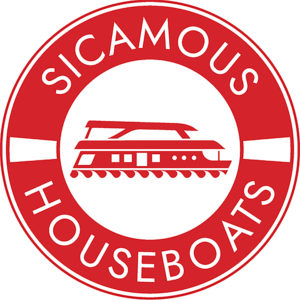 Sicamous Houseboats strives to provide the best houseboating vacation on Shuswap Lake, and to provide a friendly guest experience that is unforgettable. 
The overall fleet consists of 27 houseboats ranging in size with some boats sleeping 10 guests, while others sleep up to 24. 
Each houseboat is equipped with all the amenities you could need and much which include a fully equipped kitchen, bathrooms, BBQ, hot tub, slide, and endless memories. 
Whether you call to ask questions, are out on the lake, or beginning your travels home, you will be met with friendly and knowledgeable crew members that are willing to assist you with whatever your needs may be. 
Visit their website www.sicamoushouseboats.com to see the different boats in their fleet, for more information on houseboating, or to book your trip.