The Vancouver Whitecaps took their travelling road show on the road to face the LA Galaxy in a match that would feature 31 year-old Javier Hernandez.
He is known as "El Chicharito" to his Mexican supporters and was recently signed to a "Designated Player Contract" in a match that was played in front of 26,382 Galaxy supporters.
Prior to joining the Galaxy Hernandez played in 15 appearances in Spain for only a half season for Seville and as strange as it sounds he has two shots in his first two games, neither on goal.
Hernandez is Mexico's all-time leading goal scorer through 109 appearances while notching 52 goals, playing in three World Cups while delivering four goals, adding to his two Gold Cup championship wins with El Tri.
The first half both teams failed to score, but the second half saw the Whitecaps get what proved to be the eventual 1-0 win with Tosaint Ricketts putting them on the board in front of a shocked Galaxy crowd with helpers going to Ali Adnan and Ryan Raposo.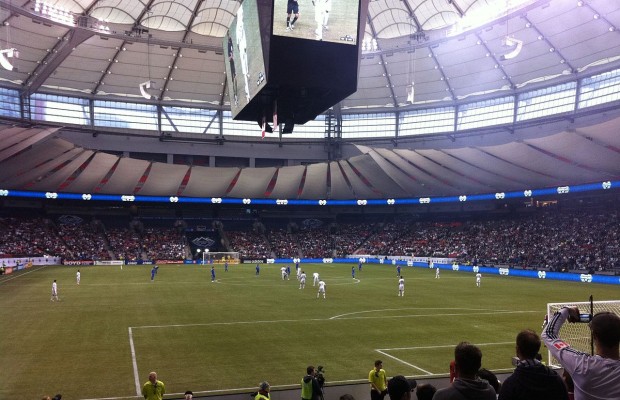 The game also featured Janio Bikel (Midfielder), Hamilton's Ryan Raposo (Midfielder) as well as 22 year-old Leonard Owusu also a Midfielder who were eager to get on the turf to show his talent.
The 'Caps received a solid team effort or as today's youth mention "A Full Meal Deal" across that saw Bikel replace Jake Nerwinski who was out due to injury.
Adding some "gusto" to the roster wasn't until Raposo entered the match helping set up the lone Whitecaps goal, which proved to be the game-winner in the 74th minute.
Since joining the Whitecaps last summer he (Ricketts) has managed to collect two goals both in California.
Following the Caps goal it was Joe Corona of the Galaxy who received his second yellow card handed out by match Referee Ismail Elfath forcing LA to play with 10 men for the last 15 minutes of regulation time.
Ricketts had another chance with time winding down following a cross set-up from Raposo behind the Galaxy defense but a poor tackle added led to a Whitecaps penalty.
To the surprise of some, the Whitecaps managed to hold the Galaxy in a match that saw added time on the clock, leaving "The Golden State" (California) with the 1-0 victors.
To no surprise the Man of the Match for Vancouver was Tosaint Ricketts
The Whitecaps return to the pitch next weekend, March 14th as they play host to the Colorado Rapids with a 4 PM kick-off.
The Galaxy who had 6 corners while the Cap's managed only 2 with possession time going to LA with 54.2%, while the Whitecaps managed only 45.8 percent.
For more information please visit whitecapsfc.com for tickets.