Waston's Play Entertains 19,816 Fans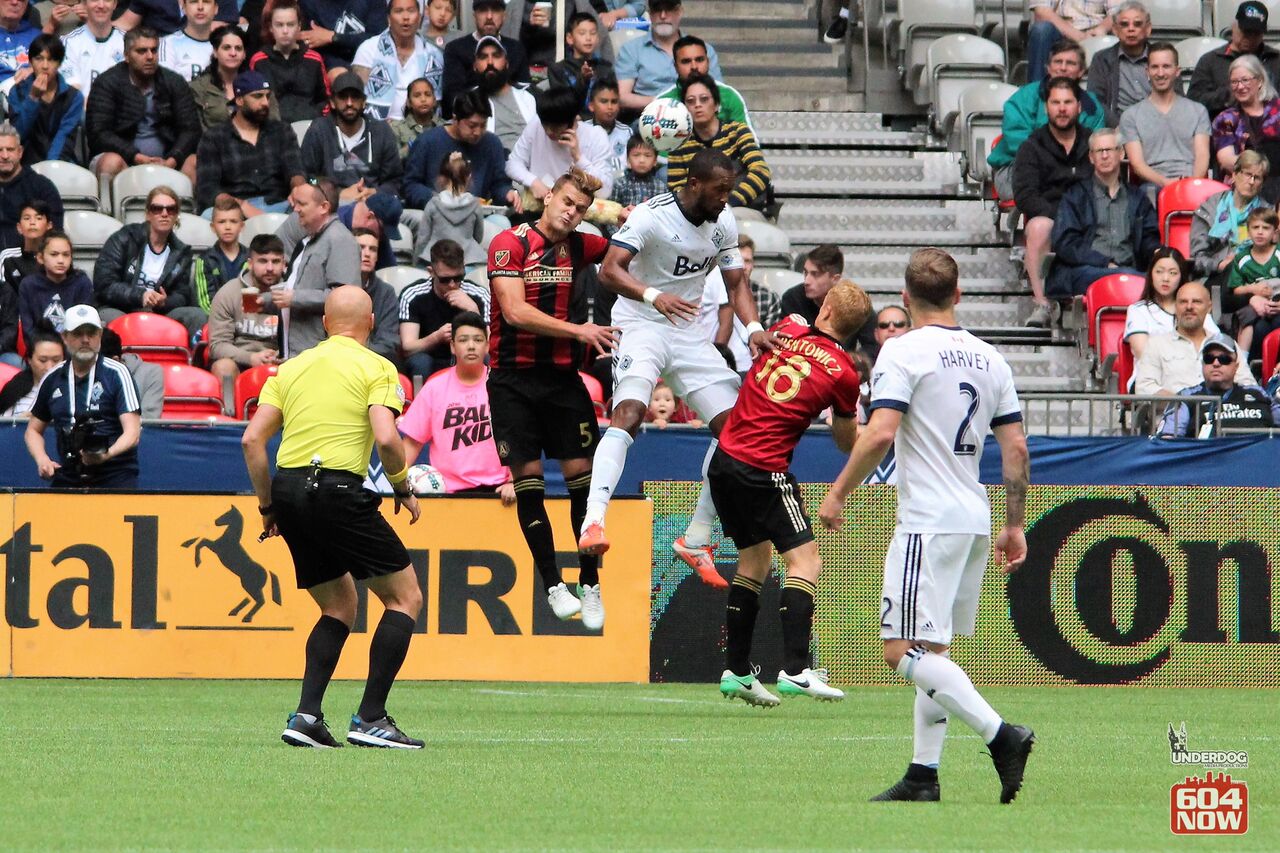 photo credit to Jorge Parra
Whitecaps Captain Kendall Waston had a huge game against the newest expansion MLS club the Atlanta United FC this past weekend scoring two goals in a big 3-1 victory for Vancouver.
Playing in front of 19,816 fans in a game that saw Atlanta come out flying opening the scoring in the 4th minute.
The first goal came off an exceptional three-way passing play that caught the Caps back four off guard that saw Greg Garza take a cross pass from Julian Gressel and Yamil Asad wiring it  past a Ousted giving Atlanta United the early 1-0 lead.
The United outplayed Vancouver for the first opening 15 minutes causing concerns for bench boss Carl Robinson and his squad.
The Caps used the wings with cross passes that caught the Atlanta defense problems forcing them to spread out giving Vancouver space and time in the middle working with key passing plays.
The 15th minute saw Christian Bolanos get awarded a free kick narrowly missing, but hit Freddy Montero on a header in the box with a deflection over the bar.
Kendall Watson managed to send a perfect cross-pass from Andrew Jacobson narrowly heading it over the bar.
The Caps eventually got the equalizer in the 31st minute from defender Kendall Watson on a perfectly placed pass from Jacobson using his left foot to slam the ball past Atlanta goalkeeper Alec Kann evening the match at one.
Watson scored his second of the afternoon taking a Christian Techera feed that saw the original shot blocked but came back to Watson who sent the ball deep in the back of the net giving the Whitecaps a 2-1 lead in the 44th minute.
The second half  saw the Whitecaps change the outlook of the match creating a variety of creative scoring chances making "key" decisions on the ball.
The 68th minute saw Freddy Montero bury a Caps free kick taken by Tim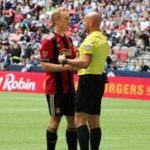 Parker whose original shot was saved by Atlanta "keeper" Alec Kann but the ensuing rebound went to Montero who put the Whitecaps up by a 3-1 lead.
The win sees Vancouver improve to 6-6-1 in the western conference good for 6th place tie with San Jose who both sit with 19 points.
Atlanta on the other hand dropped to a 5-5-3 record on the season and currently sit 7th in the Eastern Conference standings.
The Whitecaps next home match is scheduled for June 17 against FC Dallas with the kick-off set for 7 pm.
Thanks to B. Nolte
Photo's from Jorge Parra