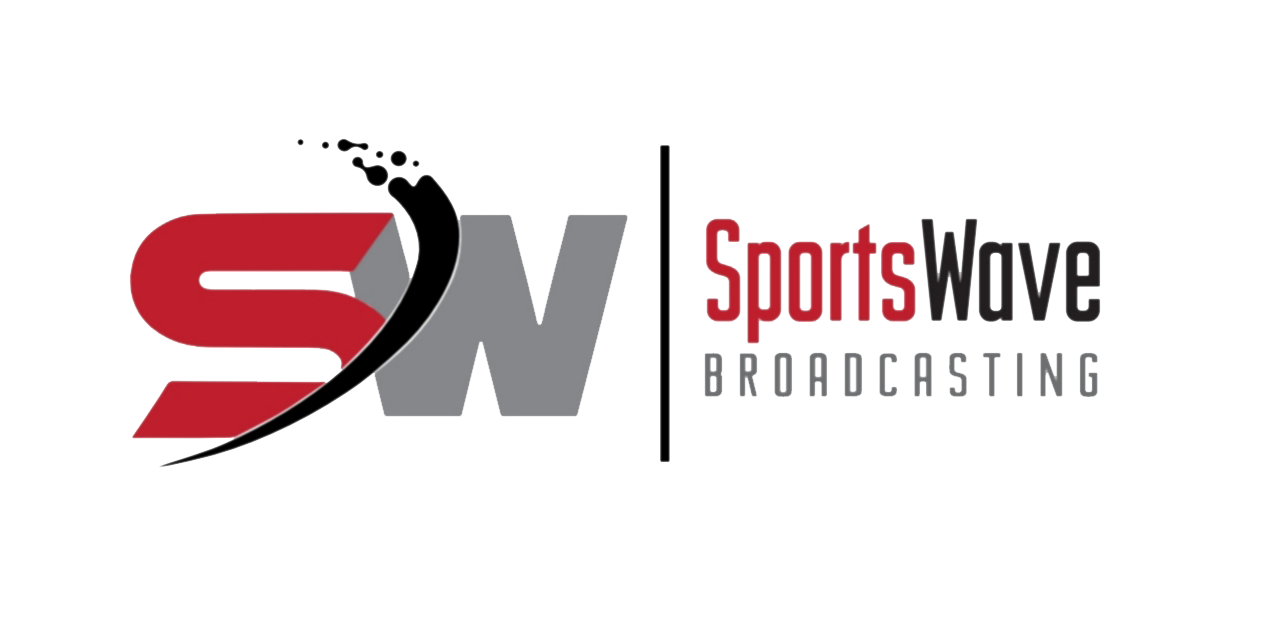 Fast Forward – Same Result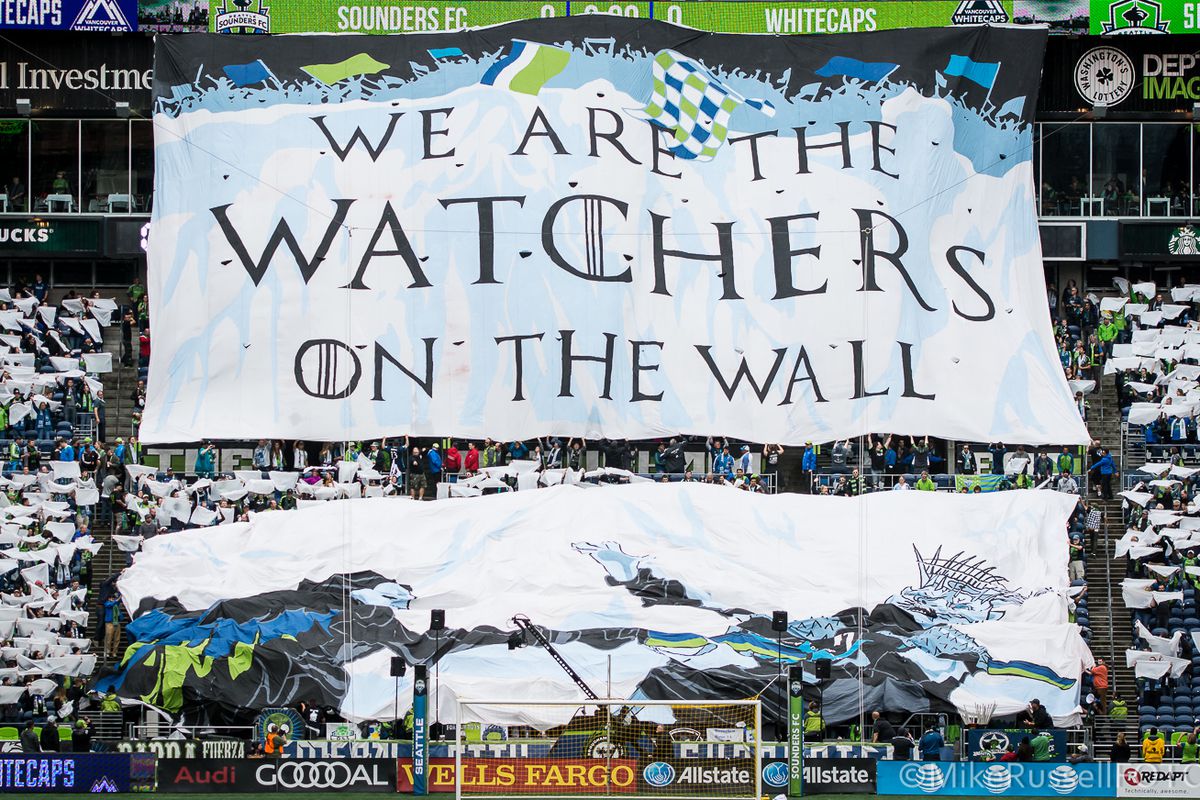 Photo Credit sounderatheart.com
The Seattle Sounders had Vancouver's number again on the night as they met the Whitecaps with a second half explosion of offence scoring three goals in a 12-minute span to carry them to victory.
Over Vancouver on the road in the Emerald City in Major League Soccer action as former Caps player Erik Godoy was credited with an own that went in off a Vancouver player in 53rd minute of the match.
 Vancouver played Seattle tight in the opening half of the match getting their share of scoring chances in the game against the west division leading Sounders as they tested Stefan Frie who had to come up big early in the game for the home side.
 Caps keeper Bryan Meredith of Vancouver was also busy early as the Sounders offence had their chances as well but were turned away and were a bit unlucky at times as the Vancouver defense cleared away some dangerous chances.

 As the teams went to the halftime in a scoreless draw.
 In the second half Seattle opened the scoring in the opening minute on a goal by Joao Paulo to give the home team a 1-0 lead in the match as he beat Caps keeper Meredith low to the corner.
 Vancouver conceded an own goal 7 minutes later as former Whitecap Erik Godoy fired a cross into the Vancouver penalty area and the Caps were unlucky as the ball found the back going off one of their defenders past Meredith to give the home side a 2-0 lead.
 And the Sounders added insult to injury as Raul Ruidiaz fired home the third goal in the 58th minute set up Jordan Morris and Nicolas Lodeiro to give them a 3-0 lead Vancouver got one back when Freddy Montero on a penalty kick in the 65th minute reduced the Sounders lead to 3-1.
 From there the Sounders played solid defense in denying the Caps any dangerous scoring chances and maintained possession in the match as three minutes later Janio Bikel received his second yellow card caution (red Card) and was ejected from the match for a serious foul and had to play the final 22 minutes shorthanded.
 Goalkeeper Maxime Crepeau, Christian Gutierrez, Thomas Hasal, Leonard Owusu, Russell Tiebert , were not cleared to play in the match and Jasser Khmiri was playing his native country Tunisia national men's team goalkeeper Evan Bush acquired from Montreal in a trade was on the bench as a sub.
Whitecaps FC look to bounce back when they visit San Jose Earthquakes on Wednesday. Kickoff is at 7:30 p.m. PT live on TSN and TSN Radio 1040.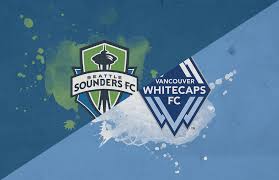 Game notes from the match courtesy of Vancouver Whitecaps FC listed below.
Thanks to the Vancouver Whitecaps FC for the use of the MATCH DETAILS:
VWFC Man of the Match: Bryan Meredith
Referee: Timothy Ford
Scoring Summary
46′ – SEA – João Paulo
53′ – SEA – Érik Godoy (own goal)
58′ – SEA – Raúl Ruidíaz (Jordan Morris, Nicolás Lodeiro)
65′ – VAN – Fredy Montero (penalty kick)
Statistics
Possession: SEA 69.6% – VAN 30.4%
Shots: SEA 22 – VAN 3
Shots on Goal: SEA 9 – VAN 2
Saves: SEA 1 – VAN 7
Fouls: SEA 10 – VAN 17
Offsides: SEA 0 – VAN 1
Corners: SEA 7 – VAN 0
Cautions
26′ – VAN – Janio Bikel,          49′ – SEA – João Paulo
52′ – VAN – Lucas Cavallini,   65′ – SEA – Yeimar Gómez
Ejections       68′ – VAN – Janio Bikel  
Seattle Sounders FC
24.Stefan Frei; 18.Kelvin Leerdam (16.Alex Roldan 76′), 28.Yeimar Gómez, 3.Xavier Arreaga, 5.Nouhou Tolo (2.Brad Smith 73′); 4.Gustav Svensson (8.Jordy Delem 73′), 6.João Paulo (84.Joshua Atencio 89′); 7.Cristian Roldan, 10.Nicolás Lodeiro ©, 13.Jordan Morris; 9.Raúl Ruidíaz (17.Will Bruin 76′)
Substitutes not used
30.Stefan Cleveland, 11.Miguel Ibarra, 27.Shane O'Neill
Vancouver Whitecaps FC
1.Bryan Meredith; 28.Jake Nerwinski, 22.Érik Godoy, 13.Derek Cornelius, 53.Ali Adnan; 11.Cristian Dájome (32.Patrick Metcalfe 75′), 19.Janio Bikel, 15.Andy Rose (55.Michael Baldisimo 65′), 7.David Milinković (27.Ryan Raposo 65′); 12.Fredy Montero © (14.Theo Bair 75′), 9.Lucas Cavallini (87.Tosaint Ricketts 89′)
Substitutes not used
30.Evan Bush, 60.Isaac Boehmer, 4.Ranko Veselinović, 62.Damiano Pecile