Most young players want to make their Parents proud and normally take up a sport in which one of their Parents played when they were young.
This can be an easy transition in most cases, but not always as sometimes there can be far too much pressure by your Parents who (so we are told) excelled in their chosen sport.
Pressure can be a good thing, but not always and in the case for a 17-year old NDSS Brandon Bassi having both a Father and older Brother play it seemed to come easy.
He first hit the field, er-pitch running at the young age of six years old but it was anything but love at first sight.
Bassi mentions "When I was younger I wasn't the best, I didn't want to go to practice, I didn't want to go to games, but as I got older I started loving the game more and more, and it just became something that stuck with me."
Both on and off the pitch all the hard work along with the dedication paid dividends as it was made official that he (Bassi) signed on to play NCAA soccer at SFU.
He mentions "It kinda feels unreal because my brother also went to this school (both of them actually, [NDSS] and SFU), so it kinda feels like I'm following in someone's footsteps."
Bassi, now 6'4" began his playing career with the North Delta Soccer Association, then moved on to join with the Coastal Football Club where he has been their captain since U-13.
At the young age of 15 he showed promise and spent a season playing with the Vancouver Whitecaps' residency program where he represented BC on the national level of the game.
Steven Duffy the Senior Staff Coach at Coastal FC mentions "He's done everything that he could have done in addition to playing at National Championships as well as  play for several teams and oh yea – played for the Whitecaps and that has allowed him get a scholarship."
He (Duffy) has known Bassi for four years and has coached him at BC Soccer's provincial program and at the club level from U-14 to U-16.
Duffy mentions "He's an absolute leader and when you have kids that excel at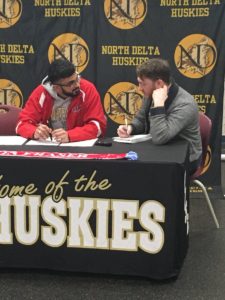 a young age and they make all these programs and their heads swell and they get a little cocky and they have some ego; he's never been that kid. He's really hard working and comes from a great Family."
It goes without saying that he (Bassi) has made improvements to continually understand and improve his game and one could simply state that "he's a team player" through and through.
Unlike some his success isn't limited to the soccer pitch but simply put he's an all rounded individual who has earned honor roll status for his scholastic achievements as well as helped the Huskies senior boys basketball team climb to fourth place in the provincial AAA rankings, with a record of 6-0 in league play.
Huskies Head Coach Jesse Hundal mentions "Brandon, as a student, he's hard working, he's intelligent, gives his honest effort. As a player he's fiery, he's competitive, he's intense, and honestly he'll do whatever it takes to win, but before the game he's all jokes, but when the whistle blows it's like he's transformed into like the Dark Knight. It's all business."
It's not known by everyone until now but life hasn't been easy especially being close to his Family as Hundal mentions "Two years ago we were at junior boys provincials and he found out that his Grandfather had passed away and rather than stay at home, he came to play the first game."
When asked about playing he mentioned 'No, I have a commitment to the guys and the coaches. I know my grandfather would want me to play.' And he played. Like, five hours before his grandfather had passed away."
Bassi would like to keep playing but presently his goals aren't limited to the soccer pitch as he wants to pursue a major in criminology, with a minor in sports science.
He mentions that he "can stick to soccer somehow and stay close to sports after I'm actually done playing."
Regardless of what he does in life there is no doubt he'll score big in whatever field he chooses to play on.