To the delight of many Canadian soccer fans the long wait is finally over, but the wait was well worth it.
Questions arose if she would surpass Abby Wambach (39) record of 184 goals who retired in 2015 played 255 games.
Sports in today's world seems to be more of a betting game with the "high-roller" or "full-house" being the one with the winning hand.that wins and if you were going to bet on Sinclair beating this record it would be money in the bank.
Many might question if she would have ever broken Wambach record but it happened as Wambach went on to break fellow American Mia Hamm's record of 158 goals in 2013 with four-goals against South Korea.
At the young age of 36 she calls Burnaby BC home and joined the Canadian National team in 2000 and played her first game March 12th and became Canada's youngest-ever player.
She opened her scoring streak one game later as she managed to beat Bente Nordby that saw Norway pull out a 2-1 win at the Algarve Cup.
Given her busy schedule when time permits she frequently hits the odd pitch and it's fair to say that the kids aren't just soccer players; they are also her fans!!
For those who have never met Christine, she has a bubbly personality and never displays any arrogance, which we should mention is due to her upbringing.
It's reported that when she was growing up she played with kids older than her and in particular her brother Mike who is three years older.
When the National Women's team plays in Vancouver at BC Place she takes time as do her teammates to become part of the fan base following any game.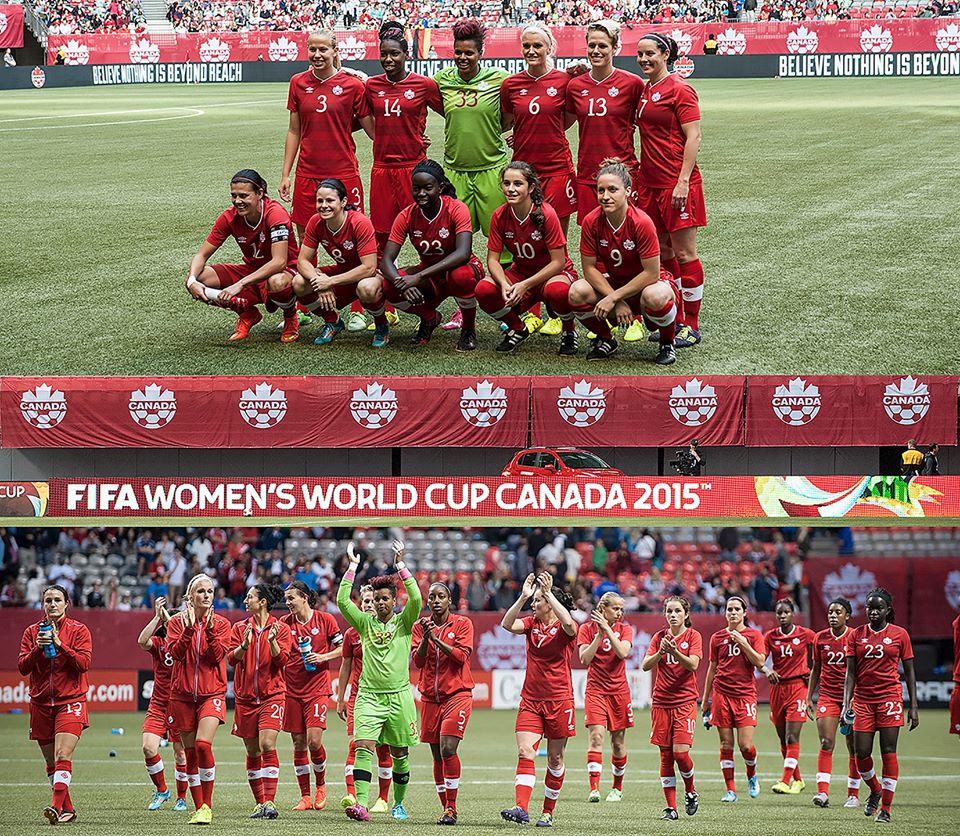 One might say that her "smile" is contagious to everyone she meets which goes from the young fans to her older fans.
Setting the record of most International goals (185) at the CONCACAF Women's Olympic Qualifying Championship and scoring for the second time against St. Kitts and Nevis is as many would tell you a load of her back.
Wambach retired in 2015 holding the record of 184 and it should be noted that Ali Daei of Iran (played from 1993-2006) holds the Men's record of 109, while Cristiano Ronaldo sits 10 goals behind.
Her her first goal was scored on a penalty kick (PK) in the 7th minute after she was fouled or taken down in the box which tied Wambach's record.
It wasn't until 16 minutes later she was crowned with the record scoring goal on a cross with assists going to Adriana Leon.
Watching her skillful moves you saw her more the ball from her left foot to her right before hammering it in the back-left corner.
She helped Canada to a fourth place finish at the 2003 FIFA World Cup scoring three with her first coming just four minutes into the opening match.
It was in 2012 that she won the Golden Boot after she scored six which was a tournament-high at the London Olympics.
Canada are presently ranked eighth will play Jamaica who are ranked 51st a team that Christine has currently scored 11 goals against.
She has won Canada Soccer's female player of the year 14 times and led Canada in scoring 16 years, which is a remarkable feat unto itself
She was Canada's flag-bearer (2012) at the London Olympics' closing ceremonies and is a four-time finalist for FIFA World Player of the Year.
She is the first soccer player appointed as an Officer of the Order of Canada and the first to have her name engraved on Canada's Walk of Fame.
Sinclair was playing in her 290th career game for Canada!!
In a form of true professionalism Abby took to Twitter mentioning
Christine: History is made. Your victory is our victory. We celebrate with you.
And to every girl coming up in the Pack with a dream to achieve that which doesn't yet even exist: We believe in you. Your Pack is with you. And history awaits you!!