While sports are still on the back-burner, one sport that seldom gets coverage is one that was extremely popular is roller derby which dates back to the 30ties for its origin.
We hear that the sport of Professional roller derby became popular; in 1940, that saw over 5 million spectators watch in (about) 50 US American cities played by mostly female athletes around the globe.
We hear that consideration for the roller sport was on the table for the now cancelled 2020 Summer Olympics as recognized by the International Olympic Committee. 
The IOC  and World Skate released its first and possibly not the final set of Roller Derby Rules for the World Roller Games that were held in Nanjing in September 2017.
The sport has two periods of 30 minutes with each team consisting of up to 15 players that has each field of up to five members.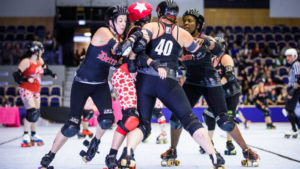 These episodes or plays lasting two minutes are called "jams" unless they are called off prematurely or early.
Each team designates a scoring player ironically nicknamed the "jammer" the other four members are "blockers". 
One blocker can be designated as a "pivot"—a blocker who is allowed to become a jammer in the course of play.
The next jam may involve different or various players of the 15 roster players, as well as different selections for jammer and pivot.
We were pondering what the status was for the Terminal City Roller Derby Season and were recently told that it was officially cancelled due to the Coronavirus-19 outbreak.,
This is the first time in the  league's 12 year history game's have been postponed since returning to the lower Mainland giving women a chance to play the fun filled sport. 
The league is made up of the members on the four teams and is played on a flat track made up of two 30 minutes time sessions with the skaters and lining up each time after points are scored As many on the floor in what are called scrums and after the opening 30 minutes they go to intermission. 
The Terminal City Roller Derby league was founded in January 2006 as Terminal City Roller-girls, which is a member of the Women's Flat Track Derby Association in the game played around the globe. 
TCRD is owned and operated by the four teams that make up the league that has seen many girls play on Team Canada at World Championships.
Many of the players have regular jobs during the day and have regular practices allowing them to keep in top form for their up-coming matches, all of which are played on weekends.
If you are looking to obtain additional information feel free to visit their site for news of upcoming events.
This is another of many sports that have been cancelled due to COVID-10.