We recently mentioned the loss of basketball legend Rich Goulet who gave of himself to help build not only the program but also turn young players into better players as well as better citizens.
We have had the opportunity to talk with Rich over the past 20 plus years at various tournaments throughout the lower mainland and we can honestly mention that he was a true gentleman when it came time for an interview.
He was not only a wealth of knowledge and understanding his passion, dedication and commitment to the game simply shone through with excitement and enthusiasm for the entire interview.
He was one of the more passionate individuals who was very unselfish when it came to giving his time, knowledge and commitment for the youth of the world.
Recognition seldom comes while an individual is still alive and quite often it comes long after they have departed, which is so very sad knowing that they are not around to share in the moment.
Rich was a person who began as a varsity coach in 1970 and not only knew but also understood what the annual tournament in Burnaby needed to bring together both the student athlete and coaches.
He (Rich) spent a good part of his 38 years at Pitt Meadows Secondary dating back to 1978-2017 where his Marauders won three more Provincial titles.
I am hearing that the school is planning on hosting an annual senior boy's BC Triple A Tier Tournament  from January 5th-8th which will be known as the Rich Goulet Memorial Chancellor.
The Senior Boy's Coach Aaron Mitchell (45) recently mentioned "The times when Rich came into our gym to play exhibition games, I could tell it felt good for him to come back to STM as this was his beginning for him."
Mitchell has been the coach at STM since 2004-05 which included the boy's senior team for the past 15 seasons and ironic as it sounds the idea came to him during his memorial service.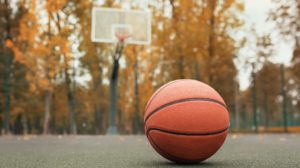 It should be noted that Mitchell had coached under Goulet within the Basketball BC Provincial program and given his level of coaching expertise it's clear that he was well mentored by Rich.
The Chancellor has been run for so long, but missed out on a milestone 55th birthday party this past January all due to the Pandemic we are currently facing.
There is however the Rich Goulet Unsung Hero Scholarship at the school with the money given in his name to one of their grads which goes along with Rich being in the Hall of Fame at the school.
One of the best parts for Mitchell is the fact that both himself and his players will play a huge role to the one who spearheaded this event as we slowly draw closer to January 2021.
It's been confirmed that there will be 16 teams taking part in the event which includes the North Delta Huskies.
Other teams include the following:
St. Thomas Moore Knights, Byrne Creek Bulldogs, Steveston-London Sharks, Fleetwood Park Dragons, GW Graham Grizzlies, Elgin Park Orcas, Maple Ridge Ramblers, St. Patricks Celtics, Carson Graham Eagles, Duchess Park Condors, Rick Hansen Hurricanes, Brookswood Bobcats, McNair Marlins, RA McMath Wildcats, Sir Charles Tupper Tigers