Quarterback Lamar Jackson led the Baltimore Ravens to a win managing to have a career day with running as well as his passing skills leading them to a 20-13 win over the Tennessee Titans. 
He (Jackson) passed for 179 yards completing 17 of 24 with 0 touchdowns allowing 1 interception recording 136 yards rushing which included the 48-yard TD in the second quarter combining for 142 total yards. 
Both teams had 11-5 records in the regular season play but it was Tennessee that captured the Division with a win on the last day of the regular season.
This gave them home field advantage in the wild card slate of games this weekend to see who would advance to the Divisional playoffs held next weekend.
The morning game saw Tennessee open a 10-0 lead over the Ravens in the opening quarter as Titans QB Ryan Tannehill hit AJ Brown from 10 yards out and with the conversion as the Ravens added a 45-yard FG from kicker Stephen Gostkowski.
Titans quarterback Ryan Tannehill of Tennessee finished completing 18 of 26  for 165 yards and 1 TD, 1 Interception while the Ravens held the regular season NFL leading rusher Derrick Henry of the Titans going 40 yards.
Photo Credit Titanwire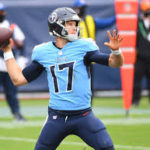 The second quarter saw the Ravens get on even terms as Jason Tucker kicked a 33-yard FG followed by a 48-yard scamper by Lamar Jackson; the second longest in NFL playoff history that saw him get past three defenders marching in for a TD followed by a convert from Tucker that tied the game ten at the half.
This was the second longest by a QB in a NFL playoff history, which is is 56 yards held by Colin Kaepernick of the 49ers.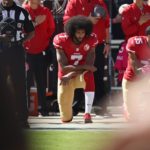 The Ravens running back J.K. Dobbins gave his team the ball into the end zone from 4 yards out and with a Tucker convert gave Baltimore a 17-10 lead in the third quarter and a 25-yard field goal by Gostkowski of the Titans cut the deficit to 17-13 heading into the final quarter.
The Baltimore Ravens defense took over limiting the Titans offence to any chance of a comeback and concluded the game with a 51-yard FG from Tucker securing the 20-13 victory and a trip to the Divisional playoff next week.
https://www.nfl.com/news/ravens-edge-titans-20-13-to-secure-lamar-jackson-s-first-playoff-win