We are hearing that the 68,000 venue played host its first sporting event since opening that saw Vissel Kobe play host to Kashima Antlers in the final of the Emperor's Cup National Japanese Football tournament.
There were a good number of footballing legends that took to take to the pitch, with Andres Iniesta and David Villa of Spain and Germany's Lukas Podolski on tap for Vissel Kobe.
The match provided organisers the opportunity to test the main venue that is being used for the 2020 Tokyo Olympic and Paralympic Games, which was completed November 20th.
Earlier in December it hosted an event that had members of the public invited so as to test out the track at the Stadium.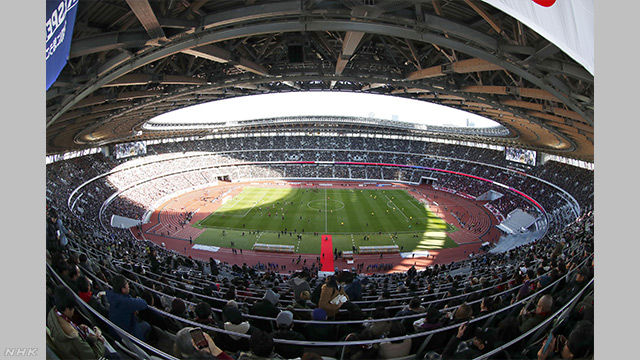 As mentioned in an earlier story posted on Sporrtswave.ca eight-time Olympic Gold Medallist Usain Bolt participated in a combined relay event with various Olympic and Paralympic athletes.
The venue plays host to Athletic's and will also be used for the Opening and Closing Ceremonies of the 2020 Olympics and Paralympics.
The new arena was constructed on the site of the National Stadium which was first built in 1958 and hosted the 1964 Olympic Games.
It will feature a plant-covered facade designed to maintain harmony with the natural landscape of the neighboring Meiji Jingu Gaien area and reported that the eaves of the roof, which is apparently very distinctive looking are made of wood which is gathered from the country's 47 prefectures.
It's reported that the first or initial 2015 plans were not up to standard and cancelled by Prime Minister Shinzō Abe due to spiralling costs.
The second plan for the Stadium is reported to be approved which meant construction began about 14 months later than planned.
The original design by the late Iraqi-British architect Zaha Hadid was discarded following a public unrest and outcry and the Stadium once completed is believed to have cost ¥157 billion (£1.2 billion/$1.4 billion/€1.3 billion).
If we back peddle to the match itself we should mention that Vissel Kobe won the Japanese Emperor's Cup champion and defeated Kashima Antlers the five-time winners by a close score of 2-0.
Vissel grabbed the lead in the 18th minute on a goal by Kashima defender Tomoya Inukai, then clinched the win off a deflected goal in the 38th minute off striker Noriaki Fujimoto.
It was Vissel's first time to win the Emperor's Cup, which helped them guarantee an Asian Champions League berth next season.