Lindsey Butterworth is a testament to those who work hard and never give up on their dreams.
Lindsey's dream was to go to the Olympics one day and that moment has arrived for this twenty-eight-year-old veteran Canadian 800 meter specialist who is heading to Tokyo this summer after winning her specialty at the Canadian Olympic trials in 1:59.19 which is a personal best. 
The time she had to beat was the Olympic standard of 1:59.50, which she did with some room to spare.
In a Q&A interview, the Vancouver resident talked about making the Olympic standard, how she arrived at choosing the 800 meters as her event, and the important factor nutrition plays in her development.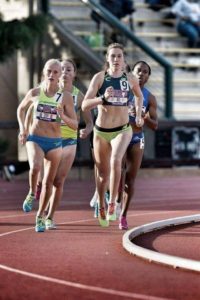 Q: How does it feel to make the Olympic standard in the 800 meters?
A: It feels amazing to have run under the standard and under 2:00 min in the 800m.
This is a goal I have been working towards over the past few years and with a lot of hard work and patience it feels so good to have a breakthrough at the right time.
This is your first Olympics; how will you prepare for your event?
A: I am fortunate to have experience competing at the highest level at the World Championships in 2017 and 2019. I am aiming to prepare in a similar way for the Olympic Games in staying confident, poised, and making smart moves at the right time.
Q: What did you do differently in your training to qualify?
A: I haven't really changed my training much. I have had consistent hard work with my coach over the last 10 years. I think a culmination of hard work, consistency and experience has allowed me to get to where I am now.
Q: Can you share the importance nutrition is to your athletic development?
A: Nutrition is extremely important. I've found working from home over the last year and a half I've been able to focus a bit more on nutrition as I have more access and time to make healthy meals at home.
Q: Why did you choose the 800m as your event?
A: I've always enjoyed and excelled in the 800m since elementary school. This event has always been fun for me and I've continued to improve over the last 10 years. 
There's never a dull moment in the 800m!
Q: Is there anyone you'd like to thank for their support along your Olympic journey?
A: My coach Brit Townsend, Justin (husband), Rackets and Runners, New Balance, Total Sports (my agent), my work team at SFU, my family and friends are my entire support system and I couldn't possibly do what I do without them.
Q: Do you have a mantra or any tips you like to share?
A: What's really helped me over this past year is to take things day by day. I think this can be helpful in other aspects of life too, especially as we work through the pandemic. 
I think it just allows me to focus on the things I can control each day, as it can be sometimes daunting to look long term at the bigger picture. 
Our Fitness Friday feature is submitted and written by Christine Blanchette so please follow her on Twitter as well as her Run With It Youtube Channel.