Years back Lou Christie had a song on the top 40 titled "Lightnin' Strikes Again" making it first to No. 1 in Canada in January 1966 on the RPM Top Singles chart,[1] then to No. 1 in the U.S. on the Billboard Hot 100 in February.
As fans glued to the tube watching how Montreal would or could react in game five seeing if they would somehow manage to pull off the unimaginable winning four consecutive games bringing the Cup back to Canada.
In case you may have forgotten, the Lightning won 62 regular-season games during the 2018-19 campaign then got swept in the first round by the Columbus Blue Jackets, but since then, they have been unbeatable in the postseason
Such wasn't the case and when it was all said and done there are far too many critics who are putting the blame on Canadiens "tender" Carey Price which if you watched any game you will know better or hopefully know better?
Really – what are you even thinking as he carried the team time and time again getting little productivity from the vet's who are to be the leaders.
To no surprise it was Anahim Lake's Carey Price who tried to take all the blame after the Montreal Canadiens came up agonizingly short in their against-all-odds campaign to end Canada's 28-year Stanley Cup drought.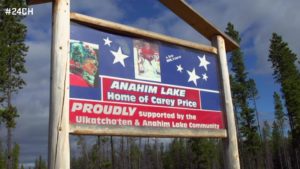 His expressionless and downcast, was fielding the dreaded what-went-wrong question when he took the blame for the loss to Tampa stating 'I just don't think I played well enough at the start of the series.
Montreal came up short in their "bet against the house or against-all-odds" campaign to end Canada's 28-year Stanley Cup drought.
Shea Weber, who comes from Sicamous, was having none of it by stating "I don't think that's the case at all — to be honest, I think that we weren't good enough in front of Carey," Weber interrupted his netminder, the pair of them struggling to express themselves after Wednesday's 1-0 loss.
Weber continued "I mean, give (Tampa Bay) credit. They're a heck of a team and  they're here for a reason and they were better than us."
The Canadiens managed to pull out a shocking Game 4 OT win staying alive to shift the series back to Florida. 
To no real surprise Nikita Kucherov made his comments very direct stating "I didn't want to go back to Montreal. The fans in Montreal, come one. They acted like they won the Stanley Cup last game. Are you kidding me? Are you kidding me? They're final was the last series."
At Montreal's expense, the Bolts successfully defended their Cup title, edging the Canadiens in front of a frenzied capacity crowd in a physical, hard-fought nail biter to claim the series four games to one.
The only goal of the game came after 33 scoreless minutes, when Ross Colton dressed and played in his first Stanley Cup final managed to tip in a pass from David Savard's sliding through the crease behind a somewhat shocked Price.
Price was pulled in the final minute giving the Canadiens the extra attacker, only to see the Habs come up short pulling out all stops hoping to head to O/T. 
The loss extends the championship deficit for Montreal or a Canadian team who last claimed the cup was at the end of the Lightning's debut season in 1993.
"I played on a lot of really good teams with a lot of really good guys — it's hard right now, sorry," an emotional said afterward, struggling to contain his disappointment.
Brendan Gallagher told the media through a gritty wavering voice "We've got so many players that worked their entire career to get to this point. And it's a tough pill to swallow."
Andrei Vasilevskiy wasn't overworked, stopping 22 shots for his fifth straight series-clinching shutout win, and collected the Conn Smythe Trophy as playoff MVP for his trouble. 
Price faced 29 shots while both "tenders" came up big while both the Habs and the Lightning 
Weber mentioned "This group has a lot of character and were up against a lot of adversity this year and we proved a lot of people wrong — and in a tough year, to boot, where things weren't normal and the guys stuck together and battled hard and obviously, you know, I wouldn't change it for anything and I'm super proud of these guys."
While they may have come up short for the win it's clear to say that this was indeed a learning experience for many of Montreal's younger superstars which for them was a chance to experience pro hockey which is a teachable moment they can only hope will present itself again.
Cole Caufield mentioned "This is what you play for, to have that opportunity once, twice, maybe even if that in your career and obviously, you can get pretty stressed out in times like these, but this is you playing hockey, the best game in the world, and you can't take it for granted. But you've got to enjoy every moment you can."
Interim head coach Dominique Ducharme said he reminded his players after the game about all the injury and COVID-19 related challenges they confronted in order to have a crack at winning the Stanley Cup.
Ducharme told the media "We kept moving forward, kept getting better and so we grew as a team a lot. We've got to use that the right way, and we want to make it back here with a different result."
Price concluded after the game by saying "Whether you're watching it on TV or standing there on the bench, it's still the same feeling."
Let's not forget how they built their checking line and you may recall that J.T. Miller was flipped to the Vancouver Canucks in 2019 in a package that included a first-round pick. 
It was a deal consummated on the floor of the entry draft in Vancouver, on the same day that the Lightning selected left wing Nolan Foote at No. 27 overall.
In 2020 (February) the Lightning traded both that pick and Foote to the New Jersey Devils for winger Blake Coleman; penalty killer, one-handed goal specialist and pickle juice aficionado.
The Lightning did not lose consecutive games in postseason play, and a big reason is Vasilevskiy, 7-0 after a post-season loss. 
He also closed out four consecutive series with shutouts. He had five shutouts in all. He allowed one goal or less in 10 of his 22 starts.
Captain Steve Stamkos got to raise the Cup for a second time, but this time at home, before a supercharged Amalie Arena that had chanted "We Want The Cup" through the third period.
The Lightning won last year in Edmonton, in a pandemic-induced bubble but this year's win ensures the team would be remembered as one of the great franchises in modern history.
Instead of being a one-and-done team, they became the first team since the 2016-17 Penguins to win the Cup in back-to-back seasons.
Nikita Kucherov led the playoffs in points for the second year in a row, with 32 and joins the likes of Mario Lemieux and Wayne Gretzky in that regard.
Lightning defenseman Victor Hedman, who scored 10 goals in the postseason, was awarded the Conn Smythe Trophy as the most valuable player throughout the playoffs.
Florida-based hockey team is the second team to repeat as champions in five years, following the Pittsburgh Penguins, who won the Stanley Cup Finals in both 2016 and 2017.
The team is on a winning streak and currently at 15-0.
Cinching this Stanley Cup against Montreal marks the 15 series wins for Tampa Bay since 2015, which is the longest streak in NHL history — no other hockey team has won over nine series in that time frame.