In part one we focused on Paxton's return to the Mariners and many wonder if the reunion will be a chance for James to get back to his youthful form.
We received the following from the Mariners.com and thank them for the info:
Left-hander Matthew Boyd, a Seattle-area native who has been working out with Paxton this off-season, told MLB Network Radio recently that "whoever gets him is going to get a steal."
"And he's pumping the ball right now, too," Boyd said. "He looks better than he ever has. We dove into some stuff, breaking down fastballs and understanding spin direction and all that. His ball just takes off. It's fun to catch. … Whoever gets him, they're getting an ace."
It's interesting that the Blue Jays have signed a 10 year deal with the Vancouver Canadians who play in Vancouver at the Scotiabank Field at Nat Bailey Stadium so pending training camp he might come home to practice.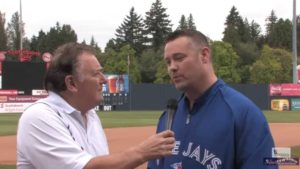 Paxton should be and we're hoping that he is positioned in the No. 2 spot in the rotation, behind Marco Gonzales, but ahead of Justus Sheffield. 
One can hope that this has the Mariners looking at a possible rebuild since this was the first major trade by GM Jerry Dipoto.
Following the Paxton deal they (Seattle) dealt Edwin Díaz and Robinson Canó to the Mets that saw them bring back No. 1 prospect Jarred Kelenic and Justin Dunn. 
Both will enter camp competing for the back-end spot in the Mariners rotation, which is reported that they will feature six pitchers instead of the standard five.
At the start of his career it was reported that he was one of the top left-handed starters in the American League, with a career 3.58 ERA and 114 ERA+. 
If you ask anyone who follows his career they will tell you that the pinnacle of his career was when he threw a no-hitter (May 8, 2018)  against the Blue Jays.
Sadly James has never pitched more than 160 1/3 innings in a season or reached the 30-starts and he's been limited to 20 or fewer starts in all but three seasons, which included just five in the shortened 2020 outing.
Sports takes its toll on athlete's and he's no different as he's been on the IR list for knee, back, pectoral, elbow and latissimus dorsi injuries that date back to 2014.
Paxton can earn an additional $1.5 million in performance bonuses for starts: $150,000 each for six to 10 and $750,000 more over starts 11-22.
He earned $4,629,630 in prorated pay from a $12.5 million salary last year with New York.
The Paxton signing represents the second acquisition by the Mariners this past week, following terms with closer Ken Giles. 
He (Giles) racked up 23 saves and 83 strikeouts in 53 innings, posting a 1.87 ERA and a 244 ERA+, fifth best among regular relievers. 
He spent his first two MLB seasons with the Phillies from 2014-15, then became the Astros' closer from 2016-18. 
He had a 2.30 ERA, 34 saves and a 178 ERA+ in 63 games in '17, when Houston won the World Series championship.
He (Giles) is recovering from the Tommy John surgery that he had last October, (2020) and will keep him out for the entire 2021 season. 
We wish James all the best on his return to the Mariners and are making plans to attend some of the upcoming games.
Welcome HOME!!
Photo credit from Delta Optimist