If you're excited about the addition of the Seattle Kraken as some in the Vancouver area are, you'll be interested to know that they have the first milestone for the expansion franchise.
Earlier the club announced that they marked a milestone for both the franchise and 21-year-old center Luke Henman. 
As team captain and leading scorer, he is in a overtime-heavy playoff series for the Blainville-Boisbriand Armada in the Quebec Major Juniors Hockey League.
He mentioned by phone after scoring two game-tying goals earlier in the day, before an eventual overtime loss to Victoriaville knotting the second-round QMJHL series at one game apiece. "I have a belief in my game. My main focus will be to put in the work to get better and I'm super-excited and honored," 
Henman first realized agreeing to terms as the Kraken's first player and prospect was looking possible following his team's victory in the opening game of the series Saturday.
Henman told the media "I immediately face-timed my parents and I wouldn't be where I am today without my parents [Melanie and Anthony]." 
He continued "Then I called my siblings [two sisters, 25 and 15, and a brother, 17; all hockey players]. We had the nice overtime win and then I got the news. It was a pretty cool day."
His contract is the standard NHL two-way, three-year entry-level contract with salaries pre-determined for both the American Hockey League and NHL which depending on his progress as a prospect in their development system.
Ron Francis, Kraken GM mentioned "Our scouts have been watching players all year and in this case, [scout] Mike Dawson has been a strong supporter for Luke."
Francis continued "Luke has put up the numbers in the 'Q' and he is team captain. He has solid character. We do think he needs to get stronger we are excited to sign him as our first player."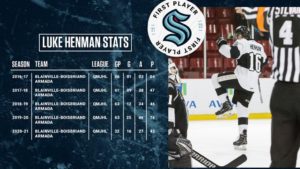 He played his last five seasons in the QMJHL and calls Cow Bay home, which is just outside Halifax. 
As a rookie 16-year-old he stood six-foot weighing in the 140 lbs for his QMJHL finishing off  his second season as Captain (172 lbs) 10 pounds heavier from the previous season.  
Francis continued "He's still a little bit light but he thinks the game well and has the skating and hockey skills we like when scouting players."
He was Captain in the 2019-20 season and managed to set career highs in all offensive categories (25 goals, 49 assists, 74 points in 63 games) leading his team to first place in the West Division. 
The QMJHL 2020 season was canceled due to the COVID-19 and following Tuesday's 6-4 loss, he has six goals and two assists in seven postseason games.
He won 57.1% of face-offs on Monday (taking twice more face-offs than any teammate) with four shots, three of which hockey analytics experts categorize as "dangerous."
Henman will attend Seattle's first rookie camp leading into the club's inaugural training camp at the Kraken Training Center later this year which all dates and details pending league scheduling
Another first professional season option would be playing in the American Hockey League as a Kraken prospect.  
He was selected in the fourth round (96th overall) of the 2018 NHL Draft by the Carolina Hurricanes. 
Francis was no longer GM – though no one can deny this season's high-powered Carolina roster is bursting with players Francis drafted, signed or acquired in trades.
"I can't thank them enough for believing in me," said Henman. "Now it's up to me to prove I belong."