Teams in various organizations go through changes, so mid-season others at the season end and of course this depends on the circumstances involved.
We are hearing that the BCHL Wenatchee Wild have recently announced they are undergoing a change with the structure involving management for the organization.
Bliss Littler has officially stepped down or resigned as Head Coach indicating it is related to that of a personal health that he has been fighting for the last 2 1/2 years.
He will however remain as GM focusing on the business side of the operation indicating that Chris Clark was named Interim Head Coach.
He will be holding that position for the remainder of the season and Leigh Mendelson remains in his current position as Associate Head Coach.
Clark mentions "The team is in excellent hands", Littler said. "Chris has a strong hockey mind and his vision is obviously in sync with our goals as an organization and obviously, first and foremost I want to express that my thoughts are with Bliss during this difficult time."
He continues "I am humbled and honored that Bliss and the rest of the management staff entrust in me to continue to uphold the highest standard that the Wild have displayed over the last 12 seasons. Leigh and I are excited to continue to work with the great group we have in the locker room."
Littler joined the "Wild" in 2012-13 and posted an impressive record of 259-136-49 for a win percentage of .639.
He led the Wild to their first league championship in 2017-18, as well as managing to win the Doyle Cup the same year.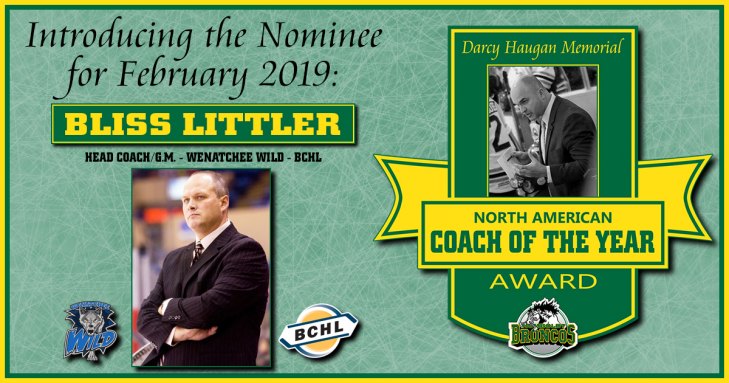 In his 26-season career, he has racked up an impressive record of 836-450-144 (.635), which includes AFHL, AWHL, USHL, and BCHL Championships.
He was named AFHL Coach of the Year as well as named on two occasions in the BCHL as well as being named USHL GM of the Year..
His talents have allowed him to help numerous players to NCAA Division I programs as well as having close to 30 players selected in the NHL Draft.
In stepping down from the Wild bench, he is the winningest Head Coach in US Tier I and Tier II Junior hockey history, a record unmatched to this day.
He will be missed behind the bench,, but we all know that life is far too short and precious.
We wish him all the best!!