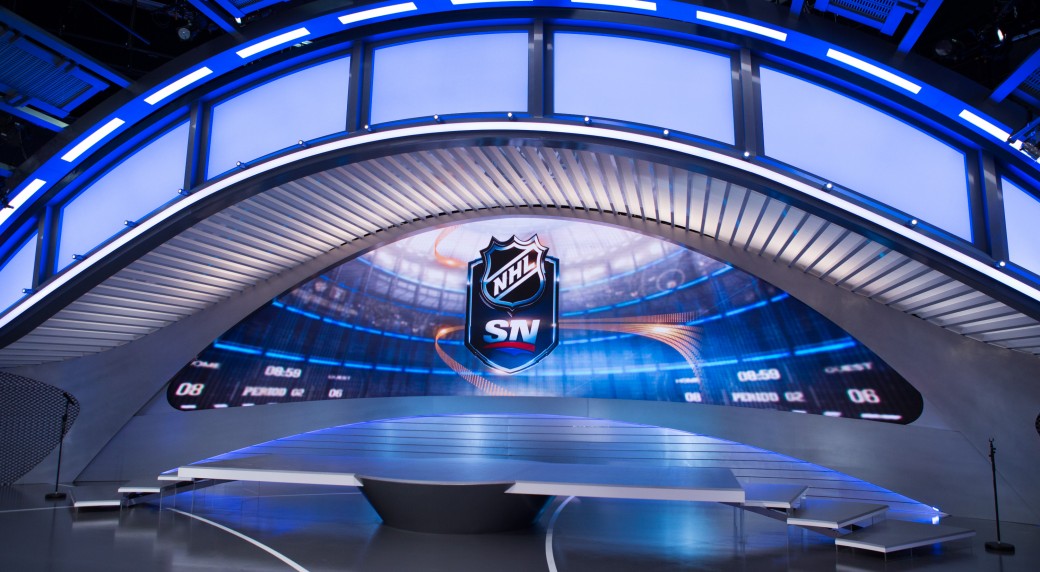 A new season brings new changes to the National Hockey League or at least that is what hockey fans around the world are hoping for when it comes to watching, being entertained and informed about the game.
Since taking over Rogers will air 554 games for the coming season that all start in just over a week, which alone proves exciting.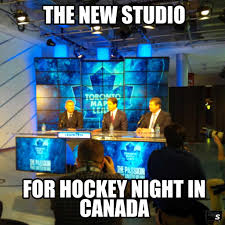 A new home and a new host being that of George Stroumboulopoulos who has worked his way up the circuit to now taking over and being hockey's number one host.
Sportsnet unveiled a state-of-the-art studio at the CBC building in downtown Toronto.
Hockey Central's 11,000 square foot, 360-degree studio allows cameras to shoot at any angle, as up to three live broadcasts can be shot for three or more networks simultaneously. In other words, everything is happening. This is great news for Hockey fans across the country. Thanks to the increasing popularity in technology and television, networks may have decided to enlist the help of fiber optic video to help viewers tune it to the game of their choice, as well as receiving good quality footage in the process as they try and support their favorite team. It's known that most households do have cable television in their homes still (source here), so they should be able to make the most of these live games. By having cable, many people will be able to tune into these events, ensuring they don't miss out on any sports games.
What you should know
The set cost $4.5 million
The bill was footed entirely by Rogers, which leases the 10th-floor studio space from CBC.
Scott Moore, president of Sportsnet and NHL, Rogers Media, called it the most expensive studio he's ever had the chance to construct.
The company spent $5.2 billion to secure the NHL rights for 12 years, so investing so much to air those games was a simple choice, said Gord Cutler, senior vice president of NHL production.
High Resolution Set
The focal point of the space is the largest high-resolution monitor ever installed in a Canadian television studio.
Nicknamed "Goliath" by the crew and shaped like a muffin top, the monitor stretches 38 feet long and 11 feet high. Composed of 170 individual panels, it promises four times the resolution of a high-def monitor.
The studio's puck wall is Star Trek.
All 30 teams are represented by a logoed puck on twin see-through display walls, one for each conference.
When an analyst wants to discuss a certain team, he or she simply plucks the club's puck from the wall and places it in a circular holster, attached to a computer.
Hockey Night in Canada has a new intro.
As Canada's most iconic television program enters its 62nd season, Sportsnet is giving the intro graphics and music a little facelift.
Alberta music teacher Colin Oberst's "Canadian Gold" has been touched up and re-recorded by a 50-piece orchestra for Saturday night's new main theme.
Fun fact: St. Catherines native Stephan Moccio, who composed the "enhanced" HNIC theme also co-wrote this Miley Cyrus hit – Wrecking Ball
Specific focus
Moore and NHL commissioner Gary Bettman both stress that the 12-year union is a partnership.
The Sportsnet presentation will focus on bringing high-quality story telling through mini-doc features on its Hometown Hockey broadcasts and pumping up the league's stars.
Star players are the focus of the intro for Scotiabank Wednesday Night Hockey, which Moore has positioned as the evening geared toward the hardcore hockey heads, and fans should expect to see more in-studio sitdowns with the game's best players. So…
Interview Set
Former Hockey Night in Canada host Ron MacLean (now host of Hometown Hockey) told us that one of Stroumboulopoulos's greatest strengths is his interview skills.
Some items on the studio's stat line are mind-boggling.
The new set will make use of nine distinct sets, seven kilometers of LED light tape, 24 wireless microphones, 14 cameras, 52 screens, 500 studio lights and 40,000 feet of electrical tape
The entire project, from catwalk to puck wall, was whipped together in eight months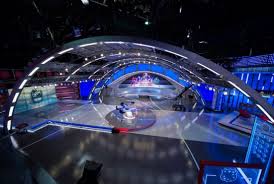 Watch a time lapse because who doesn't love a time lapse
We can just see Doug MacLean slew-footing Daren Millard now
Kitty-corner to Goliath is a large monitor wall that backs an LED floor, built to display graphics and video.
As the floor lights up to depict, say, a goaltender's crease, this will serve as a demo area for analysts to break down plays.
Studio has Olympic touch
The project was designed by Jack Morton PDG based out of the States designed Canada's Olympic Broadcast Media Consortium sets for both Vancouver 2010 and London 2012.
The project was built in Canada.
You just know everyone's going to tune in and see if it lives up to the hype of what we have been told.
Here's hoping!!!

About Steve Erickson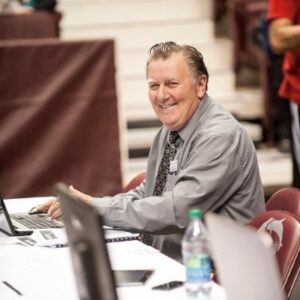 Sportswave Productions is located in Delta, BC.
Sportswave promotes/broadcasts Amateur Sports within the Lower Mainland to promote your sport.
He was also recognized by Ravi Kahlon, BC's MLA Minister for Jobs, Economic Recovery and Innovation in September 11, 2017.
For additional information:
Contact
Phone: (604) 916-4593 cell/text